Keep in mind that new RDAs are coming out on a daily basis and this guide will be updated regularly. 
Rebuildable Drip Atomizers and Drip Tank Atomizers (RDAs and RDTAs)
Dripping is for the true vaping hobbiest
RDAs have a long history with the mechanical style of vaping and have held over in the new world of regulated vaping since they provide benefits and fill a niche in the vape community.
Some of the benefits of an RDA:
cost effective and simple

build your own coils for savings and customization of your vape

amazing flavor and huge cloud potential

no glass to break and replace!

variety of designs for airflow, posts, well and chamber with different characteristics for different vapers

come in tons of sizes, shapes and colors - something for everyone

Since they take more type and energy to use, the appeal for the RDA is for a certain type of vaper:
hobbiest vaper who likes building coils

adventurous spirits, tinkerers, and tweakers who like to fine tune performance

budget vaper

vape connoisseur

someone who like aesthetics and visual appeal 

As you can see in the deck comparison photo, there are a lot of different designs out there and these are just the stand outs for post style.  The juice well size also varies widely.
Having built on a lot of different types of decks, the easiest for simple builds is definitely the two post velocity style deck on the left.  Two post decks prove the most room for your coils inside of the RDA chamber.  
Three post isn't bad but it takes up space and the coils don't remain evenly spaced as easily.
The clamp style is for exotic flat builds like you would see with a fused clapton coil.
Best RDA for Flavor Chasing
Superior Taste is the Primary Goal
When selecting a good flavor RDA there are a few qualities to look for:
good build deck for the coil types you will be using. Easy pick is two post velocity deck.

you want the the chamber to be a little more compact 

good airflow control (as airflow goes down, flavor goes up)

an included adapter or ability to take different drip tips
The juice well is kind of a free pick. I personally like a deeper juice well so the wick soaks up the juice instead of absorbing through the coil.  Some folks don't mind re-dripping right on the coil so a shallow well isn't a problem for them.
Premium Flavor RDA
A Flavor chasing favorite
528 customs brings the Goon RDA which has quickly become on of the most favored RDAs on the market thanks to great flavor and a clamp style build deck.
Pros
Short Chamber that delivers amazing flavor!

Clamp Style build deck making exotic coil builds easier to accomplish

great, smooth, controllable airflow for dual or single coil builds

Flat top cap to limit spit back
24mm
Cons
Slight Con - brass top clamps are prone to slight bending on thicker coil builds. Flip top plate over on next build to restraighten.

Different build versions are slightly different prices, black or brass a bit more than the copper and stainless steel versions

Price:
varies around $60
Best Flavor RDA
Flavor chase and get some savings
Geekvape Peerless Special Edition Rda
Rating: 10/10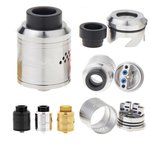 Geekvape released the 24mm Peerless RDA earlier this year and quickly released the Special Edition in stainless steel two months later.  This version fixes the customer complaints about the original making this RDA one of the years best.  Good job, GeekVape!
The Geekvape Peerless Special Edition RDA provides a great, flavorful vape which features highly controllable side airflow. 
One thing that this RDA has that can't be found elsewhere is the awesome build deck which has a three terminal per post, two post design. It has smaller terminals on the top for tradition round wire builds and wider slots lower down that can handle thicker and more exotic coils, which is great.
This RDA is probably one of the best RDAs out there just due to fact that it is so versatile.  It can handle pretty much any build from single coil round wire all the way up to dual coil instagram style builds and still perform like a champ.
Pros
great flavor and provides a really nice vape
single coil capable!
stainless steel construction instead of aluminum (as on the Peerless standard edition),  that comes in stainless steel, black and gold

810 fitted top cap with two goon style drip tips (one black delrin and one PEI)

affordable price with premium performance
great two post, triple terminal per post build deck with top hardened grub screws (nice!) that can handle big and small coil builds

deep juice well

lots of side airflow via airflow holes and cutouts in the top cap which is capable of single airflow

high quality machining

comes with squonking pin

Cons
no 510 drip tip adapter which may not be a con for everyone

Use Coupon Code: DNA10
Vandyvape Govad Rda
Rating: 9/10
The Govad RDA is 24mm and is a very stand out addition to the vape market.
The Govad has a single coil oriented two post spring loaded clamp style build deck with top phillips screws. The deck can accommodate fairly wide builds and can hold larger coils easily. Having the spring loaded clamps makes building this deck super straight forward. 
VandyVape included 3 goon style 810 drips (really wide / thick,  medium which is preinstalled and a tall / thin tip) and also was kind enough to include a 510 adapter for vapers that already have a favorite tip.
This flavor monster has a single bottom airflow (fed by two bottom ports) along with 6 side airflow ports (however only 4 are available at any time). This RDA can really turn up the flavor by shutting off all of the side airflow and just utilizing the bottom airflow.  With that may airflow ports, lots of configurations are available for which will make any vaper happy.
Pros
outstanding flavor 

super simple to build and is perfect for more exotic single coil builds

high build quality with good tension on the o-rings

highly configurable airflow to get a custom vape and perfect amount of vapor 

it has a deep juice well which can hold 1.3ml of juice (a large amount for an RDA)

restricted lung hit all the way to full lung hit

3 included 810 drip tips and an include 510 adapter, which is appreciated

Cons
have to take off top to drip, can't just drip down the top cap without getting some leakage due to the way everything is packed into this design

Use Coupon Code: DNA10
Wotofo Lush Plus
Rating: 9/10
The completely redesigned Lush Plus from Wotofo is their new flavor chasing RDA and it is a big hit.  The Lush is a 24mm topper that is designed to be super simple to use and be ready to go right out of the box. The kennedy-style airflow utilizes two bottom airflow channels on each side.  The posts now feature a y-shaped two post deck that makes building pretty easy even with more exotic coils.
Pros
huge flavor at a great price!

all airflow is set - no more trying to find the sweet spot

easy to build, even when using wider builds such as fused claptons

offset, wide post holes - the phillips top screws work well here

chimney is shaped for easy removal for adding more juice
Cons
wide bore drip tip is a proprietary size

bottom airflow takes space that would normally be used for juice

All Around RDA
Mixed Use RDAs for Cloud AND Flavor
For vapers looking to pick up their first RDA, a design that includes an easy to use build deck is probably the primary factor in selection.  Having an RDA that can produce both good flavor and some clouds is the sweet spot for people that are looking for
Other features to look for:
easy to build and refill

ability to grow with advancing builds from simple to exotic
deep juice well to prevent dry hits and flooding. 

good airflow control options
drip tip adaptor for wide and standard delrin tips

affordable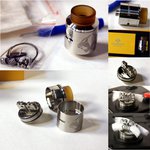 The Cheetah V2 from OBS is the new version of their RDA brought by an innovative company probably best known for its home run RTA the OBS Engine.
Overall, this is quite a good RDA.  It has everything we have come to expect; great flavor, smooth side airflow, and looks good but it has something new.  An super awesome deck that can take pretty much any (dual coil) build.
OBS definitely had the builder in mind when they designed this sweet deck that is a dream to build on.  It is has wide ports for the top lead and very wide bottom clamps for the other lead, tightened down with top mounted post screws (phillips).
The Cheetah come with classic side slit-style airflow, which provides the best flavor at slightly more than half shut down but can get some decent clouds at a more open setting.
It comes with a pretty nice 810 ULTEM drip tip, which is compatible with goon tips.
Pros
awesome hybrid clamp style build deck

great flavor (@ half airflow for me)

smooth barrel top cap interaction

easily controlled side airflow and the port width is just the right size

knurled top cap with included goon style 810 drip tip

Cons
only takes the goon style (810) drip tips - no 510 adapter included

the outside edge of the top section could slightly taller for more surface area which would give a more consistent grip.

Use Coupon Code: DNA10
Best RDA for Cloud Chasing
Clouds and All Around Dripping experience
When looking for a cloud chasing RDA you are looking for a few stand out features.
Most important to a huge cloud, outside of VG, is lots of air. The RDA needs to have a design that allows the air to come in fast and move over the coil rapidly on its way to your lungs.

The build deck needs to be well suited to housing a coil that will probably be bigger, both in width of the actual wire and space the coil take up in the chamber.  The chamber also needs to be bigger to house the larger coils without touching the sides, causing a short.

Since the coils need to heat up faster, the RDA needs to be able to handle higher temperatures without having any failures due to build quality.

Deep juice well comes in handy for cloud chasing; big clouds need a lot of e-juice. Rule of thumb here is max VG for max clouds.

The tip needs to be pretty wide bore to get the most air, so look for a chuff cap or ability to take a competition cap.

Wotofo has made some significant upgrades to the Troll for version 2 making it one of the best, affordable RDAs.  Significant airflow, deep well, and deck improvements provide a mix of great flavor and huge clouds.
Pros
Huge Vapor Production for dense clouds
great airflow and air control options

easy to control airflow for good flavor
deep juice well

easy to build and use
Cons
o-rings and fit can be tight (can counter by lubing with a bit of juice)

What is the Best RDTA?
options are not as varied as with other tanks and rdas
An Rebuildable Drip Tank Atomizer (RDTA) is the fusion of the RDA and the RTA.  A hybrid with the deck, chamber, and airflow design of the RDA on top and instead of a well for the wicks to rest in, they plunge down into a tank below the deck.
The RDTA has the hobby building and performance characteristic of an RDA minus the major drawback; having to reach over and drip more juice on the coils frequently.  Having to drip every few drags is probably the most frequent complaint about an RDA.
Since the RDTA is a relatively new design idea, there aren't hundreds of options out there quite yet but we still have a few really strong picks.
The Geekvape Peerless RDTA may be one of the best RDTAs of the year, thanks to its versatile build deck, single coil capability, high build quality and strong performance.
The Peerless RDTA has essentially all classic RDTA design features plus the killer build deck. This RDTA is like the fusion of the Geekvape Avocado and the Geekvape Peerless RDA. 
The two post, three terminal per post build deck is really suited to vaping enthusiasts with an adventurous spirit. It is capable of both single and two coil builds. 
For single coil: install one coil, trim and pop in the ceramic block. Done. For two coil, proceed as normal. 
However, having three terminals per post is far from normal. Building this deck is simple. It still need to have a lead of the coil in opposing posts, but now you have a variety of placement options depending on the size of your builds. 
There are lots of placement options here. This deck is one of those choose your own adventure type situations.
Everything is secured with top placed, hardened dog grub screws (tool included). Having hardened screws is a real plus here. This deck invites plenty of use.
The Peerless has a good flavor profile on both single and two coils builds. The airflow is easily controllable and provides the right amount of airflow for the selected build, even single coil. 
Geekvape has included both an 810, as well as a 510 (adapter included) drip tips. Every bit of performance is tune-able on this tank.
The build diversity of this deck, hardened screws, high build quality, and overall strong performance make this RDTA a survivor that will be used for some time to come. 
If you could only have one RDTA in your arsenal, the Geekvape Peerless RDTA is a solid choice.
Pros
Incredibly versatile build deck with unique triple terminal per post design which makes for very diverse build options

capable of single coil builds with included ceramic block

capable of single airflow to match single coil build
hardened screws

great performance; great flavor and vapor production

high build quality
Cons
juice port seems a bit small for larger glass stems but still usable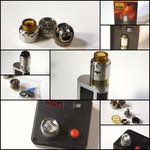 The Pyro RDTA from Vandy Vape is definitely one of the best RDTAs to date. It takes a similar build deck and wide wick ports that was used on the hit Kylin RTA (minus the bottom airflow), familiar adjustable side airflow and has a simple yet profound juice hole plug system built into the top cap.
Refilling the tank now is as simple as on most tanks and RDAs; pull the top, squeeze and recap.
The deck utilizes a post-less system making the coils vertical rather than horizontal. The deck is capable of housing two regular sized coils or one larger single coil if desired.  In single coil mode, the diameter of the coil needs to be wider to have enough cotton to fill the very wide wicking ports.
Building the deck is fairly straight forward, however, since it is post-less the coil leads need to be trimmed before you put them in place. Make sure the leads are too long rather than too short before putting them in place.
I love the performance of the Pyro RDTA, particularly in standard two coil setup. Lots of flavor with enough air to produce thick vapor clouds.
Pros
Strong flavor profile

enjoyable vape experience

very similar build deck to the well received Vandy Vape Kylin RTA

single or dual coil builds 
gold plated philips and allen (grub) screws included
very wide wicking ports help prevent dry hits

well controlled side airflow
810 Drip tip default (1 ultem and 1 delrin included)
510 adapter included
Cons
top knurling could be more pronounced and middle section can be awkward to grip for removal
Wotofo Serpent Rdta
Rating: 9/10
Wotofo has released a RDTA to complement its current offering of fantastic flavor toppers and since this is single coil, it is also called Serpent.
This 22mm, 2.5ml RDTA has a lot of goodies built in: single coil,  easy to build clamp style deck, bottom airflow and an simple to use side fill method.
If you are looking for an amazing single coil flavor tank and aren't wanting to drip, this may be the right one for you.
Pros
Flavor country!

dense cloud production despite having the one air inlet

easy side fill port with secondary air relief 

the clamp style deck is super simple to use and flat clapton wires work well

phillips secured clamp will accept up to 3mm wide coils

wide cotton wicking ports

comes with a wide bore delrin drip tip along with an ultem adaptor and a stainless steel tip

Cons
since this RDTA only has the one side placed air slot, it can sound louder than two slot toppers

filling works better with the plastic juice bottles (unicorn or otherwise) than with glass dripper

Use Coupon Code: DNA10
This is an interesting offering from GeekVape. This single/dual coil RDTA, is a little different but provides great flavor and plenty of vapor.
Pros
Dual or Single Coil Options

Plenty of air flow

Nice, wide Drip tip included

clear or frosted glass, replacement glass is cheap

Cons
the wicking system works best with the single coil mode

Full Reviews and Quick Looks