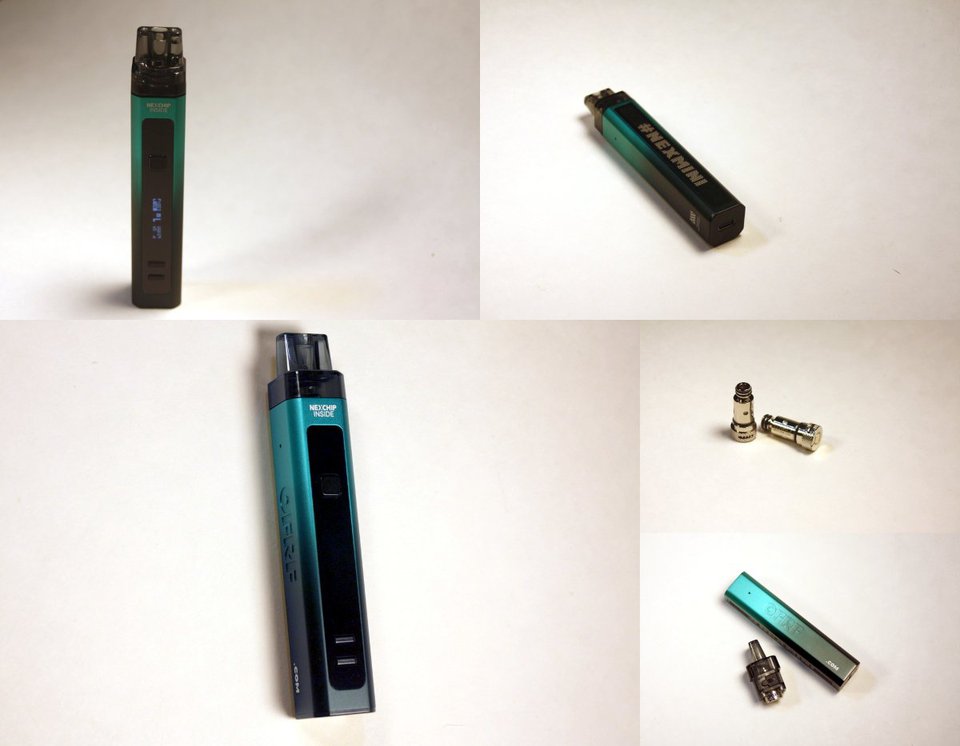 OFRF Nexmini Specifications
110.5 x 19.5 x 19.5mm
M22 nexMESH Coil 0.6ohm 
M21 Parallel Coil 0.6ohm
2.5ml capacity
1-30W
800mAh battery and Type-C charging (50 min charge time)
airflow control built right into the bottom of the coil
MTL draw with saturated flavor 
First off this is an interesting device to look at. It has a vape pen style but has all the vape pod features.
The body of the device is basically a squared shape, ultimately a rectangle, with the rounded edges. It doesn't roll away or even have any stability issues standing upright.
The device shape isn't standard but the pod is fairly normal, with a see through PCTG construction, a silicone gasket fill port on the side and pluggable coil system. 
What isn't expected is built in airflow control. Airflow control built into the coil has been done before, but never so straight forward. It seems like a no brainer but isn't common or as cleanly executed. Good job to OFRF on that one! 
Two press fit (pluggable) coil types are available and included for the Nexmini. One Nexmesh that provides super saturated flavor and a more traditional parallel coil, which is perfect for nic salts with out sacrificing on the flavor. 
The mesh coil actually takes a bit less power than the parallel coil, around 18W for the flavor sweet spot compared to low twenties.
Screen visibility is no problem with the bright LED display that features a design appropriate font choice.

On back of the device is some branding, "#nexmini", on a mesh styled plate. The plate provides an interesting sensation during use, but with all the tiny holes, has the potential to collect a bit of debris over time. 
The 800mAh integrated battery is about right for this size pod. The charging is type-c and at 1.2a takes under an hour for a full charge. Expect around 150 generous drags before a recharge.

Final Thoughts and Performance
Overall, this an enjoyable vape pod. First off is, yes -- it is a great flavor chasing pod and also has an enjoyable loose MTL at wide open. Mesh is king for a reason and the parallel is no slouch. 
The draw on this pod device can range from tight at one or even no air holes to a loose MTL at wide open. By loose, it is a true mouth to lung device and isn't really all that close to becoming a restricted DL if that may have been a hope. 

I really like the airflow control on the coils. The airflow ring is very easy to adjust even with large hands and stays put after an adjustment. One thing, that would be great to try out in the future is a slotted or hybrid (slot and hole) airflow version instead of just the 5 pin style airflow holes. This minor change may extend the devices range a bit.

The coils have performed quite admirably in every other way so far, particularly the mesh coil, which most people will probably gravitate towards. The vapor production has been dense and warm with a top notch, rich flavor profile.
Having a square body shape has been working out quite well for usability, particularly for desk usage. It doesn't roll or tip over, which is nice.

This is an great little pen style vape pod and is definitely a performer.
The OFRF Nexmini hasn't had a wide release to the public quite yet but we will keep you updated.

textured back plate has interesting sensation but has potential to collect lint
Top notch flavor production
MTL draw (tight to loose)
Easy to use airflow control built into bottom of each coil - ring style controls just like a tank
Good coils - Mesh for max flavor saturation - parallel coils for higher nic salts - pluggable 
800mAh integrated battery - 50min charge with Type-C port