Vaporesso Target PM80 SE - a High Performance 18650 Pod Mod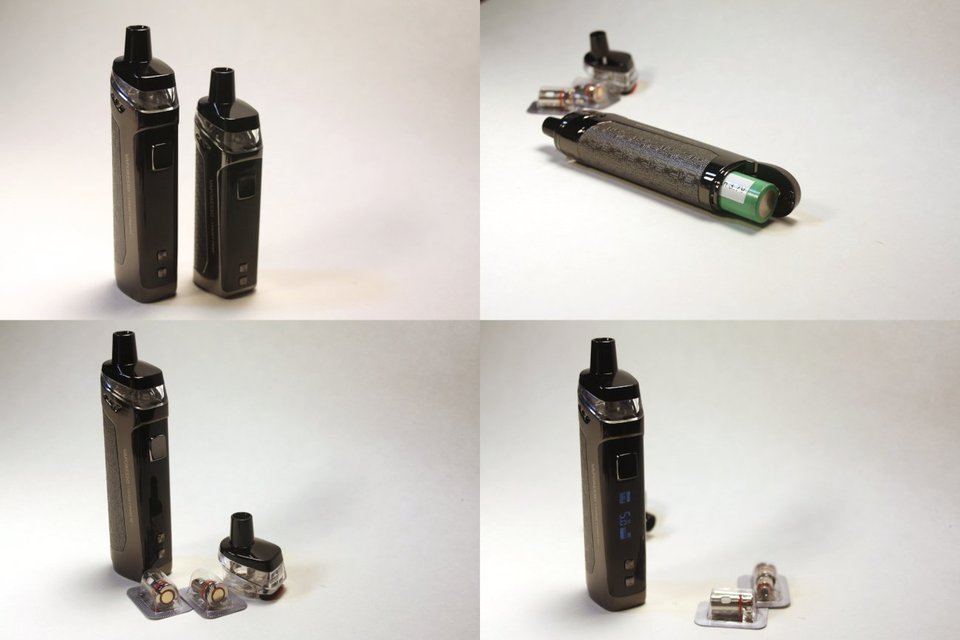 Vaporesso Target PM80 SE (Pod) Specifications
5 - 80W
OLED screen
4ml pod capactiy
takes single 18650 battery
GTX coils - comes with 0.2 mesh and 0.6 mesh
2A charging
AXON chip
GTX coils
Restricted DTL draw
18650 battery powered
What comes with the Vaporesso Target PM80 SE (Pod)
One  PM80 device
One spare pod
Two coils included 
usb charging coil
airflow plugs
Vaporesso's Target PM80SE is the latest and perhaps most versatile of their line of vape pod devices. The Vaporesso Target PM80SE is a versatile pod mod, all in one (AIO) device with a striking appearance from angled lines, sweeping curves and textured back. Show is the flat black edition but several different colors and designs are available.
The Target PM80SE is a special edition of the very cool Vaporesso PM80 device which featured a 2000mah built in battery. This larger special edition is powered by a single 18650 battery.
This vape pod kit comes with an installed Target PM80 pod (with included spare) and two of the killer GTX mesh coils, one 0.2ohm and one 0.6ohm.  While a spare pod is included, replacements can be had for a very reasonable price of $4.
The pods are well designed, having both decent looks but are very functional. The pods are pop right into place thanks to strong dual magnets. 
Up top is a fixed but comfortable conical shaped mouth piece that is attached to thick, clear polymer pod shell. 
Juice levels are visible through the top portion of the pod all the way around the device.  Pulling the pod off to get a more accurate assessment of levels works well with the coil design as you can't run the juice to the very lowest level.
Filling the 4ml container is straight forward using the silicone plug on the bottom of the pod. Any type of fill system and bottle type works quite well thanks to the large fill port.
Next to the fill port is a large opening to accommodate any of the killer Vaporesso GTX coils which include several mesh versions, standard coil and now a fantastic RBA coil for rebuilding your own coil.
Each of the included mesh coils give good flavor as expected and have a decent life span for a small coil. GTX coils also seem to be surprisingly resistant to any leaking or seepage.
We would recommend a quality vape juice with 70/30 blend and a higher nicotine such as a 6mg with these mesh coils. Nic salts would be perfect some of the smaller mesh GTX coils as well as the standard coil and RBA base. 

The draw on the pod using the included coils is an enjoyable direct lung to restricted direct lung with plenty of vapor production. While airflow is fixed, Vaporesso has included a set of small silicone plugs to restrict airflow. 
As we mentioned at the beginning the PM80SE is powered by a single 18650 battery that can be loaded through a slide and snap style battery door. Since the device requires lower wattage, higher capacity batteries can be used which really push this device into multiple day battery life territory for most users. 2A pass through charging is built in but we would recommend using a stand alone battery charger.
Vaporesso uses the awesome AXON chipset to control the device. This chipset gives super low, very responsive firing as well as pulse mode for reduced battery sag and smart wattage recommendations. 
The display is simplified when compared to the original but the pod mod still has all the firing modes which can be accessed by pressing the up and down button simultaneously.
Final Thoughts
Each of the included GTX mesh coils are quite excellent with clean, crisp flavor with a smooth restricted direct lung draw. Chain vaping is possible with this device but a single long drag seems more enjoyable with this type of draw.
The provided coils have different power requirements, one low and one higher wattage. Lifespan of the device isn't much of a concern as you can just pop in another 18650 but you should get more than one day with a high capacity cell.
Vaporesso features the bad ass AXON chipset on this mod, which is fast firing, easy to use with tons of features and safeties. 

The PM80SE is a fantastic vape pod for all vapers, including new vapers, looking for a high quality portable vape. It is a very versatile device that uses a fantastic, readily available and wide ranging coil family for any vaper including those who want to build their own coils. 
Overall, the Vaporesso Target PM80SE AIO is an excellent device and gives a tasty, enjoyable, restricted direct lung vape with plenty of clouds.
a bit on the larger side for a pod device by necessity
have to keep an eye on the juice levels juice port design
Great design and quality construction
utilizes fantastic AXON chipset
*Clicky* trigger style firing button
Excellent GTX coil line - RBA option now available
Easy fill, high quality pods - Comes with a spare (replacements are inexpensive @ $4)
Simple display and smart controls
Restricted DL - can restrict further with included silicone plugs
powered by 18650! (device longevity and continued uses)
Pass through charging capable (recommend using stand alone battery charger)
Free Shipping! Low Price Guarantee!