MiPod v2 - a Slim Vape Pod that Packs a Punch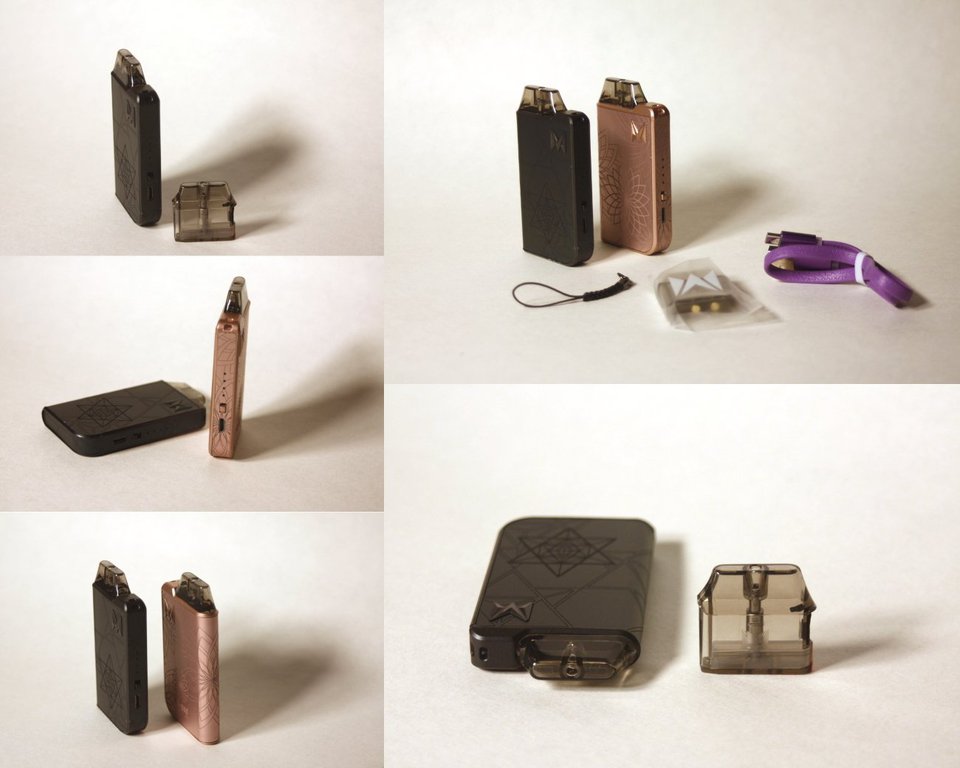 MiPod 2.0 Mesh Vape Pod Specifications
Dimensions - 72.5mm by 45.6mm by 13mm
Integrated 1250mAh Battery
Voltage Output Range: 3.1-3.7V
4 Power Level LED Indicator Lights
Zinc-Alloy Chassis Construction
Draw-Activated Firing Mechanism
On/Off Switch
2mL Refillable Pod Capacity - Integrated 0.9ohm Mesh Coil
Side Fill System - Silicone Stoppered
Low Voltage / 8S Vaping Overtime / Short-Circuit / Overcharge / Overdischarge / Over Heating Protection
MicroUSB Port
spot on flavor
fixed airflow - loose mtl / very restricted dl
surprising battery life
What comes with the MiPod 2.0 Mesh Vape Pod
One Mipod 2.0 vape pod system
Two MiPod 2.0 mesh pods
One Lanyard attachment
One usb mini charging cable
Version one of the MiPod has been very popular over the last couple of years. Now, version two is out and perhaps you are considering an upgrade. Or maybe have never even heard about version one.
The MiPod v2 has a lot of good things going it for it with a couple trade offs. Let's take a closer look.
The Build and Design
Right off the bat, the the slim design is immediately noticeable. The device is slim enough to fit into a front pocket with a phone or even a wallet and not really be noticed. 
The total weight in hand seems quite light. Using a lanyard with this device will not be a burden for those out there who enjoy that feature.
Mipod v2 is available is a few different color options, each metallic with its own unique engraving. Featured in the gallery above are black and copper editions, but silver and a purple are also available.  
It has a custom designed 1250 mAh battery to fit the svelte case, so don't worry about a shortened lifespan. All day usage is easily attainable, even longer with moderate usage.
On the side of the device are four LED life indicator lights, each representing 25% remaining life when lit. Beneath the light strip is a small on-off switch and the usb mini charging port.
The on off switch has been really great. Flip off when not in use for care free, additional battery savings and back on to see the remaining life before use. Since the device is draw activated, accidental firing isn't a worry but the power switch still provides some peace of mind as well as triggering the power level indicator strip.
Unfortunately, the device uses a mini USB instead of the increasingly common USB-C. USB-C has faster charging, which can save the day occasionally. It's not all bad as slower charging does extend the number of times a battery can be recharged before it begins to fail.
Each pod has a built in (non-replaceable) 0.9 ohm mesh coil, and a standard side fill silicone plug. The lifespan of each coil seems to be around two weeks of moderate usage which is pretty good for such a small coil. Each pod is about $5. 
How Does it Vape?
Using this vape pod device has been quite enjoyable.
The flavor is top notch. The vape juice has been well atomized during testing. Significant atomization or more dense vapor droplets, is why some coils give a great flavorful vape and some fall flat. These pods provide quite excellent flavor that is sure to satisfy and isn't lacking in vapor production compared to similar sized devices.
The fixed airflow design on the pod provides a consistent draw, which is more of a loose or open type of mouth to lung draw but a more restricted direct lung is possible. Either way it just works right every time.
Having the lip contoured design provides a comfortable and effortless activation. Activation does have a slight delay as with any draw fired device.
The side fill port is perfect for unicorn bottle tips and we haven't experienced any problems with the silicone plug so far. 
One little hang up you may experience on the first usage is the pods only fit in one way even though they look symmetrical. 
Final Thoughts
MiPod advertises the device as able to take any juice, which is true, but we can make some recommendations for the best experience. 
We recommend using the 20-25mg version of salt nic juices for the cleanest tasting results. Higher concentrations may be too intense for most vapers due to the mesh.
Freebase or the standard style vape juice is also an option. We recommend a 6-12 mg concentration with around 70/30 vg/pg ratio. Higher VG juices may experience slower absorption in the compact coils as well as some trapped air problems at the bottom when filling the pods.
Overall, this has been a great device during testing and will continue to see regular use from us.
The flavor has been excellent and never dull. The mouth pull is consistent and smooth. 
The MiPod v2 would make a great gift for friends or family who are looking for a change.
It looks great and performs great. What else is there to know? 
have to replace whole pod instead of just coil
Amazing flavor
Slim profile - Perfect for pocket carry
Physical on/off switch (very convenient)
4 led battery life indicator
Tight fixed airflow 
SCOUT15 for 15% off!