Vaporesso Luxe PM40 - a DeLuxe Push Fire Pod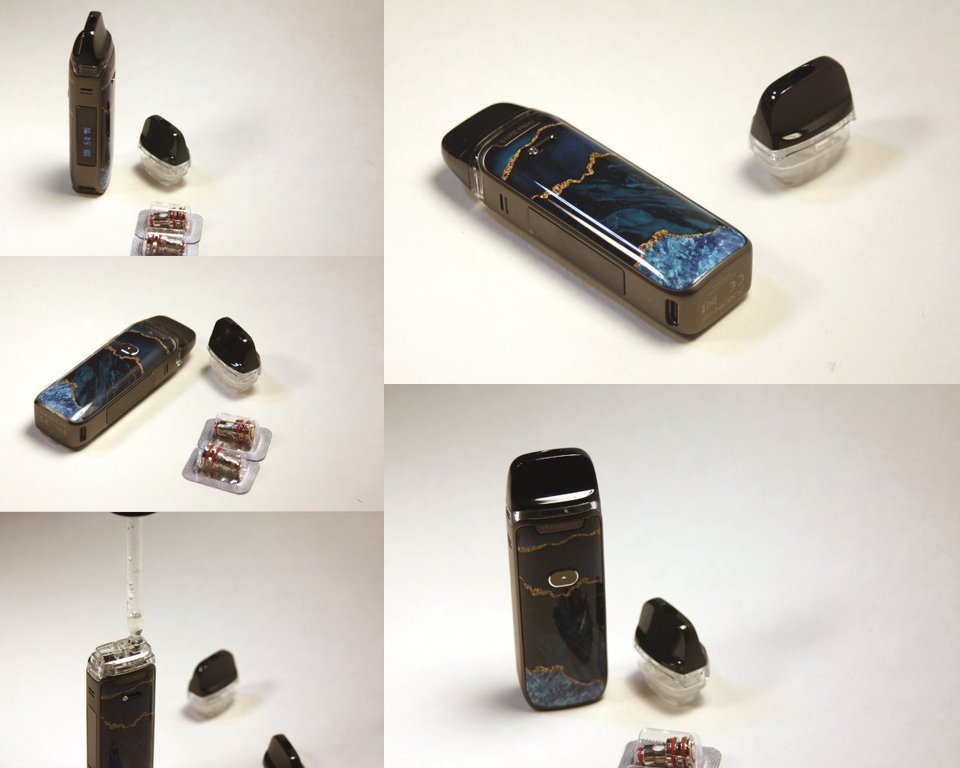 Vaporesso Luxe PM40 Specifications
1800mAh battery w/ USB-C charge port
4ml capacity
Adjustable Airflow!
GTX coil family for excellent performance
AXON chipset provides smart consistent power
What comes with the Vaporesso Luxe PM40
One Device (built in battery)
Two PM40 Pods (Cartridge body)
Two GTX mesh coils (0.6 and 0.8 coils)
One USB-C cable
The Vaporesso Luxe PM40 is a deluxe pod vape device that has lots of cool features that are packed into this small palm sized device.
It looks sharp and feels fantastic. Matte grey accents on the body with a variety of design options for the body -- a simulated marble shown in this review.
Internally, there is an impressive capacity 1800mah battery. Recharging takes about an hour using the USB-C charge port but the life could easily be several days of moderate use.
Thanks to the latest generation AXON chipset, this device has several smart features, including a smoothed power curve. This feature helps avoid any firing sag for more consistent vapor production.
The pod cartridge has a very snug fit to the device body and only needs to be removed to swap coils. The black tip has an excellent shape for maximum comfort with the mouth piece also functioning as a lid for the tank. More on filling down below as this is a big plus.
As with other recent compact Vaporesso devices, the LUXE PM40 pod can take advantage of the wide selection of GTX coils that are available, including an GTX RBA coil for rebuilders.
On the front of the device is a slightly raised, and beveled push to fire button with a soft click. This button pull extra duty for menu adjustment as well as a power on/off. 
One press fires the pod as expected. Five presses powers the device on or off. Three presses unlock the device for wattage adjustments then auto locks again after three seconds. To lower the wattage you need to raise the wattage until it gets to 40W and then wraps back around to 5W. 
Turning the device over, there is a small little metal button that is actually a slider which adjusts the draw for the pod. This slider has a stiff resistance and firm placement for good retention. 
Adjusting the slider controls a small vent on the right side of the pod. Full closed provides a fairly tight MTL draw and fully open has a loose MTL (or very restricted DL). 
Having adjustable airflow on a pod is quite the luxury and works well.
Easy Fill ( and Comfortable) Pod!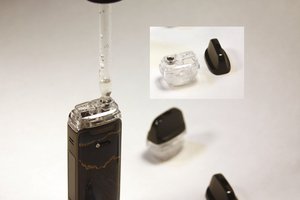 This pod design is quite the improvement over previous versions and other devices. Some pods have silicone plugs somewhere on the cartridge. Vaporesso even has another pod design that has a spring loaded port that works well with unicorn stems. But this pod fill port is simple and awesome.
The black mouthpiece portion of the pod has a contoured edges that provides a comfortable mouth feel but is also functions as the juice top. The black portion snaps on and off. 
Filling this pod is simple. Remove the lid and you are good to go.
With the top off, there is a fill port off to side that is sizeable enough for even the biggest dropper stems or huge unicorn bottles. There is a small flap system that keeps the juice from just pouring out but the lid keeps it from leaking. 
Snap lid back on and you're set!
Performance and Final Thoughts
This is a high performance vape pod that is easy to recommend. 
The single button interface has positives and negatives but that is really the only gripe.
Overall, this a great pod. The Vaporesso Luxe PM40 is easy to fill, has a long life, fast (2A) charging, simple interface with smart firing, wide variety of coils and adjustable airflow! And it looks good and fits in a pocket no problem. 
It's a quite enjoyable pod device thanks to an excellent design and tons of features in a compact package.
Single button interface makes wattage adjustments take a bit longer (particularly lowering wattage)
Comfortable mouth feel and Push to Fire
GTX mesh coils deliver Excellent flavor
Adjustable airflow! Familiar pod draw (Restricted to Loose MTL)
Improved and Simplified filling - port under pop off mouth piece
1800mAh Battery w/ USB-C charging
Smart AXON chipset and Bright LED display
Free Shipping over $39.99 from Vaporesso! (2-Day)