Kind Juice [Vape Brand Review]
June 27, 2018
Kind Juice is a vape juice manufacturer based in Florida that specializes in providing customers with premium organic vape juices in a wide range of flavors achieved through the use of all natural ingredients.

Looking at the company website we see lots of things that pretty much anyone can get behind:
Made in the USA

organic and natural extracts are used as flavorings

no artificial additives like preservatives or dyes!

ingredients sourced from farms and manufacturers that follow standards demanded by Kind Juice

flavors are extracted using ethyl alcohol (from sugar cane) and reverse osmosis, resulting in flavors that contain no sugar are wheat/gluten free

all plants flavors and vegetable glycerin extracted from are grown pesticide free!

cruelty free and ethical ingredients that are never tested on animals which is great for vegans and conscientious individuals

the company believes in fair trade 

When we got the package of juices in the mail, one of the first things we noticed was the products are even shipped in recycled paper envelopes and wrapping paper instead of using a non-biodegradable plastic bubble wrapping or other packing materials.
One of the best parts about vaping Kind Juice (besides the flavor) is knowing that Kind Juice centers their company mission around using high quality, ethical sourcing of the ingredients used and natural flavor extraction processes instead of chemical extraction.
The majority of vapers switch to vaping out of health concerns around what smoking does to the body. The next concern is what is in the e-juice. A lot of the time it is a mystery, which is why we always say avoid cheap chinese vape juice. 

Generally vapers accept the fact that there are some artificial flavors in their juice but expect the ingredients to be of good quality. Kind Juice takes the quality of their flavors and ingredients to the next level. Everything is organic, natural and not synthetic. We care about what goes into our bodies and Kind Juice cares about what goes into their product.
Kind Juice uses a 100% VG base which is nothing new but the process they use to get the glycerin sure is different than most manufacturers, particularly ones that don't brag about their USP (pharmaceutical level purity) grade ingredients.
The VG used by Kind Juice is extracted from plants that haven't been sprayed with pesticides and extracted using a combination of heat and pressure instead of a chemical extraction process. The VG is further refined using a distillation process to remove impurities.
Nicotine sourced from overseas tobacco can have all sorts of problems. First of all the soil from countries in Europe and in Asia sometimes have toxic, heavy metal laden soil which ends up in the plants. If you take any herbal supplements keep this in mind when you think about saving a few bucks by getting the cheapest stuff. You are paying for quality and it isn't any different with vape juice. 
Cheap nicotine is derived from tobacco plants which often treated with various questionable pesticides or other agents during the growth season and the nicotine is usually extracted as cheaply and quickly as possible using various industrial solvents such as kerosene.
The nicotine used in all Kind Juice products is extracted from tobacco sourced and grown in the USA by farmers without the use of pesticides, herbicides growth control agents. 
The nicotine is extracted without the use of solvents utilizing a cold refinement technique that results in a high purity, diacetyl free, stable, clear nicotine. This process gives a more smooth flavor to the juice.

Getting all these ingredients made using natural methods, sourced from farmers around the country is probably a real pain in the ass and takes some serious effort to bring it all together but it really pays off.
Knowing what ingredients are in the juice, how they were obtained gives some real peace of mind to those of us concerned about what mystery ingredients are being vaped.
Putting Kind Juice through the Paces
We tested three of the e-liquid flavors from the various lines sold by Kind Juice:

Patriot's Brew 

Radiance 

Little Mean Vanilla Bean 

Radiance [sub] Element
An attractively bright gelato beaming with essences of Honey Dew and Crenshaw melons, topped with a refreshing cucumber syrup.

Our vape juice Nectars are formulated using only 3 ingredients Max VG, Real Flavor Concentrates, and Wild Crafted Sustainable Non-GMO Botanical Extracts. Both flavorings we use are derived from only real fruit ... giving our vape juice a very authentic and pure taste.

Radiance is a melon flavor e-juice from the [sub] element line, designed for sub-ohm flavor chasing but can be used with essentially any setup that doesn't have wicking issues with high viscosity juices. 
This juice was tested using a dual coil flavor chasing RDA (the Digiflavor Drop) using ss316 clapton wires, measuring 0.23 ohms at 65W as well as in a mesh coil sub-ohm tank, measuring 0.14ohm at 68W. 
KIND JUICE - RADIANCE [SUB ELEMENT]
Radiance from Kind Juice a max VG vape juice specifically designed for dripping but it is perfect for flavor chasing in your RDAs and RTAs in addition to your sub-ohm tank. 
This is a sweet honey dew and crenshaw melon vape juice with a brisk cucumber finish with a very smooth draw.  
We had never heard of crenshaw melons before but apparently it is referred to as the "Cadillac of Melons" and has a flavor that tastes similar to a sweet cantelope to us.
It has such a delicious flavor profile that you may find your self chain vaping without even thinking about it!
If you like melon flavors, this is a fantastic pick.
Pros
easily all day vape material

great for fruit and melon lovers

makes a good after dinner vape (as well as morning vape with coffee)

lots of bursting flavor and dense cloud production

pure USP grade VG base with no PG

organic ingredients (no artificial preservatives or flavors either!)
gluten free, vegan friendly (and cruelty free)

Cons
Radiance is a huge hit! It is one of those vape juices that you have to keep vaping just to get some more of the sweet, delicious melon flavor. 
Patriot's Brew from the Tobacco Ridge Line
The Tobacco Ridge Patriot's Brew was tested using a sub-ohm mtl vape pen similar to what a tobacco enthusiast, newer vaper or recent smoker would use with a tobacco flavor juice.
Journey to a time when whiskey was homemade, Maple poured from the trees, and craft Bourbon was traded for it's weight in gold. Our Patriot's Brew tobacco vape juice is aged and finished with hand carved Oak to give you a true taste of rustic Americana at it's finest.

Tobacco Ridge vape juice is masterfully crafted with hand harvested tobacco varieties from around the world. Our Craftsmen use a natural extraction process (N.E.T) to highlight the unique flavor profiles of each tobacco leaf.  Each vape juice flavor is triple filtered and takes more than 6 months to develop.

This tobacco flavored e-juice has some serious time an effort put into its production:
brew time - 2 months

aged - 4 months

strained, triple filtered and steeped for 3 weeks

KIND JUICE - PATRIOT'S BREW [TOBACCO RIDGE]
This robust tobacco flavor has a sweet molasses smell like a bourbon upon opening the bottle. 
Upon vaping, it has a smooth inhale with satisfying throat hit. When paired with a mtl vape pen, this juice makes a damn good replacement for a traditional cigarette.
The flavor profile is a pleasant mild tobacco flavor with a sweet finish and has whiskey,  maple, vanilla and smokey notes. 

Patriot's Brew is a great choice for mouth to lung vapers looking for an outstanding tobacco flavor.
Pros
excellent stand in for cigarettes, cigars and pipe tobacco sessions

pairs well with beverages such as craft beer, coffee, red wine etc.

good cloud production
organic ingredients, no artificial additives or preservatives

vegan, gluten sensitivity friendly and cruelty free

pure USP grade VG base ( no PG)
Cons
few bucks but worth it for tobacco enthusiasts

Patriot's Brew is definitely one of the better tobacco vape experiences out there and can easily be the go to tobacco flavor for many vapers.
We gave some of our Patriot's Brew to a senior citizen we know who was a long time smoker turned mouth to lung vaper who talks about remembering a pack of cigs costing a quarter.
Here is what they said:
Very smooth. It [Patriot's Brew] reminds me of the days when I first started smoking. I really loved it.
Little Mean Vanilla Bean
We used a mesh coil sub-ohm tank, measuring 0.14ohm at 68W, to test the Little Mean Vanilla Bean. Following the instructions on the side of the bottle, the Little Mean Vanilla Bean was allowed to breath for a full day with the cap off before being vaped. 
This is no ordinary vanilla. Simple, delicate, and exquisite. Perfect for those with the most sensitive of palates. Procuring Bourbon Vanilla beans from Réunion, Madagascar we start our extraction process to craft a universal delight. 

Due to the fact that our Nectar Line contains alcohol we developed an exclusive and rigorous 3 stage steeping process. This unique process involves at least 150 hours (That's over 6 days!) that the Nectars must go through before being bottled and made available. This method not only blends the flavorings into a perfect marriage but allows the excess alcohol to evaporate off in the process

KIND JUICE - LITTLE MEAN VANILLA BEAN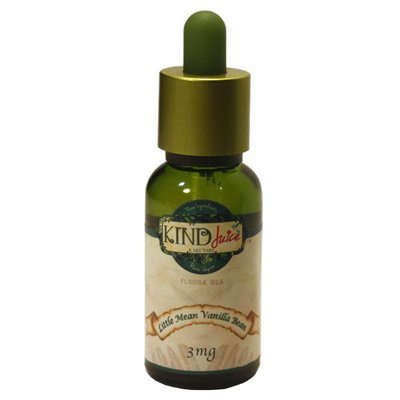 Little Mean Vanilla Bean is just what it sounds like! This juice is the perfect distillation of madagascar vanilla beans.
This juice has a very smooth inhale with a full vanilla flavor that isn't overpowering or too sweet. The flavor profile is very reminiscent of vanilla bean ice cream.
Little Mean Vanilla Bean is a great change of pace from other vanillas and custard flavors as it doesn't taste synthethic because it isn't! If you have ever had a weird reaction to other vanilla flavors, give this juice a try!
Pros
makes a great dessert or after dinner vape (even could be ADV for dedicated vanilla fans)
goes well with coffee
lots of flavor and vapor production

pure USP grade VG base with no PG

organic ingredients (and no GMO)

vegan friendly, gluten and sugar free

Cons
Final Thoughts on Kind Juice
We have been really impressed with Kind Juice after trying out these three flavors. 
Each of three vape juices we tried had a very smooth inhale and had a very good flavor profile. 
This vape juice tastes great and the bottles look have a pleasant design. 
Overall, we enjoyed vaping Kind Juice products and we like knowing what is in it (or more importantly what isn't)!

We also appreciate the effort the company makes to stick to its philosophy, their use of high quality ingredients and that effort really shows in the final product. 
While this juice is a bit more pricey than some other juices on the market, the fact of the matter is premium ingredients require premium prices.