Best Disposable E-Cigs and CBD Vape Pens
The Best Disposable Vapes in 2021
Best Disposable E-Cigs
Rank
Name
About



Dinner Lady is known for their absolutely delicious vape juice, both normal and even salt nic juices, in a variety of flavors but best known for Lemon Tart.

These high quality pens are made in the USA and designed in the UK.

The max is estimated to have 1500+ puffs of delicious 5% (50mg) salt nic based juice.

Top 3 Flavors to try:

Lemon Tart
Strawberry Macaroon
Lemon Sherberts Ice

There is also a 5 pack sampler that showcases a wide range of the line.




These disposables have the same juice you love that are in the famous Juul Compatible Ziip Pods.

1.2ml of 6% nic salt based vape juice per vape pen with about a 400 puff count per device.

Pretty much all the flavors are fantastic but some to try first:

Mango
FreshMint
Banana Pineapple
Watermelon
Lychee
POG

Get a Mango Z-pen disposable here




Zaero Pods make a series of tasty disposable vapes that also include traditional transition flavors such as chocolate, menthol and tobacco.

There is a pen in for everyone. Available with nicotine levels 0%, 1.8%, 3% and 5%. 

Flavors to try:

Blueberry Lemonade
BlueRazz
Sweet Orange
Banana




Vapor4Life disposable e-cigs are the closest to the real thing out there.

These disposables look, feel, taste (tobacco and menthol) and draw just like an analog. 
Makes for a great first step to transition from smoking, particularly for very long term or life long smokers. 
Very convenient - perfect for traveling.

Get The Sample Pack - 5 smoker friendly flavors with satisfying levels on nicotine

VGOD STIG Disposables Vapes 




Stig brings their most popular nic salt e-juice flavors to these compact disposable vape pens with 1.2 ml of juice per device.

Try:

Mango/Iced Mango
Mint
Lush Ice




Posh Vapes are make nic salt based disposable e-liquid pens that are available in several delicious icy fruit flavors. 

Each pen has 6.0% nicotine, clean flavor with a light throat hit and that cool menthol sensation.

Flavors to try:

Cool Mint
Lush Ice 
Blueberry Ice

Try the Sample Pack - 6 different flavors to try




Mojo designed these compact pens to have a restricted mouth to lung draw smokers expect with surprising vapor production. 

Get 1.2ml of 5% nic salt based juice per device.

Try:

Tobacco / Menthol
Mango 
Pineapple Ice
Lemon Dessert (Cake)
Dinner Lady known world wide for making some of the best tasting vape juice is now delivering the same experience but this time with a line of convenient disposable pens.
Pros
Fantastic, clean flavor profiles
smooth draw and throat hit
Long life - estimated 1500+ puff lifespan
High build quality - Made in the USA from a UK parent company
Vapor4Life disposable e-cigs are a great way for a smoker to make the transition from traditional smokes to a vape product. For long term or even life long smokers who haven't had success using other methods or devices, these tiny one time vape pens may be the best disposable e-cig to help make the switch.
These e-cigs satisfy your nicotine needs, with a 3.6% level of freebase nicotine, accurate full tobacco flavor e-juice and a strong throat hit. 
Everything about these disposable vapes seems to have been carefully selected to mimic an actual cigarette. 

These devices also satisfy the psychological needs of a smoker as well: the touch, taste, draw, feel, look and physical action. 
Each flavor is available as part of the sample pack as seen but each flavor is also available as solo items or in ten packs of your favorite flavor. The 10-packs are great because you won't run out and get back on the smokes.

These make a great gift for the smoker in your life (or yourself). If you haven't had the success you have wanted for so long, you owe it to yourself to give these a try!
Pros
Satisfying levels of nicotine and satisfies psychological habit and physical sensations for current smokers
Gives a very similar experience to an analog cigarettes - even looks and feels right
Very similar draw to traditional cigarettes
Strong throat hit
long lasting
Accurate tobacco and menthol flavors
Coffee, Peppermint and Watermelon are classic mouth to lung flavors with strong throat hits
Great for current/recent smokers and on-the-go vapers
Posh Disposable Vape Pen Sample Pack
Posh Disposable vape pens have huge fruit flavor with a light menthol cooling sensation -- just like an ice cold slushie.
The sample pack comes with 6 pods in these flavors:
Lush Ice - a super juicy watermelon with a light menthol ice - a summer treat!
Pineapple Slush - a fresh, sweet pineapple with tropical fruit notes and cool menthol touch
Frozen Grape - tastes like a super chilled, tasty grape juice
Mango Frost - who doesn't like Mango? A good representation of the most popular tropical pod flavor ever this time in with a slight menthol 
Blueberry Ice - frozen berry smoothie flavor just like something you would get at the mall
Cool Melon - honeydew and cantelopes
We also tried the Cool Mint and dang! It tastes like double mint gum!
Pros
Delicious, juicy fruit flavors with a light cooling menthol sensation
These disposables taste like slushies or iced beverages
Draw activated firing with loose mouth to lung draw
Surprising amount of vapor production for compact pod -- more than a JUUL
1.5ml of nic salt based juice - 6% strength 
Light to moderate throat hit
Great for travel
Vapor4life Disposable Vape - Tobacco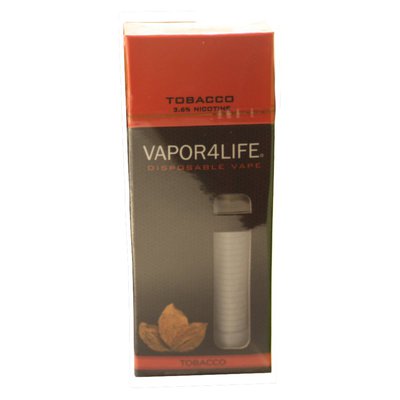 This disposable e-cigarette is just about the closest thing you can get to the real thing with out actually lighting up!
Pros
Accurate, full flavored tobacco taste
Fantastic mouth to lung draw and strong throat hit for a satisfying experience
very close to the real deal
3.6% strength (approx 36mg - free base nicotine for throat hit)
perfect for a long term smoker or smoker who hasn't become exclusive to e-cigs
Vapor4life Disposable Vape - Menthol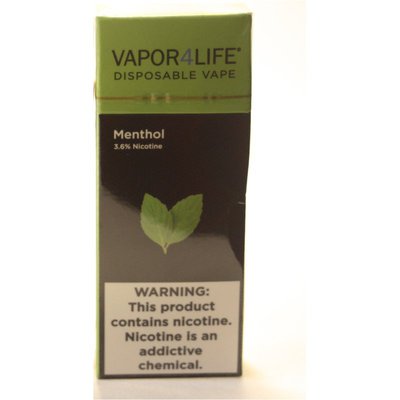 This disposable e-cigarette gives a satisfying vape experience to the menthol smoker or smoker looking to switch things up from a traditional tobacco flavor.
Vapor4life Disposable Vape - Coffee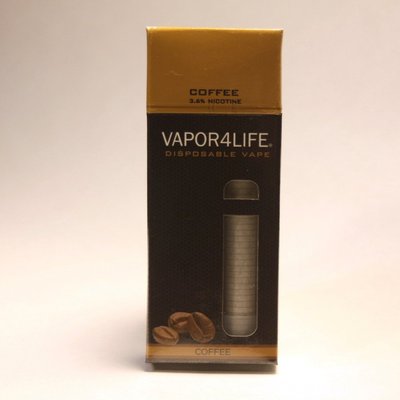 Disposables from Vapor4Life are just like the real deal but this time in a classic mouth to lung flavor - Coffee!
Pros
lightly sweetened coffee flavor inhale with a pleasant roasted coffee aroma on exhale
fantastic mouth to lung draw with a strong throat hit
3.6% strength (roughly 36mg of free base nicotine)
Vapor4life Disposable Vape - Peppermint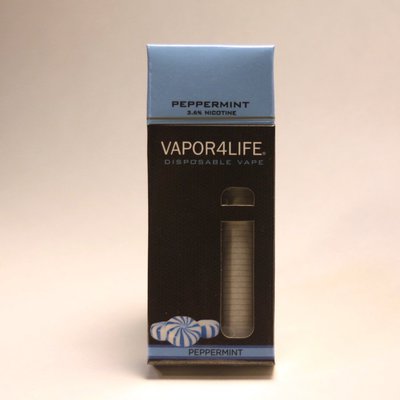 This disposable vape looks and performs like the real deal but with the flavor just like the candy but with a strong throat hit.
Pros
Peppermint is just like a super menthol flavor but with a sweet edge and candy aftertaste
cooling menthol mouth feel and strong throat hit
accurate mouth to lung draw - looks and feels like a real smoke
3.6% strength (free base nicotine)
The Best Disposable CBD Vape Pen
CBD Isolates Ready to Go in a One Time Vape Pen