This list will cover all sorts of the best vape mods - single and multiple battery regulated mods, box mods, squonk mods (regulated and bypass), tube mods and more. 

Best Vape Mods
What is the best vape mod?
Top Ten Best Vape Mods 2019
Category
Name
About

Geekvape Aegis Legend 200W TC Box Mod




Powerful, Two battery box mod
Tough and Durable
Fast Firing for Cloud Chasing

Get the Kit! - Limited edition kit with the Alpha tank (Free Shipping)

VooPoo Drag 2 177W TC Box Mod




Voopoo brings back the best selling Drag 177W TC Box Mod with several upgrades

More compact, lighter in hand, ergonomic
Uses more efficient Gene Fit chip for longer battery life
Very fast firing with a wide firing range and several modes, settings and good TC

Buy Now - Free Shipping 

Get the Kit for a few bucks more - includes the UForce 2 mesh Subohm tank with Free Shipping!

Best Single Battery Vape Mod

Vaporesso Armour Pro 100w




Takes 18650, 20700, 21700 size batteries
 Powerful, uses the OMNI 4 board
Compact, Comfortable squeeze fire

Buy Now! Get the kit with Cascade Baby Tank that uses GT Mesh coils

Best Internal Battery Vape Mod




The OBS Cube is a fantastic take on the tube mod featuring:

3000mah battery, firing up to 80W (keep it around 50W for max life)
oversized, comfortable firing button
handles tanks up to 25mm no problems

Buy Now - Just the Mod w/ free shipping

Get the Kit with mesh tank for a few more bucks

Teslacigs Punk 86W Regulated Tube Mod




Simple operation with easy to read display
Variable wattage regulated tube mod with several protections, takes a single high amperage 18650 battery
Steampunk styled for cool looking setups

Best Lightweight Vape Mod

Augvape VX200 Vape Mod / Vape Starter Kit




Very lightweight, compact yet powerful dual 18650 vape mod
excellent menu system and locking mechanism
comfortable squeeze fire
affordable and kit comes with three disposable mesh subohm tanks

Buy Now - Just the Mod

Best Dual Battery Squonk Mod

 DOVPO Topside 200W Squonk Mod




Highpower, Regulated with good TC
High capacity (10ml) squonk bottle, Easy to fill
Comfortable in hand, Easy Squeeze

Best Single Battery Squonk Mod 

Dovpo Topside 90W Squonk Box Mod 




Easy to fill 10ml squonk bottle 
Powerful regulated squonking accurate wattage and good TC capability
Powers up to 90W using a single 18650, 20700, 21700 battery

Buy Now - Free 2-Day Shipping!

Yihi SX Mini G Class 200w TC




Bluetooth connectivity for updates, adjustments and customizing the wallpaper from your phone.
Uses highly regarded Yihi SX 550J chip set with frequent firmware updates.
Powerful, versatile and customizable firing modes

Best Temperature Controlled Box Mod

Lost Vape Paranormal DNA250C 200w TC




Uses incredible Evolv DNA250C chip which has preheating, temperature auto sensing and tuning
High performance in all modes
Looks great and feels great
Best Vape Mod for Clouds
High power regulated box mods for Direct Lung Vapers and Cloud Chasers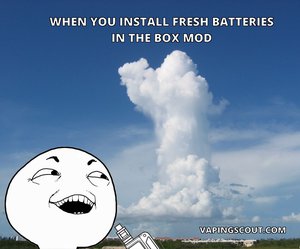 If you are wanting to blow huge clouds there are tons of choices out there that will satisfy. Most modern mods will be able to give a nice plume of vapor to one degree or another.  There are a few features that we want to find in the mod if we are just looking for huge clouds.
Features we want in a mod for blowing clouds:
low ohm resistance capability to handle builds designed for clouds

fast powering, fast firing -- capable of higher wattages

multiple batteries 

temperature control isn't as important but some people like tc builds

We want to pair our cloud mod with a vape tank with good airflow for taking deep direct lung hits, a lower ohm, high surface area coil build and a high vg juice.
Dual Battery Vape Mods
Two battery mods are the most common out there and are probably the best pick for most people. Having two batteries allow for decent battery life and moderately high wattages.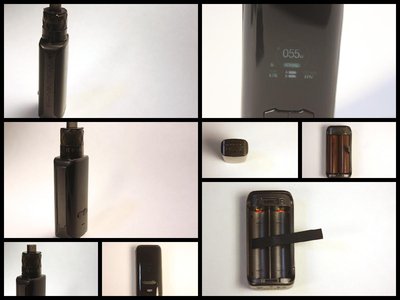 The Augvape VX200 is a small form factor, high powered dual 18650 box mod constructed from durable ABS and PC plastics that may be one of the lightest mods on the market. 

Augvape paired the VX200 mod with three disposable Jewel kanthal mesh subohm tanks, which perform quite well, making this a high performing, lightweight and resilient vape kit. 
Pros
Affordable! 
great flavor and vapor production from the disposable mesh tanks
easy to use kit and enjoyable vape experience with comfortable hand feel
light weight, sturdy and resilient to abuse
*clicky* side firing button (auto on and fast firing)
well designed display and it's color customizable!
easy to use menu system with lots of options, and firmware upgradable
centrally located 510 that can situate atomizers up to 28mm with no overhang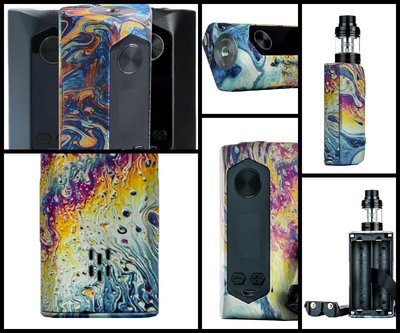 The GeekVape Blade vape is a quality two battery box mod kit that features the versatile and fast firing AS chipset.
The body of the Blade is made from an aircraft grade polymer (PPS), giving the mod durability, a lighter weight and an interesting tactile sensation that isn't slippery.
The 510 platform has a 25mm diameter and the pin is spring loaded. The mod has rounded edges with a curved top and bottom on the front. This curve gives it the mod an interesting look but limits the diameter of atomizer to 25mm without overhang.
On the back side, the battery door has prominent, stylized venting and is secured by four strong magnets with no rattle or looseness. 
This mod is able to use 3 types of batteries for lots of choice on power: 18650, 20700 and 21700. The sled is prefit for 20700/21700 with a secure fit on both. To use 18650s, GeekVape includes a tray that adapts the battery sled to size.
Overall, the GeekVape Blade is comfortable, performant mod that is fast firing and easy to use with a slew of battery options. 

Pros
mod has a comfortable hand feel and button position

AS chipset is fast firing, accurate and powerful

battery sled handles 20700, 21700 batteries by default (18650 with tray insert)

using 21700 batteries will give long lasting performance

the screen displays all the desirable information is a clean arrangement

the mod made from a durable, lightweight aircraft grade polymer (PPS)

comes in a bright color blend but also available in standard matte black and a blue
Save with: Free Shipping! Low Price Guarantee!
Two (or More) Batteries
The Smok GX 2/4 APV (advanced personal vaporizer) box mod seems to be the spiritual successor to the Alien 220W.  It is stylish, well designed, and powerful.
When the Alien was first released it was received extremely well. It was the everyday workhorse mod for a large number of vapers including myself.  This mod has become started to take over that spot.
It has the ability to fire up to 350W when using four batteries and 220W in two battery mode.  The mod features a slim profile squeeze or front firing bar that is natural feeling to depress.
Smok bills the GX2/4 as the smallest two battery mods on the market and when in 4 battery mode it isn't much bigger than some three battery mods.
If you are looking for a powerful mod that is also easy to use and also looks attractive, this may be the mod for you.
Pros
squeeze fired with a slim profile front fire bar (feels natural)

two battery (220W) and four battery configurations (350W) with four battery door included
very well designed, sleek and stylish looking , high build quality

upgraded paint (very smooth like a waxed car) in a variety of colors
can take 25mm tanks without overhang 
comfortable in the hand
spring loaded 510 pin
Cons
fire bar is slightly offset in two battery mode and perfectly centered when in four battery mode (may be a con to some)

Two Battery Mods that Still Kick Ass
Great Classic Mods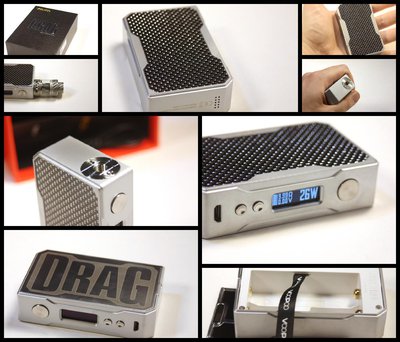 The VOOPOO DRAG 157W TC box mod features the GENE chip and is a absolute beast. The Drag, a dual 18650 box mod, hits like a champ and has a sleek, classic box mod look with all the most up to date features and safety protections.
The GENE chip has received accolades from vapers every where and for good reason. This chip is state of the art for vape mod technology. 
Not only can it do everything a high end chip such as the DNA chip found on super expensive mods can do but it is one of the fastest firing and most powerful chips around. 
The Drag is highly power efficient with a chip efficiency rating of 95% which translates into accurate and reliable power output regardless of whether the mod is in wattage or temperature control mode.
This mod has a smart VW (variable wattage) that can recommend the ideal output for the attached atomizer and can easily adjust. It even has a SUPER mode that activates between 130W and 157W for high wattage vapers.
Complimenting its slim, classic two battery design, the Drag also features a simplified display. This simplification makes the menu navigation take a little more effort than mods that feature displays on the mod face making this mod a bit difficult for new vapers but if you have been around mods a little bit you will fall in love.

Voopoo really went all out on the build quality of this mod. It is made from what seems like a solid piece of high quality stainless steel which give the mod a bit of heft and sturdy feel. The sides of the mod features on one side stylized laser etched DRAG and the other is a carbon fiber panel.
With a atomizer resistance range of 0.05 ohm to 3.0 ohm, high power output and a full featured and accurate temperature control and very fast firing this mod is a good fit for the vaper looking for strong performance.
Pros
uses the badass GENE chip

extremely fast firing and very powerful

looks great with sleek design, laser etching and carbon fiber

very high build quality

has a smart variable wattage that can automatically adjust and recommend ideal output based on resistance

has a SUPER mode for high wattage vaper

Temperature Control supports -  SS316, Ti, Ni200 and TCR

can fire down to 0.05ohm - even in TC mode

simplified display

strong battery door magnets

firmware upgradeable
The Smoant Cylon is a dual 18650 218W box mod that is fast firing with strong performance from the Ant218 v2 chipset, is easy to use and comfortable to hold as well as fire.
On the top of the mod, the spring loaded 510 is firm and well secured by a perfectly flush, wide, surrounding top plate.
The central placement of the 510 pin is fantastic and enables the use of very wide diameter tanks, up to 30mm with no overhang or aesthetic issues!
The 18650 batteries are bottom loading and the battery door is utilizes a slide and lock system, which is easy to secure but may be a little on the loose side.
The color screen is large and bright. This mod has a very easy to use menu system with a lot of options.  During regular usage mode, the display has multiple layouts including a simple display with a changeable wallpaper and a second display with a speedometer design that looks cool and is fun.
This mod has a comfortable hand feel and a large fire button on the side of the device for index finger firing.
Overall, the Smoant Cylon is a comfortable, two battery mod with great performance, particularly for variable wattage vapers.
Pros
fast firing, accurate and high powered
large tanks are no problem thanks to central placement of the 510 pin (even 30mm looks good!)

large well placed button for easy firing (on the side for index finger triggering)

comfortable hand feel

huge color screen with cool firing display 

easy to use menu system

batteries are bottom loading and secured with a slide and lock system
able to set your own wattage curves
The Smoant Battlestar was first released back in the second half of 2016 and has been one of the vape community's favorite two battery mods ever since.  It is powerful, feels good in the hand and is good looking.
Able to handle down to 0.1ohms, this mod is fast firing and is able to handle pretty much any build.  The Battlestar with go up to 200w in wattage mode but can also handle nichrome, titanium and three types of stainless steel in temperature control mode. It even has TCR for a more custom TC experience. 
It was the first two battery mod to feature the faux triangle shape that has become something of a trend. This shape gives it a comfortable hand feel and is easy to fire with the finger or thumb depending on positioning.
Pros
powerful device, fires down to .1 ohms at wattage up to 200w and supports temperature control for Ni, Ti, three types of stainless steel and has TCR for customization

ergonomic shape that feels good in the hand and can be fired with index finger or thumb based on your hand position

recessed area around spring loaded 510 pin for handling seepage

strong build quality and no more button rattle (Thanks Smoant for listening to customers)

magnetic secured battery door

usb charging and firmware upgradeable

reverse battery, low resistance, low input voltage, short circuit, overheating protection

The Minikin V2 is a good two battery touch screen mod that has a great hand feel and a large fire button.
Pros
touch screen

great ergonomics w/ big fire button
can handle larger diameter tanks and still look good

VW (180w) / TC (Ni/Ti/SS) device with upgradable firmware
easily becomes go-to two battery mod
Cons
Best Squonk Box Mods (Bottom Feed)
Feed the Juice Right to Your RDA with a Squeeze Bottle Built into the Mod!
Best Squonk Mods
Category
Name
About

Best Dual Battery Regulated Squonk Mod

Dovpo Topside 200W Squonk Mod




Highpower, Regulated with good TC
High capacity (10ml) squonk bottle, Easy to fill
Comfortable in hand, Easy Squeeze

Best Single Battery Regulated Squonk Box Mod

Dovpo Topside 90W Regulated Squonk Box Mod




Single Battery squonk mod that takes 18650, 20700 and 21700
Powerful, fast firing, accurate direct wattage and TC
Comfortable to use and easy, clean refill (10ml squonk bottle)

Buy Now - Free 2-day Shipping!

Best Single Battery Unregulated Squonk Mod

Wotofo x MikeVapes Recurve 80W Squonk Mod




unregulated (mech style) firing with PCB safety features
Powers up to 80W using 18650, 20650, 20700, 21700 batteries
Ergonomic design, very comfortable to use and squeeze

Buy Now - use DNA10 for extra 10% off 

Best Affordable Dual Battery Squonk Kit

Smoant Battlestar Squonker 200w




Pump system, No bottles -- No more over squonking
Comfortable dual battery squonk box mod with fast firing, powerful variable wattage 
Great Value! Awesome squonker with a good RDA for around $50

Best Single Battery Regulated Squonk Mod Kit

Vandy Vape x Tony B Pulse X 90W Regulated Squonk Box Mod Kit




Great design - oversized fire button with easy to use 8ml Squeeze Bottle and changeable side panels
fast firing down to 0.05ohms with good TC capabilities
uses a single 18650, 20700 or 21700 battery

Buy Now! - Free 2 Day Shipping!
The Recurve Squonk Box Mod is a straight forward, unregulated (direct power) single battery device with a PCB that provides all the safety features anyone could want. Mech style vaping and the peace of mind of regulated box mods.
This squonk box has a reassuring heft and has a rubberized surface and a highly ergonomic form factor that provides an excellent hand feel.
With a large, clicky fire button and ample, easy squeeze bottle, using an RDA is made convenient.
Pros
unregulated power output based on battery life and has safety protections

mechanical style with modern safety features
will fire 0.08ohm builds and will shutoff at 3.2v
LARGE 8ml capacity with very functional bottom feed system and easy access panel 

ergonomic shape for max comfort

sturdy and enjoyable hand feel 

large *clicky* fire button

LED light indicator hidden behind squonk bottle (illuminates bottle from behind)

2A USB charging port

can take single 18650/20650/20700/21700 batteries - battery adapters included

no battery rattle and clear battery placment direction indicators
up to 26mm diameter RDAs have no overhang
Vape Mods for Beginners
Mod Basics Guide
When you are quitting smoking with an ecig the mod you want to get is probably different than the mod you want for giant plumes of vapor.  New vapers are typically current smokers or recent ex-smokers are looking to fill the role that traditional cigarettes left behind.  The feeling of warm vaper being pulled into your mouth before inhaling, tickling the back of the throat.  This is known as mouth to lung (MTL) vaping.
New vapers are usually well suited to get a mod that fits with a tank that ends up performing similar to a cig, even if you don't get the tobacco flavor or lingering smoke smell!  The type mod that we would recommend to beginners and ex-smokers would have a few features in common.
We would like the mod to be small and portable for a few reasons.  It is probably going to be an accessory that is going to go everywhere; car, work, restaurant patio, etc.  Being small it would be easy to be more stealthy or fit mostly in your hand.  Since size is important it probably will only take a single battery or have a built in battery as we would see in a vape starter kit.
It should also have some built in safety features like battery or firing protections as well as power on/off that isn't easy to trigger accidentally.  For example the innokin coolfire pictured above has an actual on / off switch at the base but most modern mods have a button sequence built in for turning it on and off.
Mods for quitting smoking are best with a vape tank with controllable airflow for mouth to lung style hits and a higher PG juice, (70/30 PG/VG) to get that familiar throat hit.  The nicotine level is probably going to need to be higher for recent ex-smokers to be comparable to cigs and can be dropped from there.
What is a Vape Mod?
(Vape Mods, Ecig Mods, Box Mods, Mech Mods ...)
A mod, at is basic level,  is a device that supplies power from batteries to an atomizer in an effort to vaporizer the juice.  When e-cigarettes first came on to the market they were simply a battery and a fire button.  
Mech mods are still a battery holder (often just a metal tube) and some way to complete the circuit to heat the element. These mods are pretty out dated and just supply raw power to your atomizer; giving you no control.  

These mech mods are so simple they are actually safety free.  There are no protections provided by the device as seen on newer consumer minded devices.  More modern devices are considered to be regulated devices.

Modern vaping now uses similar devices as the old ones but now have integrated circuitry to provide the vaper with a lot more control over the experience with control over not only the power supplied (as voltage) but wattage and now temperature control.
Regulated mods provide a far superior vape experience since the control over the coil is available. These regulated mods are far safer to use as well since there are built in protections for common hazards such as atomizer short circuits.
Read our Vaping 101: Battery Safety guide to get more details on battery safety with unregulated and regulated mods as well as preventing shorts.
Vape Mod Usage Modes
Variable Wattage (vw) / Variable Voltage (VV) and Temp Control Vaping
Most modern devices have most of these options built in and are selectable from the control menu on your mod.  As each device is different consult the user manual for directions on how to adjust the settings.

Variable wattage (vw) and variable voltage (vv) modes are primarily used when the coil is comprised of kanthal wire builds.  Kanthal wire builds and variable wattage mode is the tried and true setup for most hobbiest vapers. 

While there are a few more simple regulated mods that are just one setting, supplying a constant voltage, essentially all devices on the market that have a display screen have modes to control at least wattage and voltage levels.  These two modes work in concert.  
The vaper can adjust one of the settings, usually the wattage to control how much power is supplied to the atomizer.  Most experienced vapers adjust the wattage based on the resistance (ohms) of the wire used in the atomizer.  
The higher the resistance the lower the wattage required and higher wattage required for lower ohms.
Temperature control (TC) is a little more complex than simple wattage/voltage adjustments.  When using temperature control, the vaper is looking to control how hot the wire actually gets when being fired.  This can help prevent situations where the juice gets too hot and starts to taste different, burned or giving dry hits.
This feature however requires certain types of wire to be used.  When TC is used, the temp control mode being used has to match the type of wire used in the coil.  
Common wire types for TC builds are nickel, titanium, stainless steel and even traditional kanthal wire.  Always make sure your device can handle the material you are using for your coil and you are using the correct mode!
What is Sub-Ohm Vaping?
where it is at for cloud chasing
Sub-ohm vaping is really another phrase in my mind for cloud chasing.  Everyone likes huge clouds and getting huge clouds has more to do with your atomizer than your mod except that your mod has to be capable of firing a lower resistance build.

When people say sub-ohm what they really are referring to is lower ohm resistance on their coil build.  Under 1 ohm traditionally but .15-.30 ohm builds are quite common.  A number of mods can handle all the way down to .05 ohms when in temperature control mode.  

Be aware that 'sub-ohm tanks' are now understood to mean tanks that have low-ohm coil insert packs.

Keep in mind that ohms measures electronic resistance in the wire; meaning the lower the rating the more electrons can move through the wire at the same time.  This translates directly into build heating up faster.  Some common builds that take advantage of lower ohm resistances can range from:
lower gauge (thicker) wire to 

exotic builds like fused clapton 

twisted wire builds 

(builds that use more than one wire and sometimes wires of different gauges)

Essentially all recent manufacture regulated devices are capable of sub-ohm vaping to one degree or another.  When selecting your mod keep in mind that you want to be able to actually use the build you are going for with your atomizer. 
What is Squonking?
Squonking is a style of vaping that uses specially designed vape box mod with a squeezable e-liquid reservoir installed to feed and RDA or RDTA from the bottom instead of dripping juice into the atomizer from the top.  
What is a Squonk Mod?
A Squonk mod or squonk box mod is a specific type of vape box mod, either regulated or unregulated, that has an enclosed vape juice reservoir inside of the box that can be squeezed to feed juice into the atomizer (typically RDA) from the bottom. An RDA that is capable of pairing with a squonk mod is often labeled as BF or bottom feed.