Keep in mind that new starter kits are coming out on a daily basis and this guide will be updated regularly. 
Break the Habit with Vape Starter Kits
Vaping as an Alternative to Smoking
Every smoker knows there are a few positives to smoking and lots of drawbacks.  The positives are all side effects of using nicotine such as increased focus or anxiety reduction.  The healthiest thing you can do is to just quit smoking but everyone who has been addicted knows that is easier said than done.
How exactly does one go about quitting smoking?  Some go cold turkey with mixed results; others just try to replace their nicotine then ween themselves off slowly overtime.  Patches, gum, or pills?  All of these methods don't replace the hand to mouth, oral fixation habits of smoking.
The simplest, most effective alternative to smoking in my opinion is to get nicotine from from vaping.  You get the nicotine your body requires plus the oral aspect of smoking with out the unhealthy combustion of plant materials.
A study from the U.K., studying data from the U.S. has found the same thing:
A report published by the British Medical Journal (BMJ) claims that e-cigarette users are more likely than non-users to successfully quit smoking - for at least three months. E-cigarette users were also much more likely than non-[e-cig]users to try to quit smoking in the first place. The report, which surveyed 161,054 people in the US across almost 15 years, also found that substantially more people in the States are using e-cigarettes, and that this was linked to a "statistically significant increase in the smoking cessation rate at the population level".
Here is the article from Wired UK and here is the study from the British Medical Journal (BMJ). 
Another BMJ study concerning the safety of vaping  with regard to carcinogens, assuming safe operating conditions, concluded:
The aerosols form a spectrum of cancer potencies spanning five orders of magnitude from uncontaminated air to tobacco smoke. E-cigarette emissions span most of this range with the preponderance of products having potencies <1% of tobacco smoke and falling within two orders of magnitude of a medicinal nicotine inhaler;
Vape Starter Kits
The Best Way to Get Started Vaping
For a new vaper, with no supplies at all, getting started can be a bit intimidating.  To get started with vaping you need  several items:
an atomizer (tank) and mouth piece (drip tip)

vape mod (device providing the power mechanism to heat the coil in the atomizer)

e-liquid

Unless you buy a vape starter kit these are all sold separately; with a kit you can get most of these in one package and with cost savings.  Buying a vape starter kit is definitely the most budget friendly option for new vapers.
Some of the starter kits aren't as forgiving when it comes to upgrading as others.  Knowing the reasons for getting a kit will help you decide which style to buy.
Box Mod Vape Kits
kits with box mods and tanks
The box mod style kits is what would be recommended for vapers that plan on vaping for a while.  This style of mod has a lot more features and is more upgradable than the tube style mods.   
Box mod style kits are great for the type of person who:
is willing to invest more in a better experience down the road and can foresee upgrading some parts (tank or coils) in the future or start seeing it as a hobby 

is planning on switching to vaping or are planning to vape for an extended period of time.

only wants one rig.  Replaceable batteries are a must have so you can just drop in fresh batteries instead of plugging in your rig and waiting.

have tried vaping and like it or plan on switching regardless.

Box mods as you can see in the photo have a display screen which indicates that the mod is able to have adjustable settings such as variable voltage / wattage settings and more than likely able to utilize newer coil types for use with Temperature Control.
The box mods are also designed more for sub-ohm vaping and are more powerful than its tube style counter parts.  These mods are able to handle upgrading the tank later on and are far superior when it comes to diversity of coils that are available to use in the tank. 
The entry point on these style mods is also usually a little higher as they usually don't come with the necessary 18650 batteries or charger to power the device.  
If you are looking for a kit that you can use for a long period of time in your vape career, definitely start with a box mod style kit.
Best Mouth to Lung Box Mod Starter Kit
Perfect for Flavor Chasers and Recent Smokers
These little mouth to lung kits provide the draw and feel that smokers are used to.  
A good beginner kit should have:
a good price

great mouth to lung (MTL) draw

built in battery a plus

(everything but juice)

Aspire Zelos 50w Nautilus 2 Starter Kit
Rating: 8/10
The Aspire Zelos 50W vape starter kit pairs a 2500mah built in battery device with the Aspire Nautilus 2 mouth to lung (MTL) sub-ohm tank to make a very good MTL flavor chasing rig at a mid-range price point.
Pros
the Nautilus 2 tank provides an enjoyable MTL flavor chasing experience

easy to use (and the coils are quite common) which makes it good for newer vapers
top fill, 22mm tank, 2ml capacity (standard size for this type of tank)

very controllable airflow (shut off to very restricted lung hit) for providing smooth draws

uses widely available BVC coils (1.6 @ 10-15W and .7 ohms @ 18-23W) that should enable all day vaping on a single charge

the mod has a familiar 3 button layout and interface

built in 2500mah battery pack (same capacity as the average 18650) with pass through charging

spring loaded 510 pin

Auto Cutoff/Low Voltage/Short Circuit/Overheat/Over Discharge/Over Charge Protection

Cons
bit larger than the usual vape pen style mtl kits but it still fits well in hand
DNA10
Best Single Battery Kit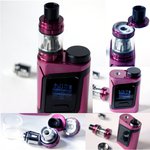 SMOK announced they were creating a smaller version of the insanely popular Alien mod, and the vape community went bananas in anticipation. Whatever type of vaper can use the SMOK Alien AL85 Kit it does not matter if you are a new vaper or a novice.  AL85 Kit consists of AL85 mod and TFV8 Baby tank.
Pros
small, compact design with a comfortable hand feel

easy to use, squeeze fire

the screen has lots of data and is easy to read

secure single battery compartment

sub-ohm tank (Baby Beast) is a strong performer with widely available coils packs

Cons
Use Coupon Code: DNA10
Best Sub-Ohm Box Mod Kits
two battery kits
Two battery mods paired with a great all around sub-ohm tank.
Sometimes these tanks that come with these kits will come with a rebuildable deck section (RBA) making them more like an RTA.
The Smok GX2/4 is a interesting starter kit that features the highly regarded TFV8 Big Baby Beast sub-ohm tank and is a convertible vape mod that takes 2 or 4 18650 batteries.
This kit is targeting vapers who want a powerful device that has a more slim profile but is able to have more capability and capacity when needed.  The GX2/4, mod in particular, will easily become a go to for a lot of vapers looking to replace their Alien.

This is a really sleek kit that comes in a whole range of rich colors.  The paint used on this kit seems to have come leaps and bounds from earlier Smok products.  The paint feels very smooth, similar to a waxed car. 
The kit includes two battery doors; one for two battery mode and a larger one that holds an extra two batteries, doubling battery life and maximum wattage increasing to 350W from 220W.  The mod also supports all the major temperature control materials (Ni, Ti, Sus) and supports custom TCRs.
The form factor goes from one of the smallest two battery mods on the market, thinner than the Alien 220W but roughly the same height, to diamond shaped when holding all four batteries.  
The mod is front firing using a squeeze bar just like the Alien, however the fire bar is a more slim design, only taking up half of the width of the device. Both shapes fit well in the hand and firing the mod is comfortable in both positions, however the fire bar seems to be more front facing in four button mode.
A bright OLED display on the face of the mod has a well designed, easy to read, data packed screen. Adjustments to the device are made with two up/down button just like normal.
The Smok TFV8 Big Baby Beast needs little introduction as it is a staple of sub-ohm vaping at this point, particularly with the Smok starter kits.  It it indeed a beast of a sub-ohm tank, featuring a easy to use top fill system, a wide variety of coil options and produces huge plumes of very saturated, flavorful vapor. 
Pros
comes with highly regarded TFV8 Big Baby Beast subohm tank (has a very saturated, flavorful vape and big clouds)

small form factor in two battery mode (Smok bills as "smallest") and will take 25mm tanks

Powerful, squeeze fired mod (220W in two battery and 350W in four) and even feels good to fire with right thumb

accurate temperature control (TC) with TCR 
tuneable TCR for temperature control

High build and design quality

easy firmware upgrade

bright, easy to read OLED display with a lot of data

nice paint job on the mod with matching tank and is available in wide variety of colors

hinge free, easy transform battery door system (with two and four battery mode doors included)

no built in battery charging which may be a con for some but it is far safer to charge on a standalone battery charger

Cons
fire bar is more aligned in four battery mode than two battery mode but still comfortable to fire
Use Coupon Code: DNA10
Smok Gpriv / Big Baby Beast Kit
Rating: 9/10
Comes with the super nice touch screen 220w mod and the fantastic Big Baby Beast Sub-ohm tank
Pros
The G-Priv mod is a top of the line, highly responsive, easy to use touch screen device.  The touch screen has a very well placed locking mechanism on the top left.  It can go up to 220w in wattage mode and also has TC that can take the standard Ni/Ti/SS builds.
The Big Baby Beast is a great tank that is a bit bigger than the baby beast (wider and taller) but still uses the same coil heads but still delivers great flavor and lots of airflow.
Smok Alien - Baby Beast Kit
Rating: 9/10
This kit includes the highly regarded Smok Alien mod and a TFV8 Baby Beast sub-ohm tank for huge clouds and lots of features / options at a great price!
Pros
Smok Alien 220w mod with:
an amazing display with a lot of information

 easily upgradable firmware

 Ni/Ti/SS TC modes

 TCR mode

Baby Beast Tank which is a fantastic little sub-ohm tank with great vapor production, swivel top-fill and V8  baby coil heads. This is a scaled down version of the TFV8 Cloud Beast.
Cons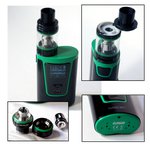 The Smok G150 kit is a complete sub-ohm kit that comes with the highly regarded Big Baby Beast tank and the G150 mod that has a built in 4200 mAh battery capacity. This kit will have you chucking clouds immediately. The mod is very reminiscent of the Alien 220. 
Cons
Some people don't like built in batteries and some do...

Use Coupon Code: DNA10
Best Vape Pen Starter Kits
Round Batteries Included (eGo) type
The best e-cig kits for new vapers and vapers on the go looking for a simple device that just plain works are well served by vape pen style starter kits.  
These are easy to assemble, don't have many parts, only have one setting (on or off) and are fill and fire ready.  
These are really great for several situations:
a travel vape for taking in the car or using at work

someone giving a vaping a test run to figure out if they like vaping

a gift for a current smoker

lower starting cost
These pen style mods are pretty nice for a few reasons.  They usually come with built in battery and charging capabilities which will help save on the startup cost.  
It is assemble and fire ready.  You don't have to fuss with any settings or figure out what setting is right for the coil, everything is pre-configured.  Since there is only one voltage setting there is usually only one type of coil available for the tank, which can be pretty great since you can just pop in a new coil when the old one burns out.
Direct Lung Sub-Ohm Vape Pen Kit
Easy Clouds on the Go
Smok V8 Stick Tube Mod Kit
Rating: 9/10
This tube mod kit from Smok is a fantastic on the go cloud kit that features the Big Baby Beast tank as the topper.
Pros
Comes with the TFV8 Big Baby Beast!
5ml capacity

2 subohm TFV8 baby coils (.15 and .2)

Swivel Top Fill 
The Regulated Tube Mod:
the mod comes with a 3000 mah built in battery

Smart Mechanical style output that depends on current battery life

full safety protections that are expected on modern regulated mods (8 sec/ low resistance / low voltage / short circuit)

Intelligent battery life indicator ring around button

Cons
can't adjust settings (like essentially all other regulated tube mods)
Price:
$45
The Best Starter Kit as an Alternative to Smoking
We aren't allowed to say Quitting!
Some new vapers go right to direct lung but for the most part current or ex-smokers really need to have a mouth to lung vape pen with a higher nicotine level e-juice to be able to switch easily from analog cigs to an e-cig. 
The sub-ohm mouth-to-lung vape pen kits are definitely the way to go for most new vapers, ex-smokers and current smokers looking to get a similar experience to smoking.
Best Mouth to Lung (MTL) Sub-ohm Vape Pen Kit
Great All-in-one Starter Kits for Current or Recent Smokers
Aspire Pockex [All-In-One Starter Kit]
Rating: 8/10
The Pockex from Aspire is what they are calling an All-in-One starter kit.  
It is an easy to use battery included vape pen style starter kit that is perfect for newer vapers as well as vapers looking for a small on the go style device.  It has a single button for firing and on/off (traditional 5 clicks).
It is a non-adjustable top airflow device that takes air into the top of the cartridge down one coil and then up the other coil into the chimney in a U shape which is something new.  Having the coil structured this way provides a smooth draw that would be considered a loose mouth-to-lung to fairly restricted direct lung.
As with most other devices this size, it features a 2 ml capacity and it is TPD compliant for British vapers.  The built in battery is 800 mah and is charged through a bottom usb port.  
Pros
Dead simple to use.  5 clicks on, fire, 5 clicks off, charge.

Great for new vapers, ex-smokers.  It is inexpensive without feeling cheap; Makes a great gift!

The coil (short chimney design) provides very good flavor.  The kit comes with 2 NautilusX coils both 0.6 ohms.  

Small stature and feels comfortable in the hand. Would easily fit in a pocket or purse.

Aspire designed this kit to be leak free.

Cons
We wish aspire would have made this device 1000-1200mah
The tip can get hot with chain usage like other subohms that use the coil housing as a chimney.
Price:
under $25
DNA10
This offering from Innokin is an affordable kit with awesome mouth to lung vape which is perfect for those wishing to switch from smoking to vaping.  
Pros
Perfect for a new vaper or ex-smoker. It makes a great gift!

Fantastic assortment of tip styles included. Something for everybody!
easy filling and charging

sturdy design

Cons
cartridge can seem to get a bit stuck when replacing it

Full Reviews