Vape Batteries, Vape Battery Chargers, and Vaping Accessories 2021
Best 18650 Batteries
Some batteries are better than others
Vaping is a very personalized experience and not every battery is the right pick for a given situation.  For instance if you are using a high ohm / low wattage build, you might not pick the same battery as you would for some low sub ohm / high wattage vaping.  
Batteries are typically designed in 3 ways: 
High Continous Drain Rating (A) / Low Capacity (mAh)

Low Continous Drain / High Capacity

Mid Continous Drain / Mid Capacity (a good general usage battery that is a good fit for a large portion of vapers)

Most of the time you might pick something right in the middle of high capacity and high amperage for a good general use battery.  
Check out our battery safety guide for some more in depth detail that explains Amperage and battery capacity as well as how to stay safe with regulated vape mods as well as unregulated mech mods and more.
Best 18650s for general usage vaping
solid, all around picks
These general use batteries usually are good middle of the road picks that can suit low powered all the way to higher (but not the highest) wattage situations.  They provide a good mix of battery life and amperage.
These 18650 batteries provide consistent power and drain and at an amazing price. 
Batteries for High Wattage (Regulated Mods)
or Low Sub-Ohm Unregulated
The higher wattage ranges on regulated mods or lower ohm builds on unregulated need to be primarily concerned with the continuous drain rating on their battery selection.  
Batteries that are capable of putting out more power without becoming unsafe are an absolute must. 
The trade off for having a higher continuous drain (A) is that the battery capacity is not high. 
The LG HB6 is a very highly regarded 1500mah 30A 18650 battery that is perfect for vapers that need extra amperage for higher wattage vaping or lower ohm mech builds.
Pros
has a 30A (continous drain) that is awesome for vaping at higher watts on a regulated mod or lower ohm builds 

*(always check your build with an ohms law calculator if you are using unregulate or mech)

Batteries with Higher Capacity
By higher capacity, it is understood to mean higher mAh.  This is the rating that indicates how long a battery will last.  
These typically have a lower continuous drain rating (A) meaning they are designed to be used in a higher ohm build (mech) / low wattage (regulated) situation. 
These higher capacity batteries are really good fits for single coil builds and in a single battery mod.

Vaping at 12w with a 1+ohm coil one of these high capacity batteries can last more than a day or two, depending.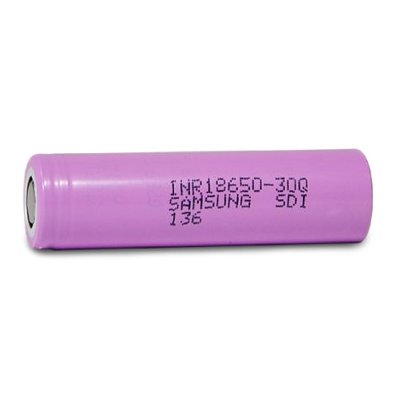 The Samsung 30Q is a great 3000mah that provides long battery life for low wattage all day vaping.
Pros
Save with: Free Shipping! Low Price Guarantee!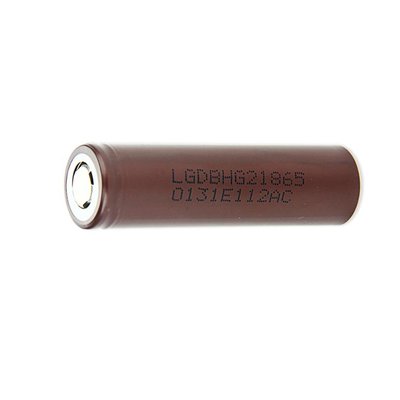 Often referred to as the Brownies, the HG2 provides a great mix of long lasting life (3000mah) and a suprising 20A continuous drain that will suit most vapers needs.
Pros
3000mah

20A continuous drain

very popular and highly regarded

Can also come in a three pack for savings
Useful Items and Must Have Vape Accessories
Items every vaper needs in their life
Best Battery Charger
Vaping uses various battery types and not all chargers are created equal
Far and away the most common battery used in vaping today is the 18650 battery.  However some of the more recent vape mods are starting to use the wider 26650 battery.  
When looking for the right battery charger we want it to have the following features:
handle a wide array of battery types focusing on those that we use 

'Smart' - meaning it can show the current voltage of the battery and know when to stop charging

high quality and well regarded manufacturer - you don't what to get cheap batteries or cheap chargers for purely safety reasons

optional but nice: variable speed (0.5A, 1A, 2A), dedicated wall charger for max safety, extra USB port for pass through of another device such as a cell phone
EFEST LUC V4 BATTERY CHARGER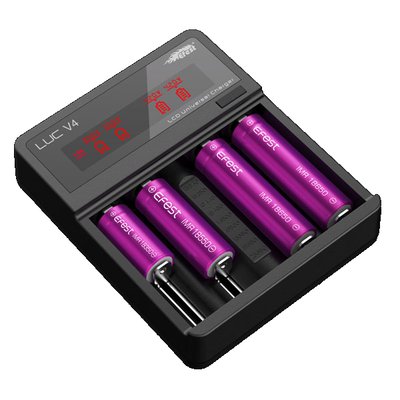 This high quality, 4-channel battery charger will charge most 3.7V Li-ion or LiMn batteries including 18650 and 26650 at variable power rates of 0.5A, 1A and even 2A.
Pros
4-channel, variable power modes

has additional USB output that can charge most consumer electronics

Built in safety features:
reverse polarity protection

short circuit protection

over-current protection (will stop chargin when batteries are full - HUGE)

Zero voltage activation function

Save with: Free Shipping! Low Price Guarantee!
Ultrasonic Cleaner
Clean tanks, rdas, wires, tools and even speed steep your vape juice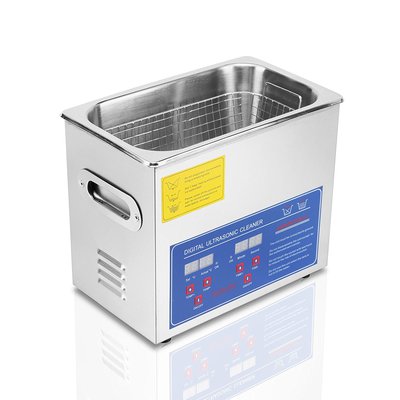 The Vevor Commercial Ultrasonic cleaner is sold on Amazon under many different brand names. It seems that one manufacturer in China makes these units and they are distributed by several companies. 
Coming in at under $100 for a 3L unit, it is a pretty good deal. Most cleaners, such as the home versions, come in plastic housing and are still around eighty bucks. 
This cleaner is housed in stainless steel which is nice as you don't have to worry about any thing melting from the internal heating element. 
The internal heating element is 100w and heats the water pretty rapidly. It is able to go up to 80 degrees Celsius, which is about 176 degree Fahrenheit. 
Ultrasonic cleaning is the main feature and this unit is able to put out quite a bit of vibration with its 120w ultrasonic generator. 
A stainless steel wire basket comes with the unit and has rubber tipped feet to prevent damage to the well portion of the cleaner. 
The well and basket is capable of cleaning several tanks and rdas at the same time which is great. 
I usually disassemble and clean every new tank, regardless of appearance, along with all the tanks I have been using over the past month and give them a quick clean.  I also usually drop in several strips of clapton wire that I plan to build with to make sure there isn't any machine oil or dust in the grooves for peace of mind.
I usually just fill the unit above about halfway to three quarters full with warm water and some liquid dish soap. After the cleaning cycle, just rinse everything in the basket off under the kitchen sink.
The timer maxes out at thirty minutes, which seems standard across units. This seems to be the right amount of time to get everything clean.
Since this unit has a build in timer and heating element, this device is perfect for quick steeping vape juice. The ultrasonic vibrations continuously agitate the vape juice and the heating element set at 60 degrees celcius makes steeping quick and easy. 

You just have to turn the unit back on a few times since the timer shuts off the unit after 30 minutes. 
The only problem with ultrasonic cleaners is the racket. Normally I try to isolate the unit in a closet that has an outlet and tuck a towel under the door to drown out some of the excess sound.
Pros
cleans items well

large capacity

has built in 30 minute digital timer

built in heating element capable of reaching 80 celcius (176 fahrenheit)

makes for a perfect quick steeping unit for vape juice

sturdy build quality with stainless steel housing

wire basket with rubber tipped feet

Save with:
Supplies for Rebuilding your own coils
Best Cotton Wicking for Coil Builds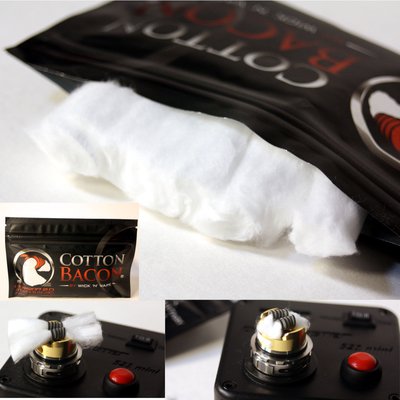 Wick'n'Vape has come up with a really great wicking cotton blend here in Cotton Bacon version 2. 
Cotton Bacon was designed with the goal of making a 100% safe, pure and durable wick. Some organic cottons can still contain some traces of organic pesticides or fragrances, but not Cotton Bacon.
Wick'N'Vape uses a U.S. grown dual fiber blend that has been cleaned thoroughly and had all non-cellulose fiber removed. This process leaves just super clean pure cotton wicking material behind.
In the resealable pouch you get several 4" 'bacon' like strips which can easily be separated, torn or cut.  No more cutting a strip off your cotton pad or trying to deal with cotton balls.  This stuff is very easy to build with and looks very clean.
Wick'N'Vape claims no break in period as it is a 100% tasteless wick. When tested it actually did have a very short break in period but it was only a handful of drags as opposed to the half a tank or more break in with other cottons. 
Cotton Bacon can keep up with my chain vaping.This is a very absorbent wick and I have only experienced dry hits when I accidentally let the tank get too low. When this occurred, the cotton was able to recover without giving me that residual 'dry hit' burnt flavor.
Love this stuff. Provides a great vape, easy to use, and it is fairly inexpensive for the amount of cotton strips you get.
Pros
U.S.A grown cotton, processed and cleaned for a safety

looks great 
very short break in period and tasteless

fast wicking, which helps prevent dry hits on chain vaping

easy to use, separate and tear

comes stacked in a resealable pouch; just pull a bit out like big league chew and reseal

doesn't burn as easily when a dry hit does occur

very low flavor retention when switching juices w/o rewicking which could be effected by the coil itself

Ohm Meter
Measuring Coil Resistance
If you are rebuilding coils a must have is a high quality ohm meter.  Building on a ohm meter to prevent any shorts in the RTA or RDA is just plain safer. 
If you don't have an ohm meter you are forced to build directly on your regulated mod and as well know they don't have a wide enough base to remain stable and upright very well.
We want an ohm meter that:
is well constructed and from a well known manufacturer

wide and stable base to make building easier
is accurate (tolerance within 0.01 ohms)

can handle a large range of resistances but focus on sub-ohm builds

a niceties would be built in fire button, errors

COIL MASTER 521 MINI OHM READER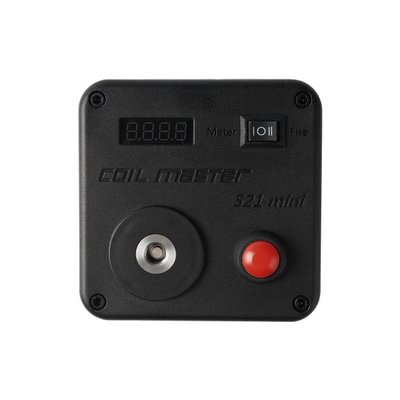 This easy to use ohm-reader is an accurate reader that can read down to .02 and up to 9.99.  It is powered by a standard 18650 battery and is able to fire while on the device.
Pros
This ohm reader is an easy to use and accurate (some tests available show error to be 0.01 ohms at 0.1 resistance) for builders. 
The shape makes it stable to build on and is designed to no have any places where juice could flood the device easily.  It has two modes, read and fire modes making it perfect for vapers who like to dry fire their coils to reduce hot spots.
Cons
Price:
$20
Save with: DNA10 for 10% off! Free 2 day shipping over $59!
Full Rebuild Kit
All the tools necessary to rebuild a coil
Complete rebuild kits are a pretty easy way to get all of the tools and items you need to get started rebuilding coils. 
These are also nice because they come in a well laid out carrying kit where everything fits snugly in foam cut outs.
Parts that are included in most kits:
ohm meter

pliers

tweezers (metal and ceramic) 

precision clippers (diagonal pliers)

coil kit - sized coil wrapping assist tool (2, 2.5, 3, 3.5 mm usually)

scissors

screwdrivers
COILMASTER DIY V3 REBUILD KIT
The DIY kit is further improved in version 3 with the improved world famous Coil Master Jig and the new 521 mini ohm meter.
Pros
The complete kit comes with all of the tools you will need to build your own coils with ease:
the 521 tab mini ohm reader (sold separately for $20)

version 4 of the Coil Master jig set, which has been redesigned to be easier to store and use

wire snips, precision screwdrivers, ceramic tweezers, angled tweezers, pliers, scissors, a multiple headed driver and 10ft of wire to get started

Cons
You will probably want to get some better scissors for better cuts
Price:
around $45
Disclaimer: We are not engineers and the recommendations in this article are opinions.  Every individual should research each battery before purchase and use to guarantee their own safety. The safety guidelines are are what we use with our personal equipment. Every individual is responsible for their own vaping equipment and their own safety.  You should consult the manual for your device and follow the guidelines for safe discharge of batteries provided by the manufacturer / supplier. 
Use caution as misusing or mishandling the battery may cause a FIRE or EXPLOSION which may result in personal injury or property damage. The user must have an appropriate understanding of the potential dangers of LITHIUM ION BATTERIES before purchase and usage. This battery is manufactured and sold for the intended use of system integrations with proper protection circuitry or battery packs with a battery management system or PCB (circuit board/module). Batteries are neither designed nor intended to be used with an E-CIGARETTE, VAPORIZER, or similar device. USAGE OF THESE BATTERIES ARE AT YOUR OWN RISK!
You are responsible for your own safety!
Misusing or mishandling lithium-ion batteries can pose a SERIOUS RISK of personal injury or property damage.

Only buy batteries from a known, trusted vendor of genuine batteries.

Never use a battery, charger, or device that is not in perfect working order.

The plastic battery wrap and top insulating ring must always be kept in perfect condition to prevent short-circuiting of the battery which can result in the battery bursting.

Never exceed the battery's continuous discharge rating (CDR) or charge rating.

We are not responsible for any damage or injury sustained by anyone using this guide (article) to select a battery.