Vaporesso Swag II - Compact Starter Kit with Swagger [Review]
Vaporesso Swag II Starter Kit Specifications
0.91" oled screen
5-80W power output with high amp 18650 batteries
0.03 - 5.0 ohm resistance range
uses one 18650 battery
2A usb charging
compact size but provides full size features
GT mesh coils
AXON chip
What comes with the Vaporesso Swag II Starter Kit
one Swag II mod
one NRG PE Tank (3.5ml capacity)
one GT4 Mesh coil
one GT CCell coil
o-rings, USB cable, spare glass
About NRG PE Tank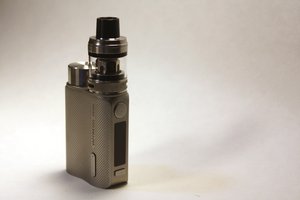 This kit come with the 25mm NRG PE tank, which is a modified version of the classic NRG subohm vape tank from Vaporesso that has been the flagship included with their kits.
The NRG PE has a few changes that make it different and well suited to this compact kit. It has straight glass with a 3.5ml capacity. Included is a 510 drip that is pretty good but can be swapped with your favorite.
Filling is simple with the slide top that has a tight seal. At the bottom is hatch style knurling around the airflow control ring for no hassle disassembly but know the top is reverse threaded.
The best part about the NRG series tanks is the GT core coils. Vaporesso keeps improving the coils, giving vapers have a huge range to select from. 
Included is a 0.5 ohm CCELL coil that is rated at 30W that is great for extended battery life. With these coils use a higher nic juice, like 6mg and reduce the airflow for a more MTL or restricted lung hit style vape. Using this setup you can expect full day life, particularly when running the mod on ECO mode.

Pre-installed in the tank is the GT4 dual mesh coil, which has two small mesh coils wrapped in a tea tree fiber wicking material for enhanced flavor and wicking speed. GT mesh coils are always great and these are no different. Flavor is fantastic with thick saturated vapor production at 55 - 60W. Expect about half a day before battery swap.
Vaporesso Swag II Mod
Powering the kit is the Swag II mod which has been improved quite a bit over version one. It still features the compact shape and easy grip tube style battery door.
The mod has an overall square shape but with an ergonomic flask style body with an interior curve that feels natural in the left hand. On the exterior of the body in place of paint is a 4 layer rubberized coating for durability and a soft, velvet touch.
Flanking the bright OLED screen is a large, clicky fire button and a mode select button. The up/down buttons are a low profile rocker style switch which is well placed and out of the way on interior side of the body. Vaporesso includes these mode buttons to eliminate needless button pressing to access the menu system, which is quite welcome. 
25mm tanks and RDAs fit quite well and look great up top with no overhang. Bubble glass is not able to be accommodated due to the battery door profile.
The heart of the mod and biggest change from version one is the next gen AXON chip, which has incredible performance and lots of awesome features. This chip is also featured on the awesome Vaporesso Gen mod/kit.
Of course the mod is fast firing, near instant and all that but that is not all. This chip enables smart temperature control and smart settings that make it simple to use, even for the complete beginner. There is also new firing modes:
Pulse mode: your normal variable wattage mode but now with no power sag after you keep firing it - nice!
ECO mode: a firing mode that provides extended battery life - perfect for when you can't swap batteries or are running low
Smart TC mode: for automatically selecting the best settings 
DIY mode: for the tinkerer to change all the settings
For most vapers, pulse mode will provide the best performance. We recommend pairing this device with a 20A/3000mah 18650 battery for running at 60W. For getting the maximum 80W wattage you will need to pair with a higher amperage battery.
Final Thoughts
The Swag II mod is super light weight, ergonomic, easy to use and the AXON chip gives the mod a powerful set of features.

The NRG PE tank is simple to fill and takes all the best GT coils, which give awesome flavor (go single or double mesh). 

Overall, this is a killer single battery vape starter kit -- easy to use, durable, super portable and gives a great vape.

mod not be able to accommodate bubble glass
Great Flavor saturated cloud production from the GT4 (a dual mesh coil) 
NRG tank can use GT core coils - CCell is rated for 30W
NRG PE tank has updated features like a better slide top and knurled airflow control ring
Easy to use mod, ergonomic shape and highly portable
incredible AXON chip for Pulse mode (no power sag) smart settings and TC 
Tanks up to 25mm in diameter
4 layer rubberized coating for increased durability and comfort
Free Shipping over $39.99 from Vaporesso! (2-Day)