Vaporesso FORZ RDA - new Force to be reckoned with!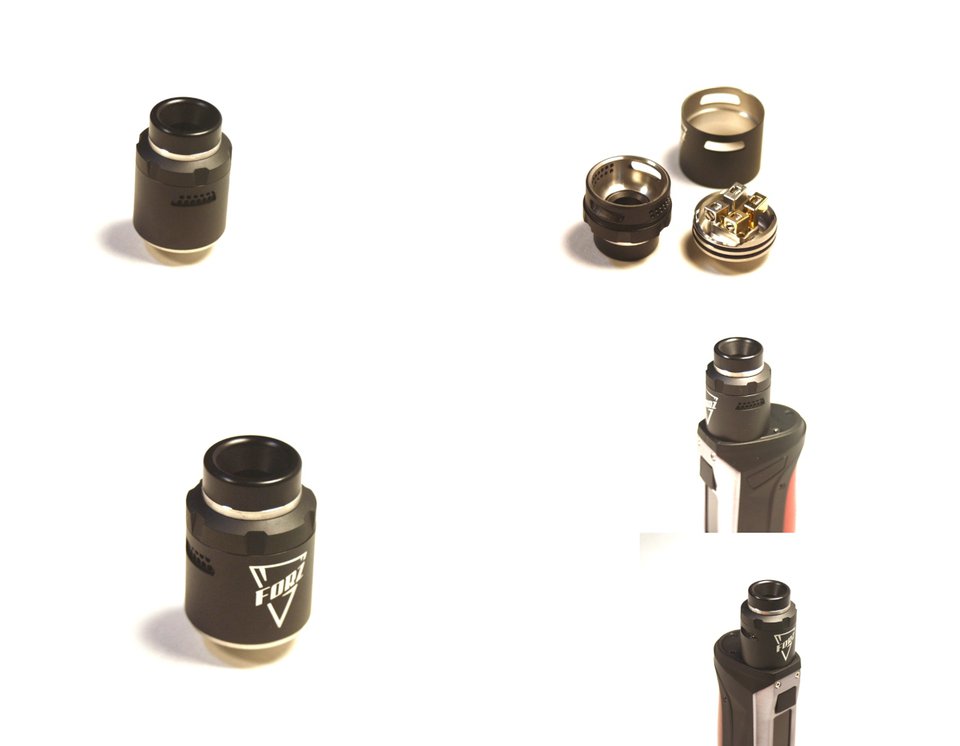 versatile build deck
dual airflow design - slots and honeycomb
thick, easy grip top cap
What comes with the Vaporesso FORZ RDA
One FORZ RDA
Two clapton coils
One Squonk Pin
510 drip tip adapter
Spare acrylic 810 drip tip
spare screws and o-rings, screwdriver, allen key tool,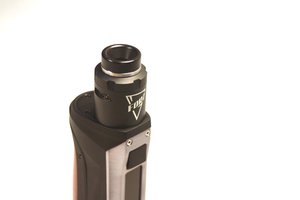 The Vaporesso FORZ RDA has an unsuspecting appearance at first glance. A simple black with silver accented 810 and cool retro 80's style logo popping out. 
Taking off the top cap and barrel reveal some pretty good features that add up to something awesome real fast. 
First off, the top cap is thick and easily gripped for smooth adjustment or quick removal. The underside of the cap is domed to condense the vapor on the way up for max flavor. 
CNC milling was used to have a knotched design to match the deck and barrel for airflow slot alignment with the coils or spinning.
The deck has an elevated, huge terminal, four post design. Think "Rabbit Ear" style posts that are capable of taking all sorts of coils, from small to huge. Since the terminals are elevated you can be a bit sloppy when trimming leads and not have any problems. 
Flat claptons are an easy go to with this deck design and work perfectly. Easy and fast builds for sure.
Every RDA enthusiast knows how import airflow design and placement is to performance. This RDA has wide airflow ports high up on the barrel perfectly aligned with the coils thanks to an elevated deck. High ports also stave off any flooding from enthusiastic bottle squeezing. A squonk pin is included for BF setups with your favorite squonk mod but not pre-installed. 
This RDA has two airflow systems, one pair of big slots and one pair of "honeycombs". The honeycomb is more like two rows of pinholes. You can get a tiny amount of mixing between the two air systems. 
This RDA shines at wide open on either system with big coils. 

At wide open, the slots give a massive amount of thick, saturated vapor. A definite cloud chucker and fog machine.
With all of the pinholes exposed, this RDA is perfect for flavor chasing. Top notch flavor production with a restricted DL draw. 
Cutting down on the honeycomb system just makes the draw too tight for a big dual coil set up. MTL setups are definitely possible with smaller gauge coils and the 510 drip tip setup.
Vaporesso offers this RDA as an option to the FORZ TX80 kit (instead of the tank) on the official Vaporesso USA webstore.
Easy off top and it is squonk capable. The dual airflow (slots and honeycomb) system and the easy mode four post (rabbit ear) deck. These features really make this one of the more versatile RDAs out there. Top notch restricted DL flavor chasing all the way to fog tier clouds.  
Not to mention it is available for under $25. What isn't to like? 
Huge Flavor! Massive clouds!
Great airflow design - Slotted (clouds) and pinhole (Flavor town Restricted DL heaven) w/ smooth adjustment
Four Post Design (Big terminal Rabbit ear style) - perfect for dual flat clapton builds
Deep juice well and high airflow slots make this a good squonker
Spare 810 included (contoured acrylic) - along with spare parts, tools, squonk pin ...
Thick, easy grip, domed top cap / knotched barrel / CNC milled deck
Free Shipping over $39.99 from Vaporesso! (2-Day)