Vaporesso FORZ TX80 - Rugged Single 18650 Mesh Kit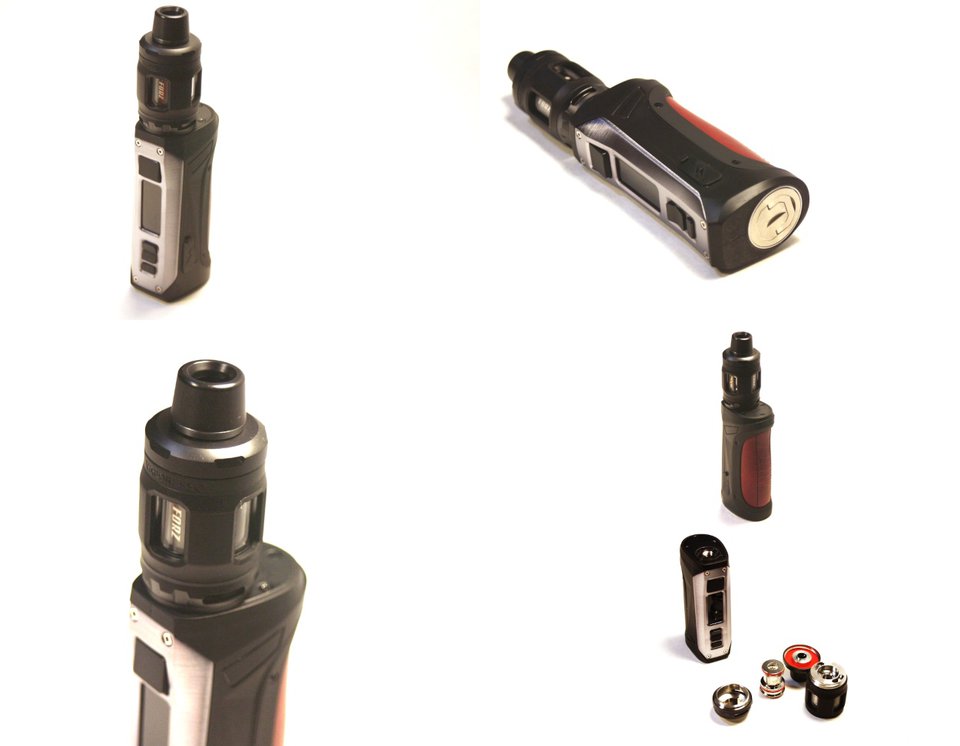 Vaporesso FORZ TX80 Specifications
4.5ml capacity tank
2A type-c charge port
single 18650
5-80W output
0.03-5.0 ohm resistance range
AXON 2.0 Chipset
GTR mesh coils
Rugged TX80 Tank and FORZ mod (single 18650)
What comes with the Vaporesso FORZ TX80
One FORZ TX80 mod
One FORZ TANK 25
Two GTR Coils (0.15 preinstalled) and 0.4 in box
One silicon drip tip cover, chuck tool, spare glass, and o-rings
One USB cable
The Vaporesso FORZ TX80 is a sturdy vape kit that comes with a super tough little single 18650 mod and a ruggedized 4.5ml mesh tank (FORZ Tank 25). 
Vaporesso FORZ TX80
A Tough Single 18650 Mod
This is a single 18650 mod is designed for toughness and portability, a clear competitor to the Aegis. The mod is shock proof, water proof and dust proof according to Vaporesso but we couldn't bring ourselves to destroying this beautiful device to test the claims!
The Vaporesso FORZ TX80 fuses a slender, compact, industrial design with a subtle aesthetic combination of colored leather backstrap, rubberized surface and a brushed nickel faceplate. 
The single 18650 battery is secured by a screwed on battery bay door will prevents any water from seeping in. This battery door design does prevent water from getting in but it also hampers battery replacement which is a trade off. Resist the urge to make the door that extra twist and settle for snug.

An often under appreciated design element are buttons. Buttons have an enormous impact on usability in addition to appearance. 
This mod has quite excellent button design and placement. The trigger and adjustment buttons have perfect angles for simple one handed usage. All of the button faces have the same velvet feel and have a consistent soft, *clicky* press.
The menu is very simple but still provides easy navigation of all the features you are used to and more. 

Vaporesso installed the new AXON 2.0 chipset into this device. We have enjoyed all of Vaporesso chipsets over the past few years and the AXON has been pretty great. 
AXON chips are smart and fast with excellent firing modes that prevent battery sag, a power saving mode and good TC for those that are interested. Now, with version 2, there is a F(t) mode that provides a ramped and timed firing curve to give the best heating for a true, consistent flavor production every time.
See our thoughts on battery life in the performance section.
If Vaporesso keeps with the FORZ design family for future mods, hopefully we will see a dual 18650 or possibly even a 20650. 

Vaporesso Forz Tank 25
The FORZ TANK 25 is a 25mm mesh vape tank that fits perfectly on top of the matching FORZ single 18650 mod body. 
Surrounding the pyrex tank is a rubberized exoskeleton that protects the glass while still allowing for juice level checks. Having this extra sheath definitely protects against the vast majority of possible damage from the regular drops. The coating also protects from scratches and the like while lending a matte black look to match the rest of the kit.
Most tanks are able to expand the capacity with a larger glass but this tank is restricted to the standard 4.5ml. 
The drip tip is quite comfortable to use and removable. However, the drip tip is a non-standard size (possibly a double o-ring 810) so swaps may be difficult. 
A silicone dust jacket for the tip comes with the tank. The cover could be useful in construction environments but also for storage in a backpack or purse.
The top is a quick twist threaded design for fast refills.
This tank uses a triple airflow design that seems to need to broken in a bit with some vape juice for the smoothest adjustment.
The GTR coil family is a simple pluggable coil design that uses the same great organic cotton and mesh coils as we have come to enjoy. Replacement is super fast and there are no worries of stuck coils or threading problems without sacrificing any on performance or wicking.
Included are two GTR mesh coils, one .15ohm and one .4ohm coil. The 0.15 coil comes pre-installed with the tank and works quite well with higher wattages than the 0.4. 
Vaporesso recommends 60-80W for this coil but performance was actually pretty good in the 50-60W range. So start your wattage a bit lower to find your sweetspot.
The juice fill ports are quite large and are fast wicking. The bottom of the juice port of the side of the coil is not quite at the bottom of the tank. A refill is definitely recommended before levels reach the bottom of the cotton. 
Included with the tank is a flat chuck key, used to remove a small grommet under the top that secures the parts together. This little piece needs to be uninstalled for a complete tank disassembly or to replace the pyrex tube.

Keep in mind that the mod is powered by a single 18650 battery, so life will be impacted with the 0.15 coil. Use the 0.4 wattage coil if you find you need a little more time before a battery swap.
With most mesh tanks a 3mg e-liquid is great. But with this kit, a 6mg or higher nicotine of your favorite vape juice flavor may be a good choice to extend battery life as much as possible. Less drags translating into less battery usage.
Performance and Final Thoughts
Vaporesso also has the FORZ RDA available as an option for this kit instead of coming with the FORZ Tank 25 at the official USA webstore. The RDA and the tank are also available as a standalone items if you want both atomizers. Check out our review of the FORZ RDA (tl:dr; it is really good).
Having such a sturdy tank and mod do provide some peace of mind, particularly if you have ever had to deal with shattered glass. That isn't really much of a concern with this tank and the super durable mod.
Vaporesso says the mod is shock, dust and water proof and it certainly seems tough, but we didn't want to destroy this mod that kind of testing would require.
The single 18650 battery selection is important with this mod as it will have a huge impact on performance. Most people will get the best all around usage from a high mAh 20A at under 60W. For the longest battery life possible, you could use a 15A with higher mAh and use a lower wattage with the 0.4 coil in the tank. For highest wattage (80W) go with a 30A lower mAh. There is always a trade off.
The buttons are super important to user enjoyment of the device and the TX80 has excellent button design as well as placement.
Performance on the tank is also quite good. It is easy to fill and has hassle free coil replacement. The mesh coils provide plenty of vapor and the expected saturated flavor. 
This kit is perfect for active people or vapers that need a more durability in their equipment but don't want to sacrifice any flavor.
watertight battery door can become difficult to loosen if over tightened
Rugged, tough design (water proof, shock proof, dust proof)
TX80 mod and FORZ tank 25 both designed to handle drops and abuse no problems
No hassle pluggable coil system (GTR)
Looks cool and feel good - matte black rubberized finish with brushed nickel and leather accents
New AXON chipset - new F(t) mode for heat speed boost and control for more true flavor experience
battery bay is sealed to prevent any possible water exposure
Excellent buttons! High build quality
Free Shipping over $39.99 from Vaporesso! (2-Day)