Smok Trinity Alpha Mesh AIO Starter Kit [Review]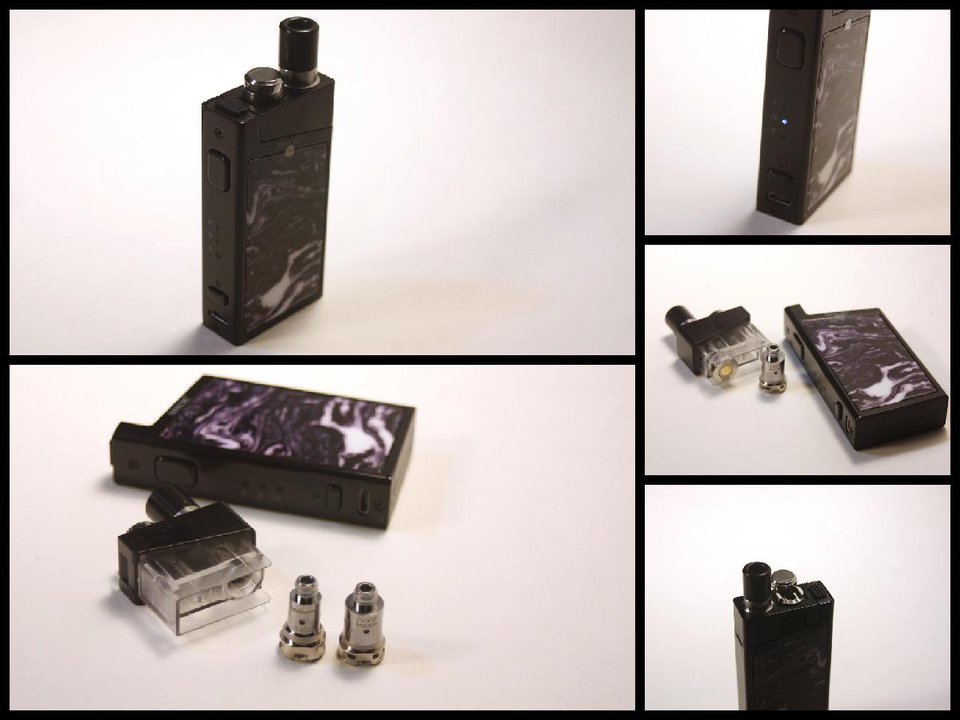 Smok Trinity Alpha Mesh Vape Pod Specifications
dimensions - 91mm x 38mm x 16mm
2.8ml vape pod capacity
1000mAh integrated battery
Wattage: 10-25W based on firing mode and coil resistance
Resistance Range: 0.4ohm - 1.4 ohm
Nord MESH coils!
three firing modes - Soft, Normal, Hard
secure 2.8ml pod
What comes with the Smok Trinity Alpha Mesh Vape Pod
1 - Smok Trinity Alpha AIO device
1 - Smok Trinity Alpha pod cartridge
1 - 0.6ohm Nord Mesh coil
1 - 0.8ohm Nord Mesh-MTL coil
1 - lanyard
The Smok Trinity Alpha is a clear upgrade to the smash hit Smok Nord vape pod system, a simple push to fire device. 
The Smok Trinity Alpha AIO starter kit is more AIO than vape pod but could be considered both. Smok designed the Trinity Alpha to use the killer Nord mesh coils in reusable 2.8ml capacity pod, just like the Smok Nord pod. 
To pop out the cartridge or pod, just pull on the spring loaded button and out it comes. Turning the pod over, one can see the coils slide right in to the bottom and are secured by the short chimney. 
Airflow comes in from the bottom of the coil supplied in two ways:
One from a small notch on the top of the cartridge and then down a small vent slot next to the fill port. 
Second from a rectangular gap where the cartridge and mod meet on the opposite side of the fire button.
Unfortunately, as with most pod style AIOs, the air isn't controllable other than of placing a finger, thumb or piece of tape over the side vent hole. 
Instead of having to take the cartridge out and flip it over to fill up, Smok has a pretty nice slide top fill port. Filling with large vape juice bottles may be obstructed by its placement right next to the drip tip. Thankfully, the drip tip pops right off if it gets in the way.
As a whole, designers kept things pretty simple and compact but give a lot more than expected. For instance, the over all size is not much bigger than a wide pack of gum, but has a lot of features such as:

1000mAh battery for all day vaping
a chipset that provides on / off capability
three firing modes: soft, normal and hard
LED indicators for modes and battery life
firing protections such as length cutoff
variable wattage based on the installed coil resistance
There is a lot going on with this little device that fits perfectly in a shirt pocket or purse.
Performance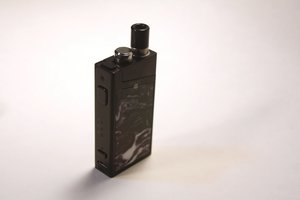 It has great flavor just like the other Smok devices that use the Nord mesh coil system. These little power house coils are perfect for little portable pods and vape pens. Nord coils are available in traditional wire and even ceramic but the mesh is so good, why bother?
When using the Nord Mesh MTL mesh coil, the flavor is very sharp as expected with a loose mouth to lung draw, which is enjoyable. Best results are on the soft and normal firing modes.
For a tighter draw, try to put a finger or thumb over the back air hole (slight improvement) and switch the 510 drip tip to something with a smaller internal diameter .
With the 0.6 ohm mesh coil, the flavor again is fantastic with a restricted direct lung draw that so many vapers love. Use normal or hard firing modes for best performance.
These two coil options will cover a wide majority of vaping styles for vapers in need of a portable device. The coils are available in a 5 pack for around $11 bucks!
This is a great device for smokers and ex-smokers turned vapers. However, instead of using some super tasty nic salt vape juice use some 6mg traditional e-liquids. The lowest level of nic salts is 25mg and with mesh coils it is super easy to over nic.
Overall, the Smok Trinity Alpha is a killer little AIO. It has lots of extra features over the Nord Pod, such as power off, three firing modes and a easy to use fill port right at the top but still has the top notch flavor and perfomance.
510 drip tip can obstruct use of large bottles but it is removable
Great Flavor! Nice Draw!
takes the Smok Nord coils! (two included: 0.8ohm Mesh-Mtl and 0.6ohm Mesh)
mtl gives a loose mouth to lung draw, standard mesh has a restricted direct lung hit
easy to fill, slide top fill port - 2.8ml capacity
pocket sized with on/off capability (for pocket/purse carry)
pod firmly attached with quick release latch
replaceable 510 drip tip
Free Shipping! Low Price Guarantee!