Aspire AVP - AIO Vape Pod
Aspire AVP - AIO Vape Pod Specifications
700mAh integrated battery
2ml pod capacity 
1.2ohm resistance
82mm x 39mm x 14mm
Draw Activated - three fire modes - 8W 10W 12W
Compact size that fits well in hand and in pocket
Lanyard included for necklace carry
What comes with the Aspire AVP - AIO Vape Pod
Two (2) Pod Cartridges - 2ml capacity and non-replaceable 1.2ohm nichrome coil
one AIO AVP vape pod mod
one lanyard with detachable ring
one USB charging cable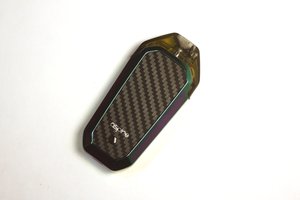 The Aspire AVP is an all-in-one (AIO) vape pod system that is highly portable, draw activated with three firing levels.
Aspire seems to have taken some inspiration from the smash hit Breeze 2 AIO and given it some upgrades. 
The AVP has a sleek, slightly pentagonal shape, while remaining thin but has a bit more heft than one would expect thanks to the zinc alloy construction and internal battery. Together, the device is easy to hold and also has a secure feeling like it isn't just going to fumble out of the hand.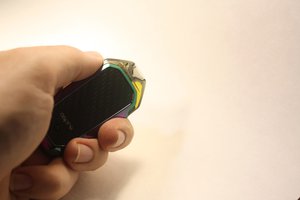 Included in the box is a lanyard attachment with a detachable ring for neck carry if so inclined. However, the device is so slim, combined with the fact that it is draw fired not button fired plus it has on/off functionality, putting in a pocket or bag is just too easy.
The pod cartridges have the familiar, comfortable mouth contoured tip like with the Breeze 2 and a few nice changes. Flipping the 2ml capacity cartridge over, on the bottom (see above for a picture) the small metal hole that is recessed down in the pod is the spring loaded fill port. 
Just press the tip of a unicorn bottle down into the hole and squeeze for a super fast fill up. The only drawback to not having the old rubber stopper is metal hole makes using glass stems a bit of a precarious situation that may end up with a broken tip, so best stick with plastic bottles.
The similarly sized hole molded into the body of the polymer pod is a tube, running all the way through the cartridge for airflow supply, which could be mistaken for a fill port, so be aware.
This AIO has a 1.2ohm non-replaceable NiChrome coil and the kit comes with 2 pods. Designing the pods this way keeps things simple but being able to replace just the coil varies the vape performance to suit the user and reduces overall waste.
After filling the pod, placing the pod into the pod mod is super simple. The cartridge pulls right into place and is secured thanks to two fairly strong magnets. The device works regardless of the direction of the pod. There is some slight play when moving the pod around with the thumb and index finger but the movement is not noticeable when using the device as normal.
There is a small gem shaped button at the bottom edge of the front face of the vape pod that doubles as an LED indicator. In addition to indicating battery life, pressing five times will power on or off the device and pressing just twice will change the wattage level.
Wattage on the Aspire AVP has three levels: 8W, 10W and 12W. The 8W level, indicated with red, seems a bit underpowered but would be perfect for higher mg nic salt vape juices such as 50mg. 
10W and 12W, green and blue respectively, provides a more substantial amount of vapor production. Both higher levels seem to be great fits for 25mg nic salt liquids or higher nic content traditional juice. 
Personally, 10W seemed like a sweet spot for flavor and vapor production, while keeping the throat hit down a bit and extending battery life.
The AVP gives an enjoyable, loose mouth to lung (MTL) draw that is fairly common on this style of AIO device. The small lanyard hole on the side can be covered with a thumb to restrict airflow a bit for a tighter draw.
The device is a simple to use, easy to fill AIO vape pod that would be a good fit for a vaper looking for a highly portable, straight forward MTL kit. Having the draw fire and on/off functionality makes this one a no brainer for the vaper that likes pocket or purse carry.

Overall, when paired with a nic salt vape juice, the Aspire AVP provides a satisfying vape experience with pretty good flavor and surprising vapor production. 
fill system works best with thin stem unicorn bottles
slight movement on cartridge
Great flavor - enjoyable loose MTL draw with fantastic flavor - works well with nic salt based juice
Easy to Fill - Clear pod cartridge with dead simple spring loaded bottom fill port - pod snaps right into place with magnets
Highly portable - fits well in hand with comfortable contoured mouth piece
Draw activated with three fire modes - 8W 10W 12W
AIO system with integrated battery with on/off for increased battery life with lots of safety protections
Free Shipping! Low Price Guarantee!