Augvape Merlin Nano MTL RTA Review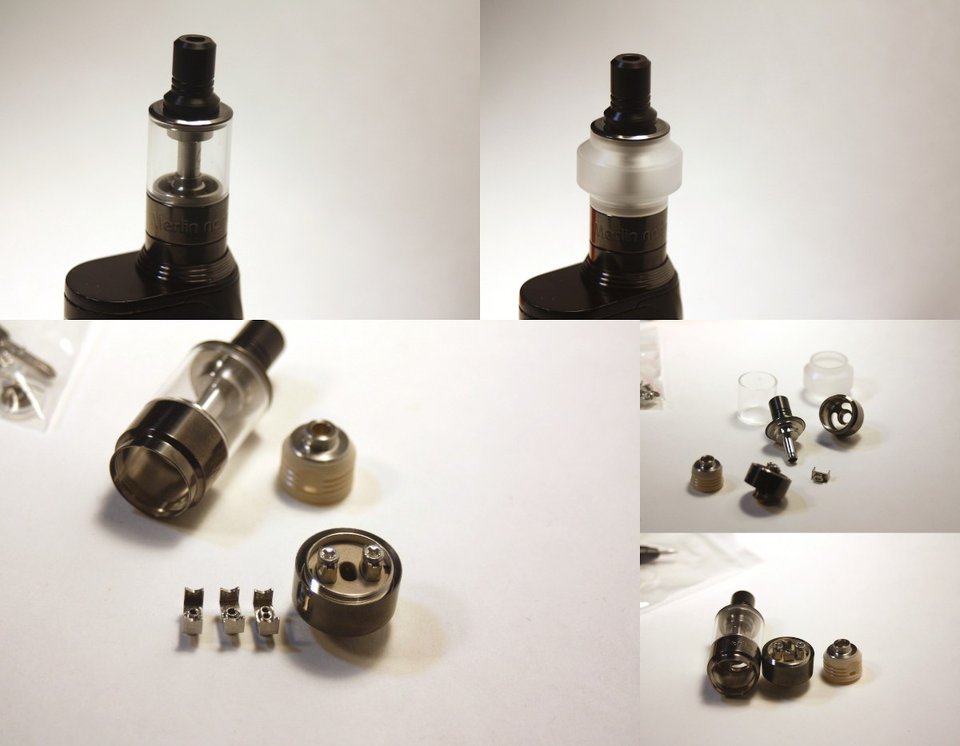 Augvape Merlin Nano (MTL RTA) Specifications
18mm diameter

2ml standard capacity - 3.5ml bubble PCTG tank

3 airflow inserts - 1mm, 1.2mm and 2x1mm

simple single coil build

compact, leak proof design

3 levels of draw selections

mouth to lung flavor chasing
What comes with the Augvape Merlin Nano (MTL RTA)
One Augvape Merlin Nano MTL RTA

One 3.5ml PCTG bubble tank

3 airflow control inserts - 1mm, 1.2mm and 2x1mm air holes

lots of o-rings and various parts 

One 22mm Beauty Ring

One 1.0 ohm kanthal coil and One .6 ohm NiChrome coil

one multitool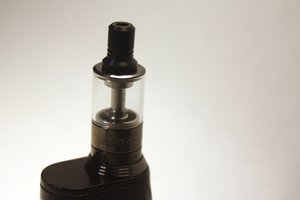 The Augvape Merlin Nano is a fixed airflow mouth-to-lung (MTL) RTA that is the smallest of the long running Augvape Merlin family. 
It may have the smallest stature, measuring just 18mm diameter but it is huge in performance. The Augvape Merlin Nano easy to use and is a stellar flavor chasing mtl rta. 
The tank has a bottom fill design and the 2ml straight glass provides the most visual appeal with enough capacity for most MTL vaping needs. There is also an included 3.5ml bubble tank included made of a frosted looking PCTG polymer (plastic). 

Pre-installed is a comfortable, but tall, 510 drip tip that can be swapped out. 
As part of the leak free design, the Merlin Nano has a fixed airflow system that can be restricted using any of the three air flow inserts. Each insert has a pair of small arms to prop up your coil rod when installing coils.

A big difference with the Nano from other rta tanks is the small chamber made from PEEK insulator material that installs around the deck that connects directly to the slim bore chimney.  PEEK insulator material also lines the bottom of the traditional two post single coil build deck. Lining everything in PEEK material cuts down on heat transfer quite a bit. 
Keeping everything compact and controlled may be why the flavor is top notch.

Building the Augvape Merlin Nano (Easy!)
Simple single coil builds
The air flow insert design with the two arms, comes in super handy when building the deck. The arms hold the coil rod in perfect position and later support the wicks. 
No more fumbling around, trying to support your coil rod in just the perfect spot while trying to tighten the screws.
Pick your favorite insert by trying them out before installing your build. Put one in, assemble the tank and give it a few drags.
2mm diameter coils work quite well on this deck but 2.5mm also fit. Using a thinner gauge wire like 26 or 28 is good but a thin clapton would really turn things up a notch. 
Make sure the wire doesn't bump against the insert and trim the leads close to the back of the terminals for a problem free assembly.
Trimming the wicks to be just slightly longer than the inner part of the deck seemed to work best. Wet your wicks before popping on the chamber. Look at the side of the chamber to make sure the wicks are pressed against the ports.
This build deck is easy enough for a beginners and is a fast build for veteran RTA users.
Performance and Final Thoughts
The Merlin Nano probably won't win any beauty contests with its skinny look but the smaller diameter makes this tank a good fit on single battery vape mods or even compact internal battery mods. 

This RTA gives a damn good vape so maybe looks aren't everything.
Building the Augvape Merlin Nano is super simple and fast. 
The airflow design provides a very smooth draw regardless of the insert. I enjoyed the airflow insert with the dual 1mm holes which gives a looser mouth to lung draw the most. With three options at least one of the inserts will satisfy the large majority for MTL vapers. 

Having bottom fill is a bit old school but it only takes a few extra seconds to use.

Pairing the Merlin Nano with a higher content freebase nicotine e-liquid or your favorite 25mg nic salt vape juice will provide a satisfying vape experience for even the longest term smoker. A traditional juice with a bit extra PG in the blend will provide more of a throat hit but a salt nic juice will produce cleaner flavor.
The flavor being produced by the Merlin Nano is very good; bright and on point, similar to what you would expect from quality RDA. 
Combining a high ohm build running under 20W, a high mah battery, the 3.5ml tank and a high nic vape juice, you could get some serious long lived mouth to lung flavor chasing.

Overall, the Augvape Merlin Nano is a very solid flavor chasing MTL RTA. It is straight forward to build and use. Best of all it has a smooth mouth to lung draw and outstanding flavor. This RTA really is too good to not try -- it could be your new favorite!
bottom fill takes a tad longer
small diameter makes it a bit odd looking
Great MTL Flavor chasing!

Smooth draw

Use your favorite salt nic vape juice
Easy single coil builds - 2mm nano coils and simple wicking

Leak Free design!

comfortable 510 drip tip included - replace with your own favorite
Low wattage for super long battery life

3 draw inserts - from tight to loose mouth to lung - everyone will probably like at least one

2ml standard glass and 3.5ml bubble PCTG tank

DNA10 for 10% off! Free 2 day shipping over $59!