Vaporesso Gen S Kit [Review]
Vaporesso Gen S Kit Specifications
wattage range: 5-200W
resistance range: 0.03 - 5.0ohms
zinc allow chasis
newest production of AXON chipset - pulse mode / eco mode / + / lots of safeties
8ml capacity tank
amazing color selection
What comes with the Vaporesso Gen S Kit
one Gen S mod
one NRG-S tank
one GT mesh coil and one GT-4 mesh coil
one spare glass 5ml
spare o-rings and usb cable
The updated Vaporesso Gen S dual 18650 kit is a high performance combo that comes with the Gen S mod and NRG-S tank. 
Vaporesso NRG-S Subohm Tank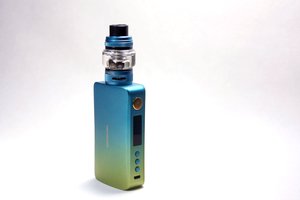 Vaporesso has used the compact NRG PE (mini) tank in some smaller kits, such as the Swag II in the recent past. 
The NRG-S mesh subohm tank is its bigger, better brother. Better in the enhanced capacity sense. It still has the stylish yet functional knurling at the top and bottom for improved gripping for adjusting the airflow and disassembly.
It has a huge, 8ml capacity bubble glass preinstalled, but a 5ml replacement is included if you want a different look. It features a large bodied 510 delrin drip tip that matches the over all size of the tank.
The top slides, more like slightly swivels, for quick fill ups. There is a small, nice to know with the top. The top is actually a bit more complicated that it appears. If you twist the top clockwise it can become a bit loose (or removed for cleaning). Just turn the cap counter clockwise to return to full tightness.
The tank comes with two GT mesh subohm coil heads, one standard single and the GT-4, a dual coil head.
Both coils are quite good as far as flavor goes. The GT mesh is great at about 65W with full airflow, which gives a very rich, saturated flavor profile with dense, thick vapor production. The GT-4 coil head is more intense flavor with a reduced airflow that is well suited to vapers that enjoy restricted direct lung drags.
The GT core coil family has been around for several years and are available pretty much everywhere. Other coil families, such as the Baby Beast coils and similar sized coils, are compatible with this tank.
Lots of coil options, huge capacity, easy to use and looks great. What's not to like?
Gen S Mod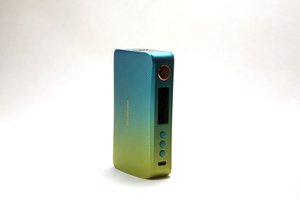 The Gen S is the update to the popular Gen mod, a dual 18650 mod. Not a lot has changed as far as design or features goes. 
What has changed are the color selections and the feel of the finish. 
The original Gen had a more standard selection of colors such as black, grey and red. The Gen S mods have a wide array of vibrant and unique colors that aren't available from other manufacturers. All of the color selections are quite tasteful from an aesthetic perspective and some even have a smooth gradient paint job, shifting colors from top to bottom.
The original featured a 4 layer coating for protection from scratches. The coating seems to have gotten better as far as the feel goes. It now has a more subtle, velvety touch with less rubbery bite when running your finger over it. An understated but noticeable upgrade from the original.
Vaporesso uses their AXON chipset in most of their devices, mods and pods, for good reason. It has advanced functionality, far better than most chips, has lots of safeties and is reliable.
The oversized, soft press firing button can be pressed 5 times to go into a stand by (system off). Waking takes just a few seconds.
The Gen S has a three button interface to change the settings using the simplified interface. Just change to the mode you want, click select. 
By far, most people should just use the pulse mode, which is the default for a reason. It provides consistent, no sag firing with almost near instant heating. This is the highest performance and easiest to use mode. 
However, there are several other options available if you have other needs. Eco mode is for a longer battery life but there are more advanced modes like smart TC (temperature control) and DIY modes. DIY mode is has the standard firing options such as variable wattage and bypass options but also has custom curve firing.
The mod does have built in charging through mini USB, that can charge at 2.5a according to Vaporesso. We would still recommend using a separate battery charger for convenience. 
Final Thoughts on the Gen S Starter Kit
This kit is available in a wide range of unique, tasteful color selections. There really is something for everyone and these aren't your everyday run of the mill color selections.

Pulse mode is where it is at for easy mode vaping. Each drag is consistent and smooth with no firing sag at the end.
The NRG-S tank has a huge 8ml capacity, looks good and uses the widely available GT mesh coils (and compatible coil sizes).  
If you are looking for a high performance kit that looks great, you can't go wrong with the Gen S. 
READER NOTE: Tank top is actually more complex that it appears - has a reverse threaded cap that can appear loose when it just needs to be tightened counter clockwise with top closed
High performance mod and tank combo
8ml juice capacity tank with slide top fill system
two GT mesh coils included -  a GT mesh for huge saturated clouds and GT-4 a lower wattage dual mesh coil
Excellent flavor - saturated, dense vapor production
Pulse firing mode performance is great - consistent, fast and powerful
ECO mode for longer life / DIY mode for the standard VW settings / Smart TC 
Wide array of vibrant color selections - All color choices are unique; some with smooth gradient pairings
Protective coating with soft, velvet feel
Free Shipping over $39.99 from Vaporesso! (2-Day)