GeekVape Aegis Legend 200W Starter Kit (Zeus Tank)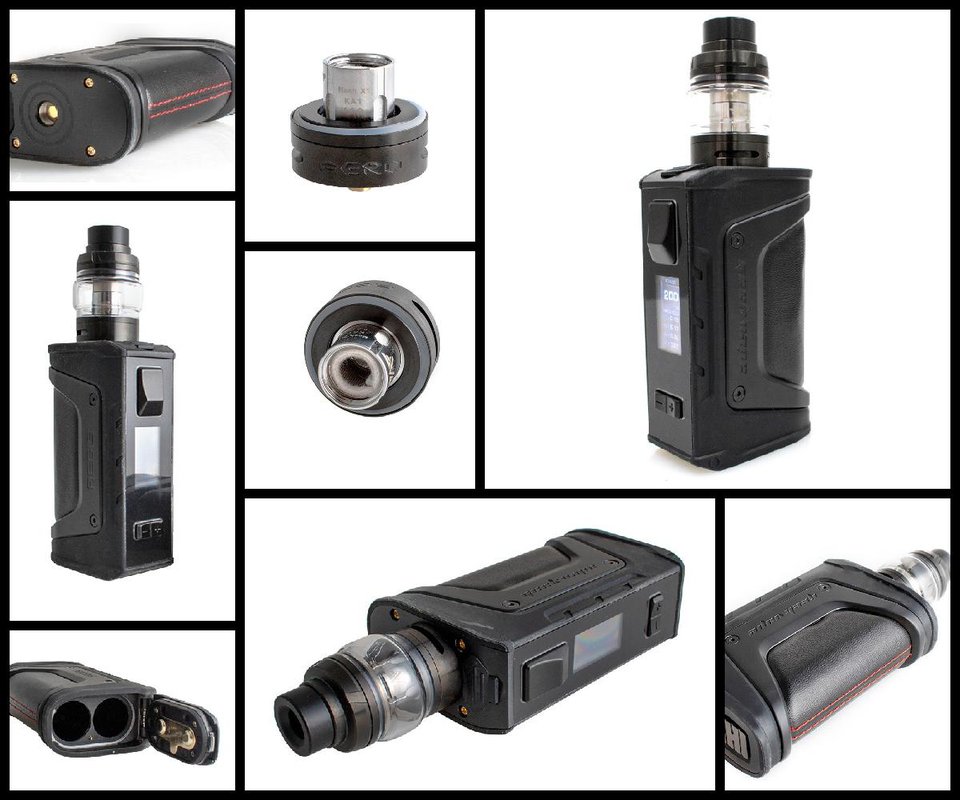 GeekVape Aegis Legend Vape Starter Kit Specifications
Aegis Legend Mod:
5-200W  - 0.05 ohm to 3.0 ohm resistance range
made from a combination of stainless steel, aluminum and zinc with LSR grade silicone and leather wraps
dimensions (38mm wide x 90.5mm tall x 58.5mm long)
Kanthal,  SS316, Titanium, Ni200 support

Power Support

TCR

VPC

takes two 18650

0.91 inch display showing (amp range, output power, atomizer resistance, battery life, puff counter) 

Aero Tank:
25mm diameter

4ml capacity with standard glass 

5ml capacity with bubble glass

dual adjustable airflow with 9mm x 2mm slots

8mm 810 drip tip

military standard shockproof, waterproof (up to 30 minutes at 1 meter), dust proof
powerful AS chipset
color display with tidy data display
What comes with the GeekVape Aegis Legend Vape Starter Kit
one GeekVape Aegis Legend Two Battery Mod

one GeekVape Aero 25mm Tank

one replacement usb plug
one spare glass tank

spare parts for tank

one usb cable

one mesh X1 0.2 ohm kanthal coil 

one IM4 0.15 ohm quad vertical Ni80 coil

The Aegis Legend takes all the best features of the original Aegis and adds some new tricks. Combine this beast of a mod with a high performing sub-ohm tank and you have a real winner.
The mod is ultra durable, shock proof, dust proof and water proof (rated for 30 minutes at a 1m depth).
This mod is very sturdy and constructed from high quality materials. The main housing is a high grade stainless steel, surrounded by a LSR silicone for water tightness and secured with an aluminum alloy. 
The hand wrap is a stitched, padded leather.  Even the fire button is made from a zinc alloy.

It has a comfortable hand feel and a well placed front fire button.
On, the bottom is a spring loaded battery door for easy battery swaps. The mod is water proof but there is a specially designed battery vent system for safety.
The spring loaded 510 pin is centrally located on the flat top of the device enabling it to hold a tank up to 30mm in diameter! 
This device features a dimmable color screen that does look pretty good and has an easy to navigate menu. The menu color is changeable but with only 3 choices.
The chipset on the Aegis Legend is pretty darn good. It is fast firing (seems instant), powerful and feature loaded. It has all the temperature control options any one could want.
GeekVape decided to include the Mesh version of the Aero tank which is a huge plus. The bubble glass and mesh coil comes pre-installed but this tank can take the standard Aero coils of which one is included.
Flavor on this tank is really on point, particularly with the mesh coils, which also last a long time. The vapor is warm, dense and plentiful. 
The Aegis Legend dual battery sub-ohm starter kit is a real bruiser. It can take a beating and keep performing great. The Aero Mesh tank puts out really great flavor with its long lasting mesh coil, has lots of vapor production and high capacity. 
plastic front is a finger print magnet

Aegis Legend Mod:
super durable and high build quality

shock proof! dust proof! water proof!
uses new AS chipset which is fast firing, accurate and powerful

comfortable hand feel
spring loaded battery door for easy battery swapping
central located 510 pin (GeekVape says it is the best ever produced)
neatly arranged information on display screen

brightness adjustment

sealed usb port for firmware updates

multiple color choices and each looks pretty good (most come with black tank)
GeekVape Aero Tank:
lots of flavor! dense vapor production
more vapor and flavor with the MESH coil 

mesh coil also lasts a long time
comes with two coils (one Mesh X1 and one quad coil)
uses a quarter turn top fill 

5ml with the bubble glass - preinstalled
Free Shipping! Low Price Guarantee!