Nu-X CBD Vape Juice and Full Spectrum CBD Tincture [Review]
June 2, 2019
Everyone by now has surely been seeing the huge health craze surrounding CBD in recent months. Even going back to the 90s and early 2000s CBD has been studied for its medicinal benefits. But why has CBD just now become popular?
Congress passed the Agriculture Improvement Act of 2018, which legalized the cultivation and Hemp at a federal level, classifying the plant with concentrations of less than 0.3% THC in dry weight as legal. The plant and derivatives could still be considered illegal at state and local levels, so check out the laws in your area.

Legalizing Hemp has opened up the market for the production of all sorts of CBD base health and diet supplements that were previously only available to people in localities with "medical marijuana" laws.
So what is all the excitement surrounding CBD about?
Scientists have been studying CBD for years and have found out all sorts of possible applications. 
Common ailments people have been taking CBD products to help with include:
sleep disturbances
rheumatoid arthritis and joint mobility
inflammation
anxiety problems, PTSD and treating symptoms associated with neurological diseases
chronic pain
muscle spasms, muscle pain and spacticity
nausea 
and more
One of the big problems with CBD -- or any health product really -- is how do you know you are getting what you pay for?  
There could be production consistency problems, where one product has to much CBD or even worse, doesn't have enough. This would cause the treatment to either be ineffective or dosage to be uncertain.
This is where NU-X believes it has a leg up on the competition. Nu-X uses a proprietary extraction process on domestically sourced hemp that standardizes the CBD extracts to make sure each bottle gets the correct amount of CBD -- 1000mg per 30ml bottle or 33mg of CBD per 1 ml. 30ml bottles of their vape juice and tinctures come with a graduated dripper to help with accurate dosage.
Each batch is then analyzed by a third party testing lab for CBD, among other cannabinoid levels, and then posted on their web site. 
Nu-X CBD Vape Juice
Rainier - a pleasant Peach and Dragonfruit flavor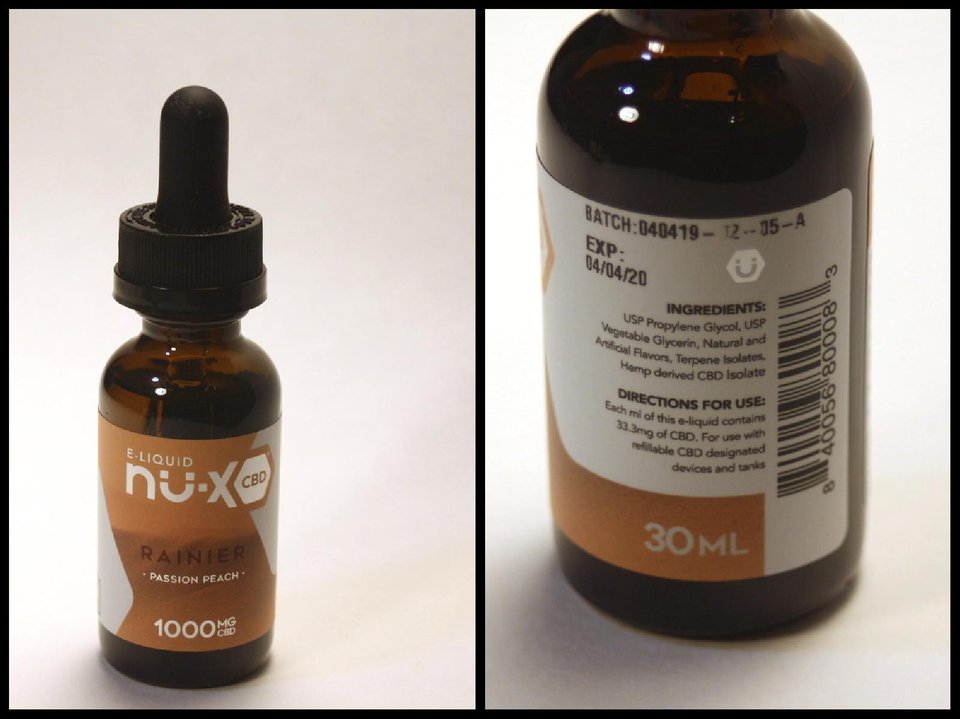 Nu-X Rainier is a peach and dragonfruit flavored cbd vape juice with 1000mg of CBD isolate per 30ml bottle.
You may be asking yourself -- What is CBD isolate?
CBD isolate is a when just the CBD (Cannabidiol) molecule itself is extracted leaving the rest of the cannabinoids that may be found in the plant behind.
Check out the chart for Rainier (taken from the analysis on Nu-X's website). The only cannabinoid present is CBD, effective isolation.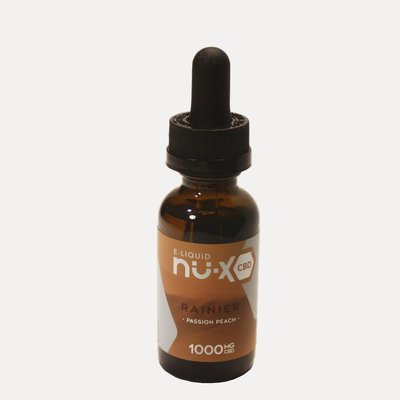 NU-X Rainier is a delicious Peach and Dragonfruit flavored CBD isolate vape juice with 1000mg of CBD per 30ml bottle.  Rainier provides a relaxing, back porch summer feel and goes great with iced tea.
Pros
Bright combination of Peach flavor with Dragonfruit undertones
Sweet but not too sweet
Very relaxing, pleasant vape experience
Suggested usage in sub ohm tanks operating in 40-80W range
Price:
(at time of writing DirectVapor and VaporFi are taking 50% off in cart!)
On the side of the Rainier bottle it says the CBD vape juice "for use in a CBD designated vape devices", like a vape pen or similar. However the juice is designed for use in 40-80W sub ohm vape tanks, so just get a tank that is exclusively for your use with CBD juices and you should be fine.
Note: Technically, you should be able to take the vape juice just like tincture by dropping it under your tongue. The e-liquid does have a graduated dripper as well. When used as a tincture (dropped under tongue as we'll see below), the flavor is too powerful -- it is designed for vaping after all. Just vape it or get a tincture. Get both and see what works for you!
Other flavors of Nu-X vape juice:
Cirrus - a breakfast inspired blend of French Toast and Strawberry
Maitri - an island and tropical fruit blend of Mango and Lychee
Tellus - a dessert vape with fresh Banana Nut Bread and sweet, salted caramel flavor
Sierra - for lovers of a full bodied tobacco with hints of vanilla
Check them out at Direct Vapor and VaporFi with free shipping.
Nu-X Full Spectrum CBD Tinctures
Nu-X Gaia - a mellow Pina Colada flavor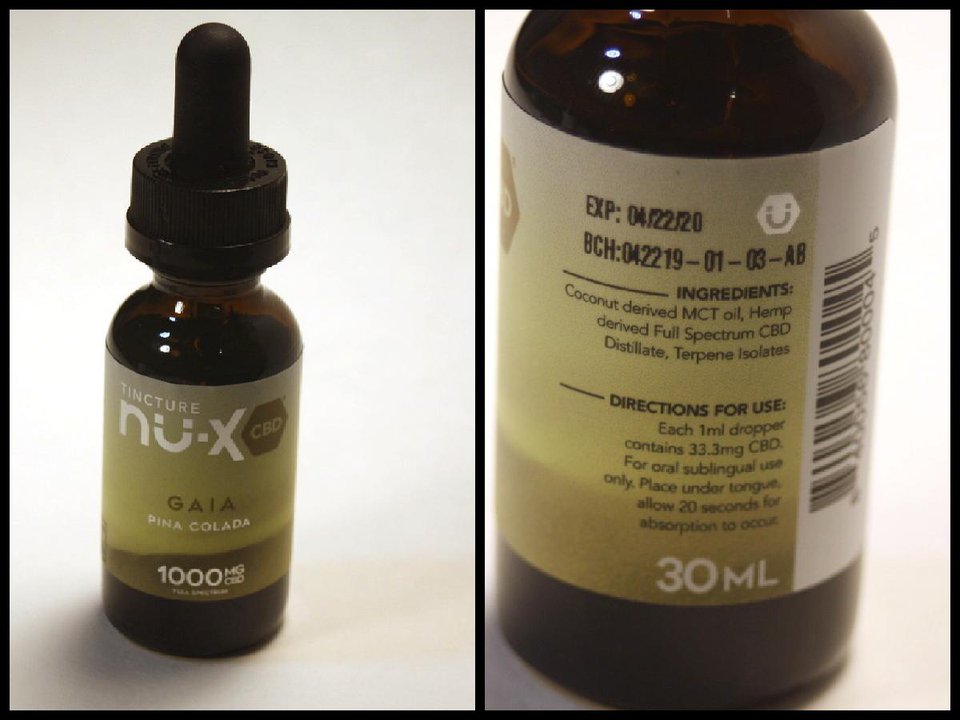 So what is a tincture and what does full spectrum mean? 
Full Spectrum means the CBD was extracted from the hemp using a process that gets all of the cannabinoids and terpenes (flavors and essential oils basically). Some people like the full spectrum tinctures since it has "more medicinal qualities and compounds". 
The full spectrum CBD extract is suspended in a coconut derived MCT oil, which has health benefits of its own. MCTs are medium chain fatty acids and have been shown to help with:
maintaining a health body weight 
clear cognition
balanced hormones
improved mood
and more
Coconut oil alone is a great source of MCTs if you are interested in adding them to your diet.
A tincture is designed for rapid absorbition through the membranes in the mouth. 
Dosing with a tincture is pretty simple with a trick: 
Shake the bottle to mix any heavier compounds that may have sunk to the bottom
Pull total your dose amount in to the graduated dripper. 
Place just a few drops under your tongue and count to 20 or 30 then swallow. 
Repeat until you achieve your intended dose
This could take several minutes but you will get better absorbtion than just dumping the total dose into your mouth in one shot.

You can mix the tincture with a drink but you miss out on a bit of effectiveness. 
Don't vape tinctures!
Nu-X GAIA is a full spectrum CBD tincture with a classic tropical flavor combination of Coconuts and Pineapples. It has a light, fruity flavor profile, smooth coconut oil texture and a pleasant, easy aroma.
Pros
classic Coconut and Pineapple flavor combination
1000mg of Full Spectrum CBD suspension in coconut derived MCT oil (lots of reported health benefits)
pleasing aroma
smooth texture
Graduated marking on dripper for more accurate dosing
great for sleep disturbance and muscle pain
Price:
(50% discount taken if cart @ time of writing!)
This tincture gave a fairly pleasant feeling at a dose between 25 and 50mg. There was a noticeable amount of relief to my strained neck and back muscles as well as it providing some help getting to sleep. 
Coconut oil is a favorite, making Gaia a good fit personally. Gaia has a soft tropical flavor profile, smooth texture with a light, pleasant pineapple aroma.
Other Nu-X Full Spectrum Tinctures are:

Flora - a citrus flavor of orange and lemon
Indigo - "Berry Blast" - a classic blend of berry fruits like strawberry, blueberry, blackberry and raspberry
Pangea  - "Pure Kush" an earth flavor profile
Glacier - a cool, refreshing mint flavor
Some of these flavors, like the pina colada, berry, citrus, or mint would be great in tea or water if you want to take your tincture this way. 
These other flavors are also available at DirectVapor and VaporFi with free shipping.

When taking CBD there are some things to watch out for.
Full spectrum cbd has more of the plant essence at the end of the day. If you are worried about a positive drug test result at work, just stick with a CBD isolate e-liquid such as the Nu-X Rainier or select a CBD vape juice such as those from Koi that prides itself on being THC free.

CBD can cause drowsiness, which may help you sleep at night but may be unwelcome during the day. Start by using CBD exclusively at night until you know how it effects you.
CBD is known to interact with blood thinners. Consult your medical provider or pharmacist if you are on any prescription or even over the counter medications!