VooPoo Drag 2 (UForce T2) 177W Vape Starter Kit (Review)
A Quick Look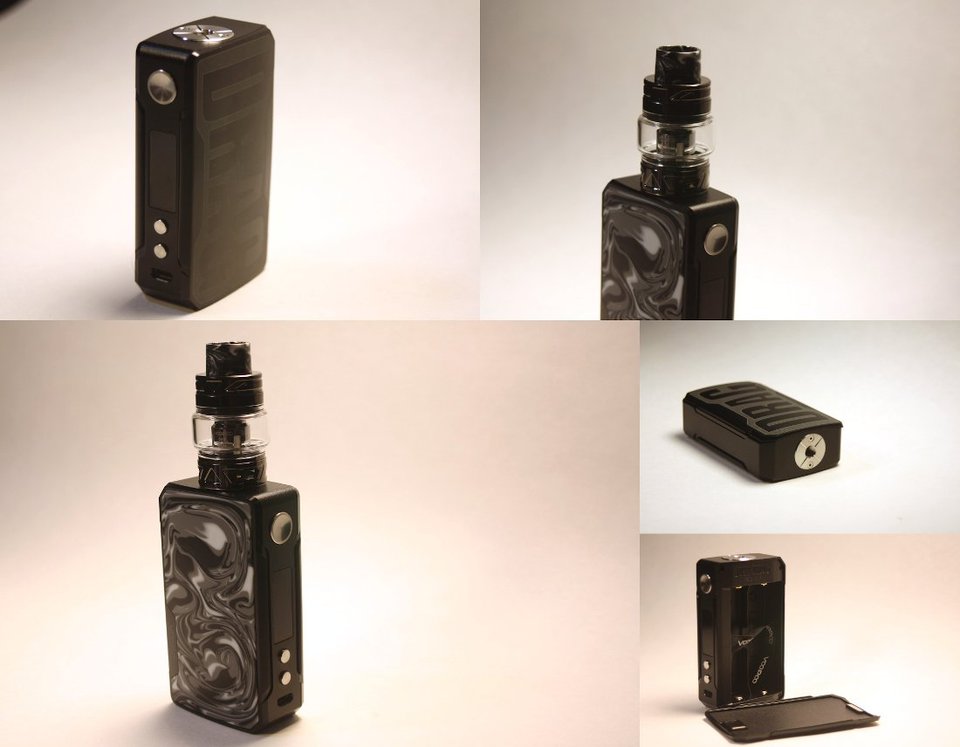 Voopoo Drag 2 (UForce T2) Subohm Starter Kit Specifications
dual 18650 battery box mod
Dimensions - 88.3mm by 51mm by 26.5mm
Wattage Output Range: 5-177W
Resistance Range - Power Mode: 0.05-3.0ohms 
Temperature Range: 200°-600°F
Supports Ni200, Titanium, Stainless Steel with TCR Adjustments Mode
Gene Fit Chip - fast firing up to 177W with good TC capability
large firing button
UForce T2 tank can use Freemax Mesh and Freemax Twister coils
What comes with the Voopoo Drag 2 (UForce T2) Subohm Starter Kit
One DRAG 2 177W Mod
One UFORCE T2 Sub-Ohm Tank
One 0.4ohm U2 Dual Coil
One 0.2ohm N3 Triple Mesh Coil
One Spare Glass Tube (3.5mL)
Quick Look at Voopoo Drag 2 (UForce T2) Subohm Starter Kit
This killer subohm starter kit is built around the VooPoo Drag 2, a high wattage, easy to use, dual 18650 box mod. The Drag 2 has a more user friendly shape than the very boxy original with plenty of space up top for huge tanks. 
Using the latest high performance GENE Fit chip gives this mod plenty of power, lots of control and very responsive firing.
Combining the Drag 2 with the UForce T2 mesh subohm vape tank makes this one of the best starter kits out there in terms of performance and versatility. The UForce T2 looks slick, designed around a high capacity bubble glass, slide top quick fill, mesh coil system and smooth draw thanks to good airflow control. 
The tank uses the UForce T2 mesh coils which work quite well -- producing good flavor and dense clouds with several coil options that are widely available, even at your local B&M. 
But that isn't the best part: You can even use the top notch Freemax Mesh v1 and the Freemax (v2) twister coils for even more flavor!
If you liked the original Drag or have been looking for a reliable, easy to use, high performance, dual 18650 box mod with a versatile mesh subohm tank that chucks huge, flavor saturated clouds -- pick up the Drag 2 today.
Very fast firing
Big firing button and better overall shape than the very popular original Drag mod - lots of space for big tanks
Uses the very powerful Gene Fit Chip - Up to 177W in wattage mode and an accurate TC mode
Easy to read screen with single watt increments
UForce T2 Tank gives a great vape and looks good!
Uforce coils perform well - good flavor and dense clouds
Can use the Freemax Mesh Coils and the Freemax T1 (Twister) coils for even better flavor!
Slide top for quick and easy filling
High capacity bubble glass
Smooth drag and easy AFC
Use code VS25 for 25% off vape juice