VaporFi Chubby E-Liquid Bundle (200ml)
A Quick Look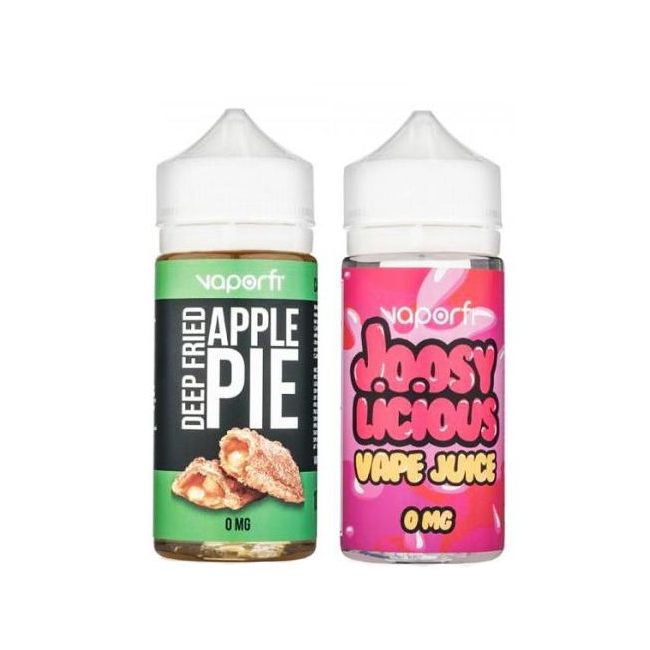 VaporFi Chubby E-Liquid Bundle (200ml) Specifications
What comes with the VaporFi Chubby E-Liquid Bundle (200ml)
Two 100ml Unicorn Bottles (200ml)
Quick Look at VaporFi Chubby E-Liquid Bundle (200ml)
The VaporFi Chubby bundle nets you two 100ml bottles of delicious, sweet vape juice goodness.
You get:

 a juicy, strawberry-watermelon bubble gum with JoosyLicious, just like you used to get at the convenience store.
a flakey deep fried pie filled with cinnamon sprinkled tart green apples 

This bundle gets you 200ml of the most delicious dessert and candy e-liquids VaporFi has to offer at one low price. Great deal!
Deep Fried Apple Pie:

crisp green apple flavor with cinnamon notes

taste of a buttery, flakey deep fried pie

classic flavor combination
JoosyLicious:
fresh sweet strawberry inhale

juicy watermelon and tart kiwi exhale

ever present bubble gum flavor that isn't overpowering

candy lovers classic bubble gum flavor profile

Overall Bundle:
sweet and savory flavors

all are smooth vapes that aren't overly sweet

all can be vaped any time or even all day vape

Deep Fried Apple is good with coffee 

can satisfy the sweet tooth of dessert, baked goods and candy lovers
200ml (2 x 100ml) in chubby unicorn bottles
VaporFi only uses better than food grade ingredients and highest quality nicotine
Free Shipping! No Minimum!