Maker of IQOS (Phillip Morris) Ordered to Stop Advertising Heat Not Burn Technology in UK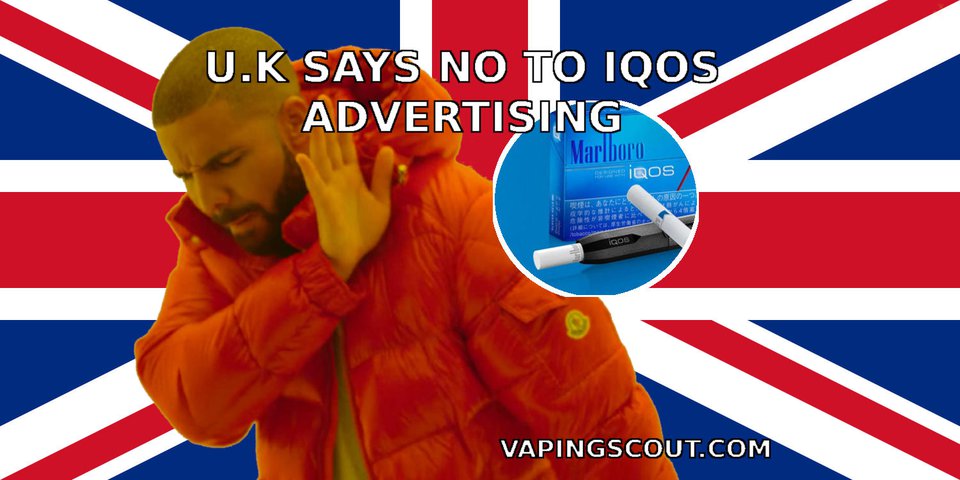 From the Telegraph:
The Government will take one of the world's largest tobacco firms to court unless it stops illegally targeting U.K consumers with tobacco adverts, a Minister has said.

Yesterday the Department of Health sent a formal order to Phillip Morris, which makes Marlboro cigarettes, telling it to remove poster adverts for "healthier" tobacco products from shops around the UK.

Speaking to the Daily Telegraph, the public health minister, Steve Brine, warned that the department was prepared to take legal action against Phillip Morris in order to protect UK consumers from being targeted by the adverts. 

Unlawful advertisement of tobacco can result a financial penalty or custodial sentence of up to six months. 

Phillip Morris denies the adverts are illegal and claims it wants to help smokers by providing them with better tobacco alternatives.

It comes after an investigation by this newspaper found that the maker of Marlboro cigarettes was supplying newsagents across Britain with window posters promoting new iQOS tobacco heaters.

Phillip Morris has spent £3bn developing iQOS, which it is now marketing as as a healthier alternative to cigarettes. iQOS is an electronic "heat not burn" system which heats tobacco sticks up to 350°C, around half the temperature of cigarettes, to generate a nicotine-containing vapor.


Public Health England has warned more research is needed to establish its health implications, which are thought to be less serious than cigarettes but worse than e-cigarettes, which heat liquid instead of tobacco.  
While we are a vaping news site, Vaping Scout believes that e-cigarettes are in a similar position as heat not burn technology when it comes to legal hurdles vaping is facing.
In this case, the UK government has a point in saying that IQOS is a tobacco product as it plainly contains tobacco. 
This is an interesting case where the law bans advertising tobacco products but is the general public better off not knowing about a product (IQOS) that Public Health England considers less harmful than smoking cigarettes?

E-cigarettes, as opposed to heat not burn technology, do not contain tobacco at all, particularly the vape devices themselves. The last quoted sentence even acknowledges that e-cigarettes vaporize liquid and don't use tobacco.
0mg vape juice, which has zero nicotine content, that isn't tobacco, flavored contains no tobacco derivatives or extracts at all.
If nicotine is what makes something a tobacco product, why is nicotine containing products such as gum or patches recommended by the FDA as a cessation aid and not being treated the same as e-cigarettes ?