Vapor4Life Disposable Vape (E-Cig) - Sampler Pack Review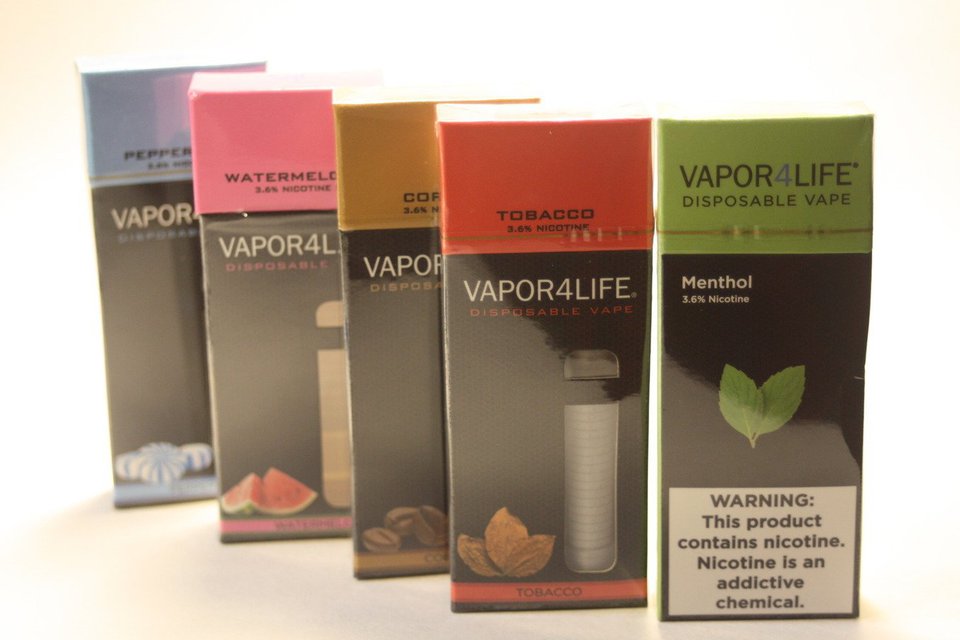 Vapor4Life disposable e-cigs are a great way for a smoker to make the transition from traditional smokes to a vape product. For long term or even life long smokers who haven't had success using other methods or devices, these tiny one time vape pens may be the best disposable e-cig to make the switch to vaping.
At first blush, you may think of cig-a-likes from like 10+ years ago but these disposables are light years away from those device in terms of quality and performance.

These e-cigs satisfy your nicotine needs, with a 3.6% level of freebase nicotine base, accurate full tobacco flavor e-juice and a strong throat hit. Each disposable will last for a significant amount of time, perhaps even longer than it takes to get through a full pack.

The best part of the Vapor4Life disposables which complement the performance, is the design. Everything about them seems to have been carefully selected to mimic an actual cigarette. You can really tell that a ton of time, research and revisions have been made to these disposables to make sure they are top notch. 
These devices also satisfy the psychological needs of a smoker as well: the touch, taste, draw, feel, look and physical action. Even a great mouth to lung vape tank can recreate only the taste, draw and arm movement.
First the packaging, slightly smaller than a pack, has cellophane wrapping and the box top folds back to reveal the contents. The e-cig is suspended in the box -- it can be slid out to use and slid right back in to return the box to your pocket.
The dimensions -- size, both length and diameter, are just like a standard smoke. 
At one end is a small LED tip that fades slowly in and out when activated by a drag in with the familiar cherry red glow that is just visible in your field of view. At the other end is a spongy tip that gives way to your lip pressure and feels just like a normal filter.
Wrapping the whole device is a very close recreation of cigarette paper -- from the white with grey lines tobacco section down to the brown speckled filter. 
In your hand it feels just like like the real thing, thanks to the diameter and paper wrapper.
Performance
You already know what we think about the devices design, both the look and feel. We even have mentioned how the draw and throat hit is just the real deal. 
Overall, the flavors of the sample pack are pretty good. Tobacco and menthol are probably the most likely go to choice for a long term smokers thanks to accurate flavors and strong throat hits. 
The other flavors in the sample pack are Coffee, Peppermint and Watermelon -- all classic mouth to lung flavors. Each has a strong throat hit to complement the flavors and draw. 
Peppermint is just like you would expect, a peppermint candy flavor with an icy cool blast of menthol sensation and sweet aftertaste.
Coffee has a bold coffee inhale with a slightly sweet taste and dark roasted aroma. This vape is great any time for the coffee lovers out there. 
Watermelon has a light, juicy watermelon flavor and after taste. The fruit flavor is a bit overshadowed by the throat hit on the inhale but shows up more prominently on exhale.
We gave several of the Vapor4Life disposables to a lifelong smoker of over 30 years who just couldn't avoid cigarettes. This person has had serious health complications and has tried everything but just couldn't get off the sticks, even using the JUUL but kept going back everytime. 
Here is what she told us about her experience:
"The tobacco was more natural than I expected ... Definitely my favorite."
"The menthol flavor was good and enjoyable even though [she] has never liked menthol smokes. The flavor was light and wasn't over bearing."
"These [Vapor4Life Disposables] feel just like a cigarette between your fingers and they last a really long time too!"
Final Thoughts
Each flavor is available as part of the sample pack as seen but each flavor is also available as solo items or in ten packs of your favorite flavor. The 10-packs are great because you won't run out and get back on the smokes.
These make a great gift for the smoker in your life (or yourself).
If you haven't had the success you have wanted for so long, you owe it to yourself to give these a try!
Watermelon flavor is a bit faint on inhale and more prominent on exhale
Satisfying levels of nicotine and satisfies psychological habit and physical sensations for current smokers
Gives a very similar experience to an analog cigarettes - even looks and feels right
Very similar draw to traditional cigarettes
Strong throat hit
long lasting
Accurate tobacco and menthol flavors
Coffee, Peppermint and Watermelon are classic mouth to lung flavors with strong throat hits
Great for current/recent smokers and on-the-go vapers
Use code VS25 for 25% off vape juice