Legislation to Ban Vape Flavors Submitted by Senator Dick Durbin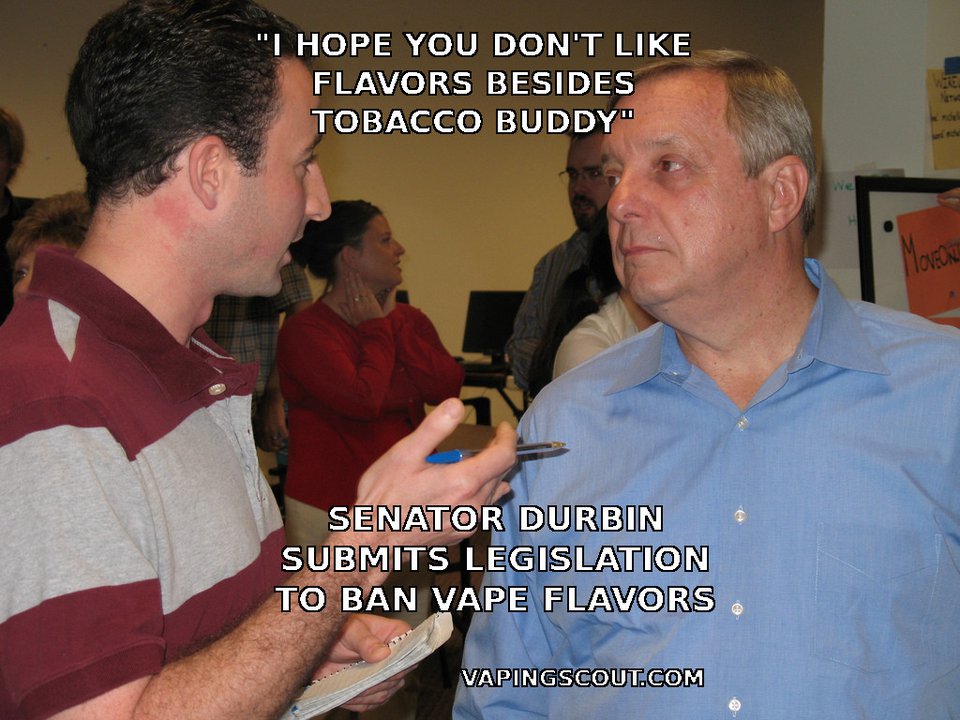 Senator Dick Durbin (D) of Illinois announced the SAFE Kids act last month, which we covered here at Vaping Scout. The legislation has been submitted and is finally able to be read by the public (there is a link at the bottom of this article).
The bill being brought, co-sponsored by Lisa Murkowski (R) of Alaska, is bill S. 3319 and can be cited as "Stopping Appealing Flavors in E-Cigarettes for Kids Act" or the S.A.F.E Kids Act.
Lawmakers always use an acronym or phrase to make it sound like this new law will save children from being harmed ever again.  
Is it weird how everything is always about the kids, as if no one else matters and the kids will stay children forever? Adults staying away smoke free doesn't matter and never seems to be a consideration.
This year has been pretty intense when it comes to threats to vape flavors, with the FDA ANPRM taking comments from the general public on whether it should ban them or not.
S. 3319 (SAFE Kids) will take any of the control over how to regulate vape juices, flavors and marketing from the FDA.
Its stated purpose is "To impose additional restrictions on tobacco flavors for use in e-cigarettes."
The crux of the bill comes down to rules banning flavors from tobacco products other than cigarettes but specifically targets e-cigarettes.  
Except as provided in clause (ii), a tobacco product that is not a cigarette, or any component, part, or accessory of such a product, shall not contain, as a constituent (including a smoke or aerosol constituent) or additive, an artificial or natural flavor (other than tobacco) or an herb or spice (including menthol, strawberry, grape, orange, clove, cinnamon, pineapple, vanilla, coconut, licorice, cocoa, chocolate, cherry, and coffee) that is a characterizing flavor of the tobacco product, tobacco smoke, or aerosol emitted from the product.
The only flavor you are allowed to vape, if this goes into place, is tobacco. If you are think you will be getting a good tobacco juice with extra notes, earthy tones with hints of vanilla and bourbon, think again. 

The ONLY flavor allowed is tobacco. Just what ever plain, harsh tobacco flavor the government will allow.  
There is a three prong flavor exceptions test that sounds impossible to pass: 
"(ii) EXCEPTIONS.—An electronic nicotine delivery system component or part shall not contain or use an artificial or natural flavor (other than tobacco) that is a characterizing flavor of the product or its aerosol unless the Secretary issues an order finding that a manufacturer has demonstrated that use of the characterizing flavor—

"(I) will increase the likelihood of smoking cessation among current users of tobacco products;

"(II) will not increase the likelihood of youth initiation of nicotine or tobacco products; and

"(III) will not increase the likelihood of harm to the person using the characterizing flavor.".
These "tests" sound vague the no threshold for success.
How will anyone prove any of those things and who decides if a company passed?
How much will trying to prove each of the prongs for each flavor cost?
What flavors do kids not like? Pretty sure they don't like dirt or brussel sprouts flavor, but then again not many people do. 
If the situation ends up similar to the flavors available to nicotine gum, vapers will be lucky to have unflavored, harsh tobacco that tastes like cigarette ash, simulated orange and reminds me of mint.
What You Can Do to Prevent a Flavor Ban
This isn't from the FDA - It is from Legislators
A lot of people submitted their comments to the FDA and took part in Dr. Farsalino's flavor survey but this law will tie the hands of the FDA, banning vape flavors from sale entirely.
This bill has been submitted to the Committee on Health, Education, Labor and Pensions, where it has to pass an approval vote to be moved into a position to be voted on by the entire senate. 
It is possible to get the Senators that are on this committee to vote no, preventing it from proceeding further. If you live one of these senators states, consider writing them an email, calling their office or both:
Lamar Alexander, Tennessee

Mike Enzi, Wyoming

Richard Burr, North Carolina

Johnny Isakson, Georgia

Rand Paul, Kentucky

Susan Collins, Maine

Bill Cassidy, Louisiana

Todd Young, Indiana

Orrin Hatch, Utah

Pat Roberts, Kansas

Lisa Murkowski, Alaska

Tim Scott, South Carolina

Patty Murray, Washington

Bernie Sanders, Vermont 

Bob Casey Jr., Pennsylvania

Michael Bennet, Colorado

Tammy Baldwin, Wisconsin

Chris Murphy, Connecticut

Elizabeth Warren, Massachusetts

Tim Kaine, Virginia

Maggie Hassan, New Hampshire

Tina Smith, Minnesota

Doug Jones, Alabama
Citizens can find out their Senator's contact information here at senate.gov.
It should only take a few minutes to get a staff member on the phone and let them know that you would like to encourage the senator to vote no on this bill and how important flavors are for you to stay away from smoking cigarettes. 
Writing a letter or an e-mail may take more effort but those forms of communication are effective.
I know it seems repetitive for everyone asking you to contact your senator or representative all the time, but it actually does make an impact for these people to know that voters are active, interested and watching how they vote.