Altria Halts Sales of Flavored Vape Juice as FDA Increases Scrutiny on JUUL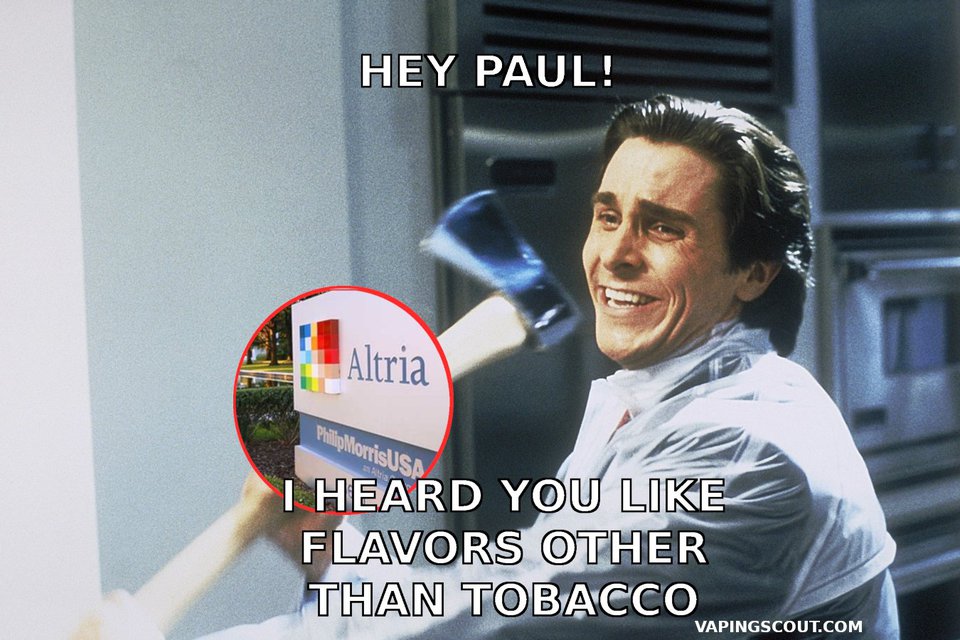 Altria Group, best known for the Marlboro brand, has decided to stop selling flavored vape juice in several of their product offerings that target the pod and cig-a-like vape markets.
From USA Today:
Tobacco maker Altria Group pledged Thursday to stop selling certain vaping products until federal regulators sign off on those items or "the youth issue is otherwise addressed."

The move came after the Food and Drug Administration said recently that it was weighing a ban on certain flavored e-cigarette liquids amid mounting concerns about teenagers vaping.

Altria, the parent company of Philip Morris USA and maker of Marlboro cigarettes, is halting sales of multiple items:

MarkTen Elite pod-based products.

Apex by MarkTen pod-based products.

All favored variants of MarkTen and Green Smoke "cig-a-like products" except tobacco, menthol and mint varieties. 


FDA Commissioner Scott Gottlieb recently met with Altria "to discuss actions that could be taken," Altria said in a statement.

The agency has pressed vaping companies to roll out measures to prevent teenagers from vaping and to stop marketing the products to young people.

The FDA has also been under pressure from health groups that sued the agency for allowing products vaping to hit the market without approval.

...
This move by Altria Group can be taken several ways:
Avoid heavy scrutiny by the FDA that has been brought against JUUL

They are trying to cast themselves as part of the solution and not the problem.  Altria is heavily invested into pod systems, the current target of the FDA.

Trying to control what happens to the vape market going forward by "setting an example" that will be used to measure the rest of the competition.
This move was prompted by the meeting with FDA Commissioner and Altria is trying to conform with what actions the FDA will be taking in the future.
Try to protect their larger interest in the tobacco market
If the FDA applies the current laws limiting flavors available to the cigarette and smokeless tobacco (snuff) market to e-liquid, the only flavors allowed will more than likely be tobacco, menthol and mint.  
MarkTen, a brand owned by Altria, is currently in direct competition with JUUL, the main pod e-cigarette system powerhouse that controls a far more significant market share versus Altira. 
MarkTen currently offers:
Glacier Mint

Sweet Original (tobacco and fruit)

Strawberry Brulee

Apple Cider 

Hazelnut Cream

Cutting the flavors down to just the three traditional tobacco flavors will significantly impact the variety of available options from Altria but the company has stated in an earnings call that only 20 percent of its sales are flavors other than tobacco, menthol and mint.
The whole flavor ban concept is seen by many as a way of killing the vape market, specifically JUUL, the biggest threat big tobacco has ever come across.  

Taking the proactive step of essentially banning flavors themselves by not offering alternatives, Altria may hope to avoid further action from the FDA and attention from flavor ban enthusiasts but most people familiar with vaping and the nicotine debate as a whole would however be inclined to think that the noose only gets tighter.
From the New York Times:
Altria has not given up completely on new flavors. In a note on the company's website, Mr. Willard said he believes that flavors do help adults switch from cigarettes to e-cigarettes, and that the company would introduce new ones with F.D.A. permission.

"We believe that pod-based products significantly contribute to the rise in youth use of e-vapor products," Mr. Willard conceded in his letter to the F.D.A.

The flavor-based pods are not a significant part of the company's e-cigarette portfolio at this point. The MarkTen Elite is sold in about 25,000 stores. The Apex is sold on line in 10 states.

In a recent interview, the F.D.A. commissioner, Dr. Scott Gottlieb, said that while e-cigarettes may be a preferable alternative to combustible tobacco cigarettes, they are not risk free.

"Any time you inhale vape products, there is every reason to believe there are risks associated with it," he said.

Dr. Gottlieb also noted that he was revisiting the use of menthol in certain products, which has been of particular concern in African-American communities targeted by makers of menthol cigarettes like Newport and Kools in years past. "It was a mistake for the agency to back away on menthol," he said.

The F.D.A. is also moving on other fronts that threaten the tobacco industry. In response to a legal ruling, the agency said last month it would speed up release of new, graphic package warnings ordered years ago by Congress. It is also proposing to lower nicotine levels in cigarettes, rendering them non-addictive.

Among Altria's other concerns is F.D.A. approval of IQOS, the pen-like electronic device developed by Philip Morris International, which the company says heats tobacco sticks but does not burn them. Although Philip Morris has applied for approval, Altria would distribute the device in the United States.

A federal advisory committee in January recommended that the F.D.A. reject a bid to allow the product to be sold as safer than traditional cigarettes. The agency has not yet made a final decision on whether the product can be sold as a reduced harm product, or at all.
IQOS, have seen pretty big success in Japan but has met resistance in Europe and the product is currently not available for sale in the United States.  Earlier in the year, the FDA rejected a request by Philip Morris to market IQOS as 'safer alternative to smoking'.
A significant amount of time and money as been invested into heat not burn technology by tobacco companies and such a product would only be hampered by a flourishing vape market.
The whole flavor ban concept is seen by many as a way of killing the vape market, specifically JUUL, the biggest threat big tobacco has ever come across.  

The FDA commissioner has promised to lower the nicotine content in cigarettes so low that smoking would not satisfy cravings, meaning that people wouldn't buy cigarettes anymore, at least in the United States. While traditional tobacco companies involved the vape market, they are not the dominant force in vaping but they completely control heat not burn technology.
As a side note:
"It was a mistake for the agency to back away on menthol."
Damn, looks like Commissioner Gottlieb doesn't even like menthol flavor. 
If the head of the FDA thinks menthol shouldn't be available in cigarettes, the chances of any flavors other than plain tobacco being available to vapers after a flavor ban is probably quite low.
What was the reaction to the move to limit flavor choices by Altria?
F.D.A. spokesman Michael Felberbaum said that the agency appreciated any voluntary steps that companies were taking to address youth access and appeal of e-cigarettes, and would be taking additional action shortly.

Becky Wexler, a spokeswoman for the Campaign for Tobacco-Free Kids, was not impressed by the tobacco company's move.

"Altria's announcement makes them look good, but it will have little practical impact given their very small share of the pod e-cigarette market," Ms. Wexler said. "It is not a substitute for mandatory F.D.A. rules that apply to all e-cigarette manufacturers, including a ban on flavors that attract kids and enforcement of the requirement for F.D.A. review before new products go on the market."
Altria may have shot themselves in the foot but this move which sets the tone for an incoming flavor ban and puts JUUL in an even worse position than before, both of which have upsides for the tobacco company.
"Even Big Tobacco thinks we should ban flavors! If you don't think so, you are unreasonable and probably hate kids."