Vape Mail Ban - It Looks Grim For Ordering Online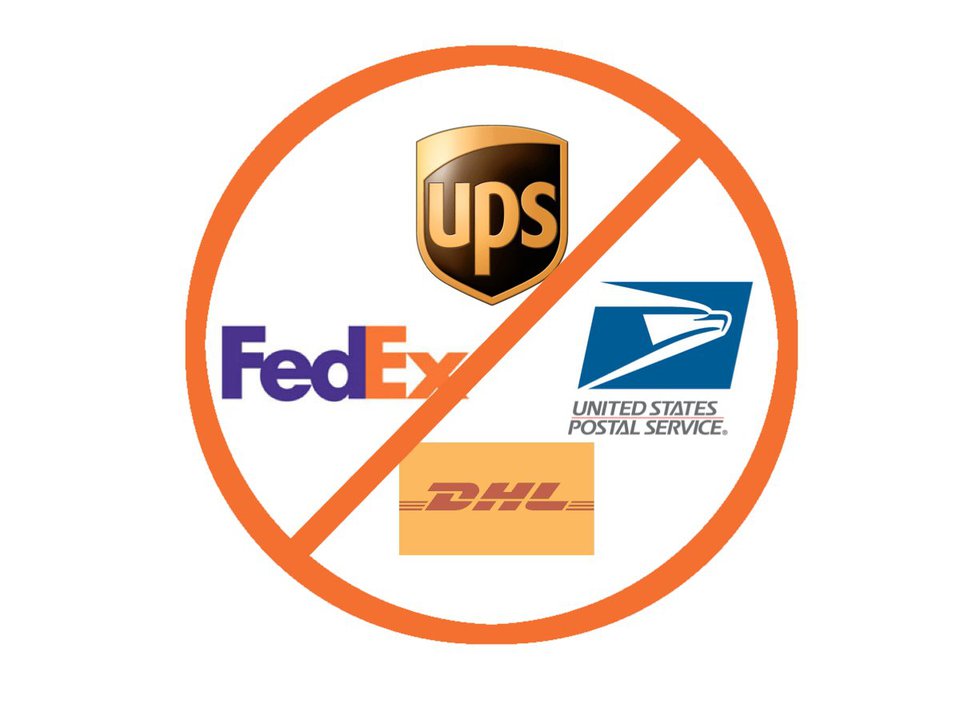 The vape mail ban passed into law last year as part of the PACT act extension to ban the USPS has spread to all of the other national shipping companies. UPS, FedEx and DHL are all saying that nicotine related products listed in the PACT act extension will not be available for shipping starting in just a few weeks.
Over at the /r/electronic_cigarette subreddit the user Foment_life has compiled a pretty comprehensive thread about the current situation with the vape mail ban.
Okay folks, there have been a lot of questions regarding the upcoming mailing ban on vaping products in the US and what will/won't happen. If you have more information that I haven't included, or would like to clarify something I will be happy to edit the post to add more information or correct any information present here. Please message me or leave a comment on the post.

One thing that is for sure, the time to stock up is now. With that in mind I am attempting to compile a list of vendors that have current or near future sales at the bottom of this post


[...]





The bullet point breakdown:

USPS will not be shipping direct to consumers on or around April 27th.
FedEx has stated they will not ship vapor products starting March 1st
UPS has stated they will not ship vapor products on or after April 5th
DHL already restricts domestic shipping of vapor products

So where does this leave us? Well, likely this still means USPS will continue to allow B2B purchases to be mailed, so businesses like Brick and Mortar vape shops should still receive supplies, and DIY is still (with the likely exception of sourcing nicotine) viable for making e liquid yourself. Non-specific purpose cotton and wire will still be available so rebuildables will still remain viable if you already have them.


Speaking directly with several DIY Vendors I have been told the following:


River Supply Co's response:


We are still working on alternative solutions but unfortunately cannot provide any further information at the moment.

Nude Nicotine's response:


The ban is going to affect all vape products, including the ones for DIY. We are working on a plan with alternative shippers to get our customers their products, however, the shipping time may increase.We suggest to all our customers to order and stock up now, as there is going to a slight transitional period before our alternative shipping methods run smoothly.

Liquid Barn's response:


We are working hard to determine the impact of recent legislation. At this time it is too early to tell what the extent of this will have on future business. As we are updated with more information we will begin to notify customers.

LiquidNicotineWholesalers' response:


The ban is written clearly enough that we will not be able to ship with USPS and FedEx. We are currently in talks with other couriers to find a solution for the vape mail ban. We do not have any plans on shutting our doors. We will reach out to all of our customers once we know more.

Bull City Flavors' response:


we've been officially cleared by FedEx legal and don't anticipate any issues from the USPS or UPS. … I spoke with several of our key suppliers in Sept/Oct of 2019 after Trump announced a national flavor ban and it was bleak so it is possible that some flavor houses don't survive.

Flavor Jungle's response: 

In a phone conversation with the vendor they have said that due to the multi-use nature of the products they sell, and the fact that they do not sell nicotine, they do not anticipate any issues for themselves specifically to sell directly to consumers.

My Freedom Smokes's response:


The main issue with DIY supplies is the nicotine part. PG/VG and flavoring concentrates are used in many other applications so we don't foresee any issue shipping those to DIY customers. We are working with another shipping company other than FedEx, UPS and USPS in case all of those companies stop shipping vape supplies. We are going to try and continue selling as much as we can while staying with in the new laws and regulations. Right now there is a lot of uncertainty and we're not sure just yet how this will affect us moving forward. We will try to alert our customers as much as possible about changes coming down to us as more information is available.

That seems the general consensus among DIY Vendors. Nicotine is the sticking point. If there is one thing to stock up on Right now it is nicotine.


...
Here are a few selected responses from the comments to the original post:
Hey everyone! Operating Manager over here at vapejuice dot com. (No links allowed).

So an update behind the scenes for those who do not know. B2B is looking very hopeful regarding the PACT act and shipment restrictions. While B2B can use third party companies, most or all of these shipping companies are pallets only. So the small $100-$200 B2B orders will become very rare. Vapefreight is a new shipping company for the vapers by the vapers, focusing solely on B2B.


B2C is a whole other ballgame. The future is very grim BUT there is small light at the end of the tunnel. Now regional shipping companies are an option but the servicing states are very small. This is one solution that online retailers will offer for customers in neighboring states. Another solution is in the works for B2C companies to still have another option of nationwide shipping but only applies to companies with 500+ daily orders.


It will be harder on both the consumer and the businesses to ship these products especially B2C, but solutions are being worked out. That being said, hope for the best but expect the worse.

"For the children", or more cynically, to hand the entire vaping market over to Big Tobacco.

It affects all associated products that could be used in vaping, IF it's being sold by a vaping merchant. For example, cotton and 18650s sold by Amazon won't be as those are used in makeup and flashlights. Kanthal wire is used in furnaces. But if a seller is selling them along with eliquid and vaping devices, it's probably a no-go.


This affects even mech mods and rebuildables, even if no nicotine is being shipped. The way the law reads, if it's used in vaping, it is restricted from being shipped by USPS. FedEx and UPS being private companies have chosen on their own to disallow vaping shipments, but it would be up to them to determine which things they will refuse to ship.

This is a nightmare. I haven't been able to find the tanks I use at anywhere close to the prices I used to get them for. I have limited freezer space and money to spend. I figured DIY could solve my juice problem, but that's still a hefty investment and now it looks like nic will be a problem too. I initially started vaping primarily because it was so much cheaper than cigarettes. I don't know what to do. I've never tried quitting altogether and it's looking like I'll have to. Maybe nicotine gum will be my future. This is so sad.
CASAA and SFATA have been pushing back but compared to the tobacco lobby and many other agencies that have been around a lot longer and have a lot more money they've always faced an uphill battle.
I've been waiting on liquid barn to restock the salt nic but I think I should just go ahead and order from nicotine river. Ive only ever used liquid barn but Ive heard good things about nicotine river!

Edit: I contacted liquidbarn hoping to wait to order their nic salt and they dont anticipate on getting more in. Things are just so unknown but I'll leave the reply I got for you guys:


Hello, Unfortunately not starting March 1st Fed Ex will no longer ship any vape products and UPS, USPS will follow April 1st. However we are working hard to determine the impact of recent legislation and are looking at other options and as we are updated with more information we will begin to notify customers.


Thank You,


Bobby Hill Liquid Barn

The law seems to perfectly benefit Big Tobacco companies that sell their products exclusively at convenience stores. We are too cynical to think that this was an unintended consequence of the law. It will probably we hear about "saving the children" from flavored vapes now that the competition is dead.
Things are looking pretty grim for ordering vape supplies online. If you need any supplies such as a disposable vape pen, vape juice, salt nic or coils, you should think about stocking up soon.