Ehpro Cold Steel 100 Mod (Single Battery Vape Tube Mod)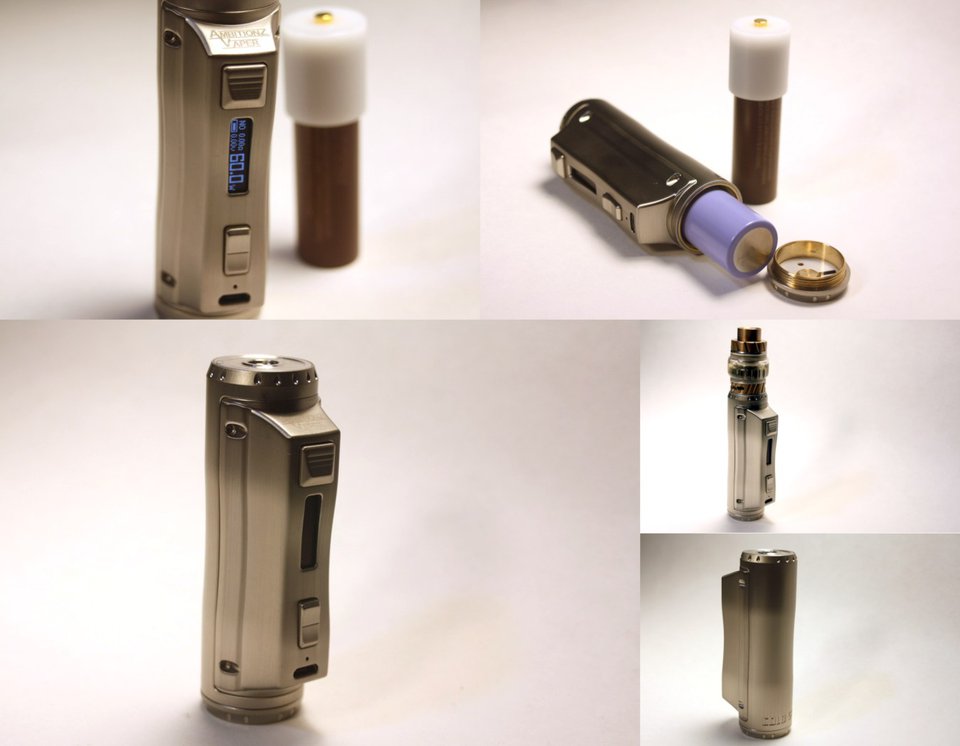 Ehpro Cold Steel 100 (120W Tube Mod) Specifications
Dimensions: 39 x 27.5 x 91.5mm 
Material: Stainless Steel + Brass + Zinc Alloy
Coil Resistance Range: 0.05-3.0ohm
Voltage Range: 0.5-8V 
Wattage Range: 5-120W 
Output Current: 35A 
Temperature Range: 100-315℃ / 200-600℉
21700 / 20700 and 18650 with adapter
belt carry case included
ultrafast firing
ergonomic shape
The Ehpro Cold Steel 100 is a powerful single battery (21700/20700/18650) regulated tube vape mod capable of variable wattage, variable voltage, custom fire curves, and temperature control. 
While it is called the "100", it is actually capable of up to 120W with a 40A battery.
Opening up the box reveals the mod is packed inside of a velcro carry case, which is nice for securing your mod to be packed in a bag.
Both the top and bottom of the mod have beveled edges, narrowing down the 27.5mm tube size down to a 25mm lip. It has a spring loaded 510 pin and looks good with 24mm and 25mm tanks.
Along the back of the tube is a gentle concave shape along the center section of the tube that continues along the sides of the electronics housing. 
The ergonomic shape on the tube aligns with the meaty section of the thumb and the front is perfect for gripping with middle and ring fingers. I like to wrap my pinky around the bottom of the tube.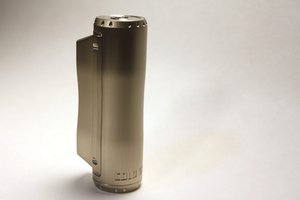 Firing is most comfortable by squeezing the button with the middle portion of the index finger instead of the pad, particularly with larger hands.

The battery is secured with a screw on cap that has two battery vent holes. You can use a 21700, 20700 or 18650 (with the included adapter). 
The Cold Steel 100 is perfect for the normal variable wattage vaping with soft, normal and hard settings. There are also the following modes:

custom firing curve
temperature control (200-600 degrees F) Nickel, Titanium,  Stainless Steel and TCR
variable voltage
bypass for a mech style vape
Switching modes is straight forward thanks to a simple interface even on the compact screen size. Even the custom firing curves are easy to adjust using the bar graph style interface. 
You can disable firing by pressing both up and down buttons for three seconds. If you want to still be able to fire the mod but disable the adjustment keys just press and hold the fire button and up buttons. You can press hold fire and down to flip the direction the screen displays which is a nice feature.
Performance
Firing is described as "ultra fast" at 0.0018s and it is definitely quick to heat up and start producing vapor on the fantastic Freemax Fireluke 2 mesh subohm tank we used in testing. 

Ehpro says to achieve 80-120W, a 40A battery current is required.  A 21700 is the best bet for performance with most single battery mods these days with 20700 coming in second, followed by the classic 18650. I wouldn't recommend running a single 20A 18650 over 60W just for battery safety reasons.

With a high drain 21700 vape battery, this mod is more than capable of running at 70W all day. 

For temperature control users, this mod is capable of custom TCRs or just the standard temperature and wattage adjustments on the wire mode. I would stick with stainless steel. Variable voltage works similar to variable wattage and I typically avoid bypass mode.
This is a powerful single battery mod that is great for all sorts of atomizers (tanks and RDAs) as well as as most vape styles from mouth to lung to direct lung cloud chasing.
The shape lends itself to being comfortable to hold on to for an extended amount of time. I really enjoy squeeze fire mods and the button design on the Cold Steel 100 provides a satisfying press.
Overall the Ehpro Cold Steel 100 is a strong performing single battery vape mod, particularly when paired with a 21700 or 20700 battery. This is easy to hold in the hand and is fun to use. If you are looking for a tube style vape mod that has a more power and firing options than just the standard wattage mode, this is a great option.
named Cold Steel 100 Mod but actually does 120W
Fast Firing! (0.0018S Ultrafast firing speed)
VW/VW/TC/Custom Curves/Bypass modes - up to 120W with 40A 21700 battery
18650 / 20700 / 21700 - Single Battery Tube Mod
Large Screen (for tube) with easy to adjust menu and settings
Comfortable to hold and Fire
Accepts Paypal - Select UPS/DHL for faster shipping