Jackly JK6089-A 45-in-1 Professional Screwdriver Set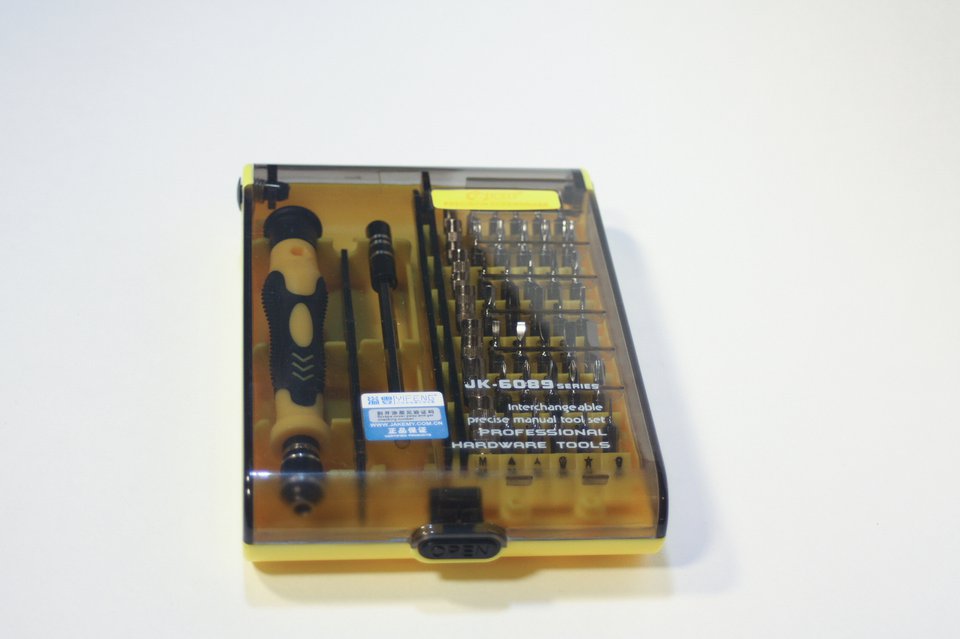 Jackly JK6089-A 45head Set Specifications
Material: PP & TPR & CR-V steel

Hardness: H.R.C. 50-52

Package weight: 345g/12oz

Magnetic Tips

Fantastic rotating handle for easy use

What comes with the Jackly JK6089-A 45head Set
1 * 11.5cm Tweezer

1 * 12cm Handle

1 * 10cm Extension bar

7 * CRV socket: M2.5, M3.0, M3.5, M4.0, M4.5, M5.0, M5.5

35 * Screw driver: 
10 * Torx screw driver: T3, T4, T5, T6, T7, T8, T91, T10, T15, T20

8 * Hex screw driver: H0.9, H1.3, H1.5, H2.0, H2.5, H3.0, H3.5, H4.0

5 * Cross screw driver:1.0, 1.5, 2.0, 2.5, 3.5

7 * Straight screw driver: 1.0, 1.5, 2.0, 2.5, 3.0, 3.5, 4.0

1 * Triangle screw driver: 2.0

1 * Star screw driver: 0.8

2 * Y screw driver: Y2.0, Y2.5

1 * Circle screw driver: 1.5

Package Included:
1 X Handle

1 X High precision tweezer

1 X Extension bar

42 X Screwdriver Bits

1 X Plastic Storage Case

This screwdriver set gets the job done
Save time and no more hunting for the right driver
This screwdriver set is great for rebuilding decks, particularly since the screws aren't consistent even within the same manufacturer sometimes.
I have also used this driver set for laptops, pcs and other jobs that needed specialized drivers, particularly small tips.  I have even used it on my car to remove a door panel.

For the price and its ability to get the job done that other drivers/tips weren't able to handle. It has easily paid for itself with all the tasks I have used it on. 
This set provides torx heads all the way down to T3. If you have ever gone to the hardware store to a torx set, you know that sizes that small aren't always sold at the store.  
The convenience of having all these small tips is almost enough of a reason to pick up this set.
How does it handle?
(I couldn't resist)
The screwdriver shaft has a comfortable, ergonomic shaft that is very easy to use.  
The plastic cap (that is seen on the back of the driver portion) rotates making it easy to apply pressure to it and rotate the driver with your fingers, instead of applying some uneven pressure using a wrist rotating motion that can sometimes lead to stripping. 
With a magnet in the tip holder, the various heads that come with the kit drop right into place and stay put.  Only problem that I have had is sometimes the magnetic pull can make the tip difficult to remove the tip if your fingers are slick from juice.
Would I get it again?
At this price? Most certainly
This set is less that 10 bucks and has saved me so much time and aggravation, I would probably pay more than is being asked.
Unsure about how the tips handle extreme abuse
Great for rebuilding decks but can be used for laptops/pc or other jobs that need specialized drivers, particularly small tips. 

Amazing price for the value