Wotofo x MikeVapes Recurve Squonk Box Mod (80W)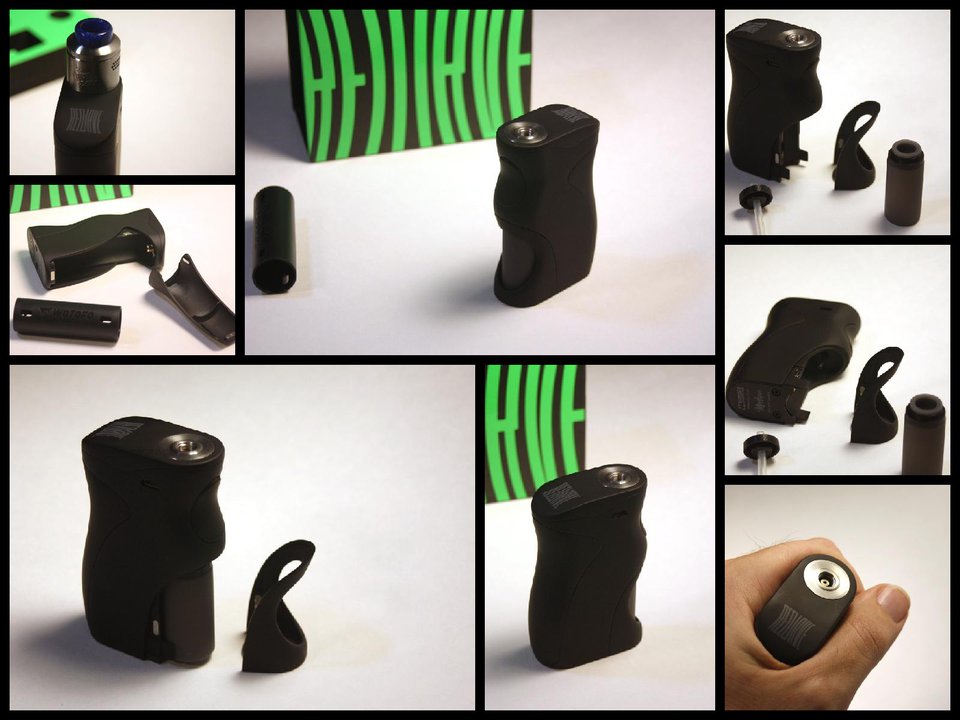 Wotofo Recurve Squonk BoxMod (80W) Specifications
60.5mm by 27mm by 90mm dimensions

rubberized zinc alloy construction

8ml capacity squonk bottle
contains a PCB (circuit board) for power output and various standard safety protections including short circuit and battery protections

LED indicator light

2A micro usb charging

battery adapters included 

What comes with the Wotofo Recurve Squonk BoxMod (80W)
one Recurve Squonk Box Mod

two battery adapters

one USB cable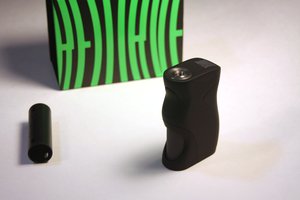 The Wotofo Recurve Squonk Mod is the brain child of the ongoing collaboration between MikeVapes of youtube fame and Wotofo, and the result is a fantastic, very usable, unregulated single battery squonk box mod with all the regular safety protections.
With this vape mod, you get the convenience and capacity of the bottom feed system, the best performance from your favorite squonk (BF) RDA, and unregulated mech style vaping with the piece of mind provided by modern technology.
This is an unregulated, meaning power is transferred directly from the battery, single battery squonk device. 

Wotofo thankfully included a PCB (a small control board) in the device that provides the following safety protections:

short circuit (the big one)

low voltage - the device will shutoff when the battery go down to 3.2v indicating a needed battery swap

overheating

10 second auto cutoff - (don't ever put a mod in your pocket with out putting the batteries in a separate case!)

reverse polarity

overcharging

over discharging
Behind the squonk access door is a strip of LED lights that illuminate the squonk bottle that indicates when any safety mechanism are being tripped, such as when the battery needs to be changed. This feature is pretty cool but it would have been a nice bonus to have a colored light that indicates battery level when firing the mod. However, it is fairly obvious when the battery need to be swapped for a fresh one.
Unregulated is a pretty simple way to vape, something RDA users have been doing since the beginning, but it does mean you should be familiar with Ohm's Law for your builds. 
Check out our vape battery safety guide for more information on staying safe.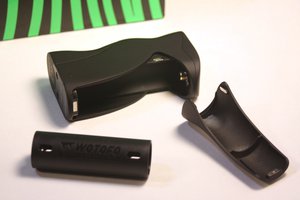 Here is just a quick refresher on battery safety with unregulated and mechanical mods:
When using an unregulated device, the coils on the RDA have to be built around what the battery can safely handle. The resistance (ohm reading) of the coil(s) which can be safely used will be determined by the amperage rating of the battery. 

Use a battery drain and ohm calculator like Steam Engine when building for any unregulated or mech mod. 
(Example) A 0.3 ohm single coil build would drain at 14A and provide 58W of power, which would be pretty satisfactory to vape and well under the 20A rating. But a dual coil build of 0.14ohm would drain at 30A, which would be unsafe for a standard 20A 18650 imr battery but would be just fine on a 35A 21700 battery.
The Recurve will fire down to 0.08ohm, which is very low. Most ohm meters aren't all that accurate, which is why I like to stick over 0.12ohm with every build, not just on this mod, just to be safe.
This device will give the best, low ohm friendly, performance possible with a 21700 battery but since not everyone has one, adapters have been included with the package. 
The Recurve can take the following battery sizes:
The battery door is held on two magnets and there is no rattle from door or from the battery.
After quite a bit of heavy usage, this type of door shape may begin to develop a little bit of play but this is easily corrected by applying a firm, even squeeze on both sides of the door when it is off the mod.
Another great safety enhancement that may seem small is very visible battery direction indicators. This device does have reverse polarity protection but the clear indicators are appreciated.
Towards the top of the mod is a micro USB port that provides quick 2A (two amp) charging, which is a similar speed to a lot of modern cell phones. 
While the side charging is very fast, batteries last longer when being charged at 0.5A, an unbearably slow speed. Using an extra battery and separate battery charger would be more friendly on your equipment.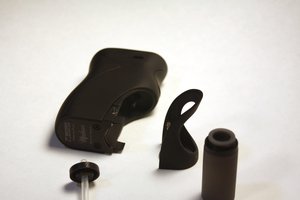 On the front of the mod is a small door for accessing the squonk bottle. The cutout on the front of the access panel is fairly large, more than enough space is available for a firm squeeze with a finger or even full thumb pad.
The squonk bottle is made of silicone, with a knurled plastic cap and pre-cut plastic tube. 
Fresh out of the package, the bottle has that silicone smell that is removed by warm, soapy water. When refilling, make sure to grip the small plastic edge underneath the cap and don't try to apply pressure to the sides (haha).
Wotofo only included one squonk bottle but this is a standard size, making replacement fairly easy.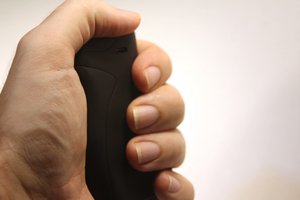 As you can tell, the Recurve squonker has a very ergonomic shape, similar to the feel of a recent model pistol grip. 
It has a rubberized surface on top of the zinc alloy constructed frame. This rubberized surface coating gives the device a satisfying surface to touch with the hand and the weight of the materials lends a sturdy feeling.
The large, clicky fire button is simple to trigger with the middle section of the index finger and the squonk bottle is easily squeezed with the ring finger.
Generally, this device is very comfortable to both hold and use, even with large hands.
Overall, this is quite the squonk box. 
It is very enjoyable and straight forward to use. Just build your deck to the requirements of your battery (following Ohm's Law), fill up the bottle and go. 
The best part of this mod, besides the safety protections, is the comfortable, simple and satisfying usage provided by the design. 
Good job Wotofo and MikeVapes!
LED indicating battery level would have been nice addition to fully utilize the control board but it is pretty obvious when the battery needs to be changed

unregulated power output based on battery life and has safety protections

mechanical style with modern safety features
will fire 0.08ohm builds and will shutoff at 3.2v
LARGE 8ml capacity with very functional bottom feed system and easy access panel 

ergonomic shape for max comfort

sturdy and enjoyable hand feel 

large *clicky* fire button

LED light indicator hidden behind squonk bottle (illuminates bottle from behind)

2A USB charging port

can take single 18650/20650/20700/21700 batteries - battery adapters included

no battery rattle and clear battery placment direction indicators
up to 26mm diameter RDAs have no overhang
Free Domestic Shipping over $50!