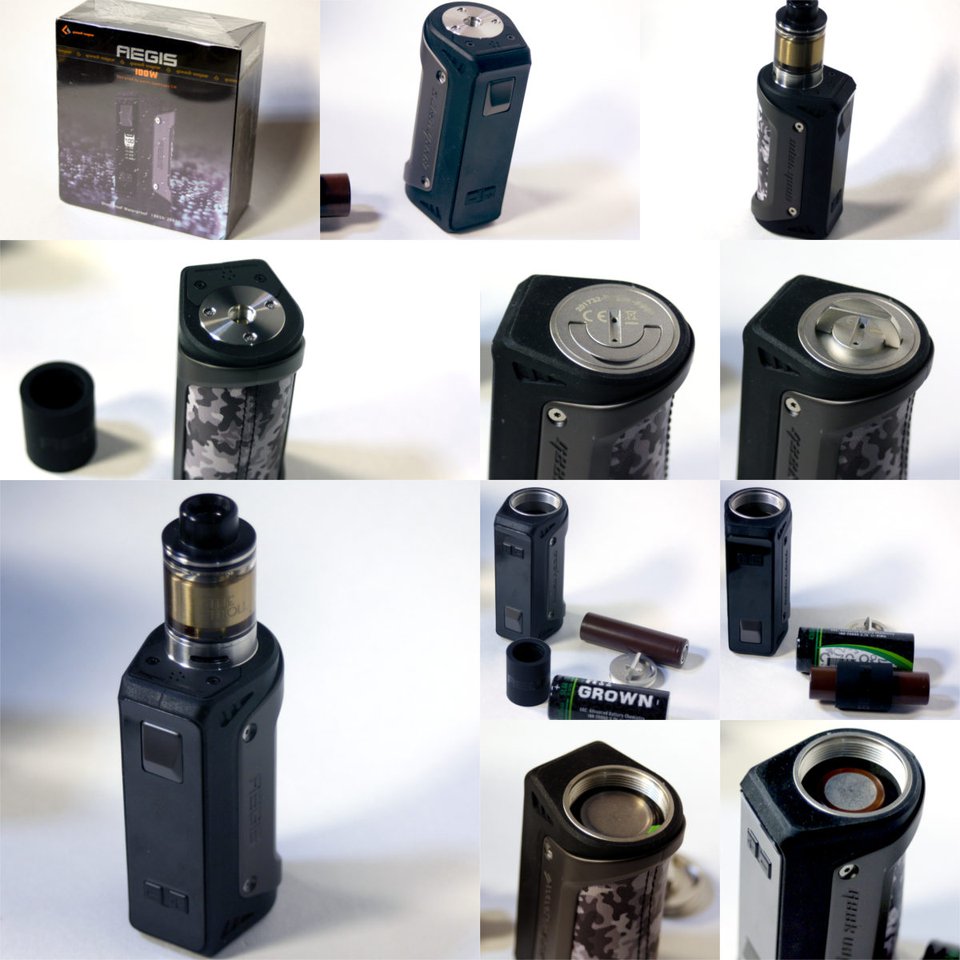 Geekvape Aegis Specifications
Built to meet MIL STD 810G-516.6 military grade shock proof standard and IP67 standard for waterproof

LSR Injection Molding technology was used in its production

Material: Aluminum + Zinc Alloy + Silicone

Dimensions: 37.8 x 46.8 x 88mm
Max power output: 100W

Single battery mod utilizing one 26650 or 18650 with included adapter ring
Uses a very advanced chip with 0.015 firing time, firing down to 0.05 ohms
Safety protections:
No coil

Atomizer short
Atomizer resistance warnings
10 second cutoff
Battery Low
Battery Weak - Lower wattage
Overheat protection
Geekvape recently released the Aegis after building some good press and a production delay.  For a company known for making great tanks, including rdas and rdtas, they have produced one hell of a regulated mod. 
This is easily one of the best vape mods out there, particularly a single battery mod which can handle 26650 and 18650 batteries. It is certainly the toughest device around.
Overall Performance
Damn Good!
The chip that Geekvape selected to place in this mod is really good.  The chip can handle resistances down to 0.05 ohms, which is very low. Lower than, I would consider using just due to the fact that most ohm meters aren't very accurate.
This mod is extremely fast firing and doesn't ramp up the power unless the firing curve is adjusted. Power output seems near instantaneous and the vapor is quickly produced. Geekvape markets the mod as having 0.015 second firing time. 
From the off state to powered on it is around 2-3 seconds which is pretty fast. Branding loading screens were done away with on the Aegis, leaving just a flashing lightning bolt indicator. A welcome change from other mods.
The Aegis is best suited to the 26650 battery size but it comes with an adapter for using an 18650. A 26650 is a good match with a larger mod like this and battery life is better than with an 18650, while amperage may be similar. The mod can also accept a 20700 and 21700 batteries with a thinner cap.

A 26650 was primarily used for testing this device. Vape quality and battery life was pretty good. The mod was able to fire at essentially full strength until the battery dropped to around 3.4 volts, which is the point where battery sag makes the battery need to be recharged. 
A 23 amp battery was used so the vape was tested at below 60 watts, which makes it a good battery for most tanks other than a sub-ohm tank that requires higher wattage such as the Uwell Crown 3. 

While the mod does have built in protections for using too high of a wattage for the battery (weak battery protection), there is a formula that you can use to determine maximum safe wattage levels on regulated mods in the vaping battery safety guide.
Design and Build Quality
It is quite high
I really like the design of this device. The aesthetic really matches the rugged requirements of the build specifications.  It looks pretty tough and has a fairly hefty feel.  Instead of plastic housing it is made of aluminum and zinc alloy with some molded silicone on the exterior. 
In the hand it has a comfortable feel thanks to the curved back shape with synthetic leather wrap and large ergonomic front firing button. The size and shape of the button really suits the shape and position of the index finger. There is also a satisfying, mechanical click when pressed.
At the top of the Aegis, there is a metal plate surrounding the spring-loaded 510 pin. The plate seems to be hidden almost entirely underneath 24mm and 25mm tanks. There is enough extra space between the plate and the edge of the mod that makes using an even wider topper possible without overhang.

Build quality is very high on this mod but that is expected when it is designed to mil-spec toughness requirements.

It meets the MIL STD 810G-516.6, which is a military grade shockproof standard and is also IP67 standard for waterproof and dust proof.  
Geekvape advertises it friendly for the beach, fishing, swimming, boating, kayaking and water park activities.  You can drop this thing in the pool and the mod will be fine unlike pretty much every other mod out there. The tank is another story; don't vape with pool water in your tank (haha)! 
The battery door is a pretty heavy duty metal screw-on cap with a thick o-ring at the bottom.  This style of cap does make it take a bit more effort to replace the batteries but again,  it keeps the water out. 
Positioned at the top of the mod, the vent holes seem fairly small but they need to let gasses out but keep water from getting in. There are two small screws in this area that holds on a plate that needs to be removed in order to upgrade the firmware.  
The USB plug is hidden away to keep out liquid but this may keep most people from upgrading any future firmware releases.
Display and Screen
Layout and Visibility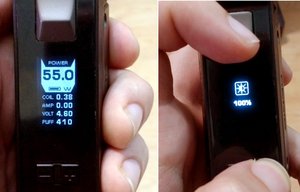 The layout is very straight forward and easy to read, particularly when regular power (wattage) mode.  I really appreciate the fact that you can tell exactly what is going on with a quick glance down the screen.
The menu and settings menus are simplistic. Navigating the menu is a little bit different than mods from other manufacturers but is easy to get used to. 
Changing modes, TCR settings and variable curves is pretty easy. Change the mode first, then adjust the settings.
Several modes are available:
Power (variable wattage)

TC-Ni

TC-SS

TC-Ti

TC-TCR

VPC (variable power curve)

Bypass

The screen chosen for this unit uses an adjustable LED screen, which is expected with a mod that is designed for outdoor applications.  
Adjusting the screen brightness is very simple by pressing the fire and up or down button simultaneously. The screen comes default at 50% brightness which I found to be the best setting for general indoors usage. 
Taking the brightness down to zero doesn't deactivate the screen but leaves it pretty dim, best suited for low light environments or watching television. There doesn't seem to be a stealth mode but those don't ever get used by this reviewer, however that could be a con for some vapers.
At full brightness the screen is very bright. Outside, at mid-afternoon in direct sunlight the display is still readable but faint. As with most electronics, the screen is still best viewed with a little shade from the hand.  
The face of the screen is a hardened plastic but it is not as scratch resistant as one would expect from such an overall rugged device.  The face also picks up fingerprints like most shiny plastic surfaces.
Would I Buy This Mod Again?
For sure! I love this mod! 
Due to its comfortable hand feel, its heft and extremely fast firing, this has become one of a my favorite mods. When leaving the house, the only thing I have to worry about is someone trying to steal it!

If you are looking for a tough, sturdy mod or just looking for a great single battery mod, the Geekvape Aegis is a solid choice.
Takes a bit of extra time to replace the batteries that most people are used to as you have to unscrew a water tight cap.

USB firmware upgrading is a serious pain due to watertight design but default firmware is pretty good.
Shockproof (drop resistant), Waterproof and Dust proof! This is the perfect outside vape mod. The Aegis has a very high build quality.

Very durable, sturdy feeling mod with a bit of weight to it

extremely fast firing! (the fastest we have tested). Firing seems near instantaneous and GeekVape claims 0.015 seconds.

will fire down to 0.05 ohms 

large, ergonomic front firing button

the Aegis is a single battery mod

perfect fit for the 26650 battery size as well as the 18650 with the included battery adapter

can handle all the temperature control wires, plus has TCRs and variable power curves
Features a well laid out display screen with easily adjustable screen brightness.

DNA10 for 10% off! Free 2 day shipping over $59!