Keep in mind that new tanks are coming out on a daily basis and this guide will be updated regularly. 
What is a Clearomizer?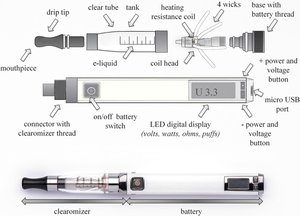 Let's get some quick terminology out of the way.  At the very basic level a vaporizer of any type is simply a power source like a battery and some sort of heating element that that converts a liquid or oil into a vapor.  

This process is called atomization, there fore we call the heating element unit an atomizer.  
Any type of tank, clearomizer, rda is an atomizer an most even have the word atomizer in their name, such as RTA  (rebuildable tank atomizer).  As e-cigarette technology evolved,  we started using the very common and familiar cig-a-like tech. 
Cigalike devices, commonly purchased from ebay, gas stations and smoke shops, utilized a very simplistic atomizer, called a cartomizer.  The were usually prefilled cartridges with an atomizer element build in, hence cartomizer.  
The diagram above shows the generation after cigalikes with the first model of clearomizer and more modern style mod.  

When the e-cig was invented, it had the type of look as the cig-a-like.  As someone who bought one of these first gen e-cigs, if you didn't know, they really sucked!  
Adopting these devices led to a simply incredible explosion in variety of devices and designs.  The design no matter how cool still comes down to the basics of battery, atomizer and juice.
Modern day clearomizers still have the same kind of mechanics behind them. Instead of questionable plastics, we have stainless steel and pyrex. Instead of a teeny tiny juice tank filled with horrible tasting nicotine juice, we have a tanks that can hold 2 ml and tanks that can hold 6 ml or more of delicious made in the USA juice.  
There are two types of modern clearomizers.  Ones that have a built in deck and you supply your own coil (heating element for vaporizing the goods) or ones that you just insert a new coil in cartridge form.  Often tanks will come as kind of a hybrid, such as the Mutank, and offer coil pack inserts or a build deck that you can put in and build your own coil.
Common sizes for tanks is 22 mm which refers to the width of the tank but there are also larger tanks that are 25 mm or bigger.   As with most things in life, size does matter.  The size of the tank is determined by the function of the tank.  Smaller tanks can be used more readily when traveling and smaller tanks (with smaller chambers and chimneys) usually provide better flavor as with the Wotofo Serpent Mini.
When choosing a tank also look at the airflow design.  If you are looking for a mouth to lung draw on your vape, which is similar to an analog cigarette, you want a tank where you can restrict the airflow.  Direct lung vaping needs a more airy draw and if you are looking for clouds, the more air the better.
Best Vape Tanks to help Quit Smoking
Tanks for Mouth to lung vaping (MTL)
Every smoker knows there are a few positives to smoking and lots of drawbacks.  The positives are all side effects of using nicotine such as increased focus or anxiety reduction.  The healthiest thing you can do is to just quit smoking but everyone who has been addicted knows easier said than done.
How exactly does one go about quitting smoking?  Some go cold turkey with mixed results; others just try to replace their nicotine then ween themselves off slowly overtime.  Patches, gum, or pills?  All of these methods don't replace the hand to mouth, oral fixation habits of smoking.
The newest, most effective way in my opinion is to get nicotine from from vaping.  You get the nicotine your body requires plus the oral aspect of smoking with out the unhealthy combustion of plant materials.
If you are going to replace your cigs with an ecig, you want to get a tank with a few features and combine that with a plan for nicotine step down or just plain nic replacement.  
The most important feature to shoot for is the ability for a mouth to lung (MTL) draw which simulates taking a drag off a cigarette.  This can be accomplished by restricting the airflow on the tank or just getting a tank that is designed for MTL.  
Best Mouth to Lung Sub-Ohm Tank
Perfect for New Vapers, Ex-Smokers and Low Wattage (MTL) Flavor Chasers
Aspire Nautilus 2
Rating: 9/10
Price: around $30

The Nautilus 2 from Aspire is an update to the very popular first version.  It uses the same coils (they work well!) and provides the same flavorful mouth to lung (MTL) vape experience that consumers have come to expect from this subohm tank.
Pros
great flavor mouth to lung subohm tank

perfect subohm tank for new vapers, ex-smokers and low wattage MTL vapers
comes with  0.7 ohm and 1.8 ohm coils

coils are widely available and inexpensive compared with other subohm coils

precise airflow control to dial in performance (really tight draw to very restricted lung hit)

glass is shrouded to help prevent some accidental breaks
comes in a matte finish in black, silver, dark grey and red
Cons
prepackaged drip tip seems to provide best fit. other 510s may not fit properly

Use Coupon Code: DNA10
Best Sub-Ohm Tank for Clouds
Tanks with prebuilt coil inserts
First off, the term sub-ohm (sub-ohming and sub-ohm vaping) are referring to having a coil resistance under 1 ohm.  Vaping over 1 ohm is more for flavor and MTL style vaping with lower for direct lung vaping (clouds!). 
However, the term 'Sub-Ohm Tank' is now understood to mean a tank that has a prebuilt coil insert that has a low resistance, regardless of the type of wire (kanthal, nickel or otherwise).
When you are looking for a good Sub-Ohm tank, you pretty much want an easy to use, prebuilt coil that can really bring huge cloud production.  
There are a ton of people in the market looking to buy just that.  There are no shortage of manufacturers out there offering their version of the prebuilt cloud tank.  
Features that we want to see in a sub-ohm cloud tank:
well designed prebuilt coil insert
good juice flow to prevent dry hits
coils must be widely available and easy to acquire
good airflow that is controllable
easy to fill
Often times, tanks that are designed for coil inserts will often come with a build deck that can be inserted instead of the manufactured coil.  These insertable decks are often called RBA decks. 
Smok Tfv8 Big Baby Beast
Rating: 9/10
Price: $30

Smok offers the Big Baby Beast which is a 24mm tank that is right between the Baby and the Cloud Beast.  
This tank is hugely popular and is featured in several of the sub-ohm kits currently being offered by Smok.  
It produces huge, dense clouds and pretty good flavor which can all be customized thanks to a huge variety of coil options available in the V8 Baby line of coils.  Low ohm, high ohm, huge airflow, restricted airflow, multiple coils are all available.
Pros
This is a high performance, well designed sub-ohm tank that comes with:

swivel, top fill cap

comes with 2 Baby coils with various resistances (.15 quad and .2 sextuple)

replacement coil inserts are widely available 
RBA deck (an add-on that comes with tank but has to be purchased separately if the tank is part of a kit)

lots of airflow 

drip tip adapter

Cons
need to switch glass to use the RBA section
Use Coupon Code: DNA10
Smok Tfv8 Cloud Beast
Rating: 8/10
The TFV8 Cloud Beast is a Sub-Ohm tank that is designed specifically for huge clouds.  The Beast is a large tank (24.5mm) that takes large coil packs or can use the included velocity style RBA deck.
Pros
Definitely a cloud chaser tank - Huge Clouds and lots of airflow

designed for really dense vapor making the flavor decent for a cloud focused tank

Top fill (swivel top) with 6ml capacity

comes with an octuple coil, quadruple coil and a velocity style RBA take for using your own coils

Air flow holes on the RBA deck are huge letting you get just as good of performance on your own build as with the coil packs, easy build and cotton tucks in similar to the Herakles
Coil heads can take higher wattages without feeling like it, TFV8 performs best at over 90 watts!

Cons
thirsty!

can get a little whistley when the air is shut down 
Use Coupon Code: DNA10
Everyday Sub-ohm Tank
Sub-ohm tanks have a wide variety of designs and a lot of vapers just want a simple design that provides:
good vapor production

good flavor

smooth airflow

readily available coil-packs

Aspire Cleito Sub-Ohm Tank
Rating: 8/10
Price: $25

This is a very simple designed sub-ohm tank that delivers plenty of air flow for good vapor production as well as good flavor.
Pros
The coil pack / coil heads for this tank are widely available and relatively inexpensive.

simple chimney design that provides plenty of airflow and good flavor

Affordable!

Use Coupon Code: DNA10
Best RTA Tanks for Clouds
Vape Tanks for consistent cloud chasing (direct lung vaping)
Look for a rebuildable tank for clouds? There are plenty of tanks out there for every type of vaper and most vapers love the clouds, but choosing the right tank is only part of equation to get clouds.
The tank that we are going to pick for clouds need several important factors:

easy to use build deck

chamber that can hold bigger coils

lots of airflow

good juice flow for faster wicking

What type of coil is best for clouds? Every vaper will tell you something different based on their preference for build but it all comes down to surface area of the coil.  Just think about it, the more coil that is in contact with the wick the more juice will be vaporized.

One of the easiest coil builds for beginners is just a simple single spaced coil, like a 2.5 mm 22 gauge wrap.  Twisted coils are exotic and also fairly easy to accomplish and get more complicated like fused clapton coils.  Clapton coils are great for flavor and cloud chasing since the way they are built, the coil themselves actually hold liquid.  This helps limit dry hits on consistent pulls but also more liquid is in contact with the heated coil.

All of these bigger builds need to actually fit in your tank, so we need a bigger chamber.

We also need plenty of airflow and we need the air fast to mix with the vapor.  The tank also needs to be able to supply juice to our wicks even while we are taking a drag to prevent dry hits at the end and on successive hits.  

Other factors for huge clouds don't have to do with the tank as with other elements such as:

higher VG juice - at least 80/20 but max VG or just VG for clouds. Remember PG is the flavor carrier. 

the right mod - a higher wattage mod with good batteries to heat the coils fast

technique - deep direct lung hit with a slower exhale, practice makes perfect

Wotofo Troll Rta
Rating: 9/10
Price: huge value at $35

This RTA from Wotofo is another home run in their current line up to compete in the 24mm market.  Great Flavor and lots of vapor!
Pros
Innovative Post Design - Stacked T post that has wide milled post holes for complex wire builds with a German-made Peak Insulator 

Provides great flavor due to post design, shorter chimney and Kennedy style airflow

Lots of vapor production

Steel Threaded top cap to prevent stripping

Less leakage than we have seen with other tanks
Cons
(Not much of a Con) - Can't switch drip tips, however built in one is really good

posts use philips screws instead of allen key grubs 

Use Coupon Code: DNA10
Price: $30

Pros
innovative, controllable top down airflow and chamber/chimney design that provides dense, flavorful vapor

build deck design features the familiar velocity style two post deck but has fast bottom wicking with the deck locking into the chimney.  This provides juice coming around and under the chimney.  This deck inspired the Troll RTA.

The juice fill port is located behind a sliding ring at the top of the tank (5+ml capacity)

These design elements combined perform admirably and NO LEAKS!  The top down airflow prevents flooding seen on bottom airflow tanks but there is no seepage either.
Cons
bottom of tank can heat up if heavily chain vaping due to no bottom air port
Best Tank for Flavor
Clearomizers for flavor and taste
Getting good flavor is of prime concern to a lot of vapers out there.  Instead of constant huge clouds and a bigger rig, you might simply want to taste some apple pie, coffee or whatever. 
 Flavor tanks are also really nice for travel vapes when your are out and about or at work as they are normally not very big and don't require a larger mod to fire. 
Conventional wisdom is pretty straight forward here and it isn't quite the complete opposite as cloud chasing tanks.  
A flavor tank needs a smaller chamber and a shorter chimney instead of a bigger chamber for clouds.  You also want good airflow but you want better airflow control to dial in the kind of drag the tank gives.  
When it comes to the resistance, it isn't as big of a concern as with cloud tank.  On MTL style builds, classic resistances are actually pretty high sometimes well over 1.  Premade cartridge inserts often come in at 1.5 ohms.
If you are building your own coils, ease of use is always fantastic.  The coils you build can be varied at this point.  Twisted is always nice here but microcoils are also a classic choice.
Lower heat is a goal so when it comes to pairing with a mod, you want variable wattage device, but since you are probably going to be using a higher resistance coil, lots of power is not a huge concern so you can get a smaller device that may only use one battery.
When you are selecting your juice, keep in mind that the propelyne glycol (PG) is the flavor carrier in the liquid so you probably won't get amazing flavor from max VG.  PG does increase the throat hit so you don't want just PG. Some flavor chasers go with 50/50 but personally when I make juice for flavor, I just go with 70/30 to 80/20 depending on results.  
Tanks with Restricted Lung Hit
Get some nice flavor and a dense cloud
There are a few pretty nice restricted lung hitters currently out there. 
These are tanks that are single coil RTAs that have a restricted airflow to provide a mix between pure flavor chasing and cloud chasing.  These tanks have a restricted airflow draw so you do have to pull a bit harder to get a lung full but the reward is some pretty good smooth flavor that you might not see from a huge airflow dual deck.
Augvape Merlin
Rating: 9/10
The Merlin from Augvape is advertised as a flavor RTA and that is no lie. This two post RTA is designed to use a single coil, a tight bottom airflow and a reduced chamber provides awesome flavor and a restricted lung hit which makes it a perfect fit for any vaper's collection.  
It even comes with an airflow reducer preinstalled (unscrews with a flat head) to restrict the bottom airflow even more.  
Pros
great design for flavor chasing

restricted lung hit which provides dense vapor

easy, familiar single coil build - (can handle two micro coils)

removable air reducer that screws into bottom airflow

4ml tank which is a lot for a flavor rta - compare with 2ml on Wotofo Serpent Mini

top fill with juice control ports

comes with a comfortable drip that is replaceable
Cons
the airflow reducer seems to cut down air by at least half which makes it too tight for my preference. Since it does have some height can be a potential flood point if you build your coils to close. It is easily removed, which I recommend.
Use Coupon Code: DNA10
Best Value Clearomizer
Budget Vaping
Vaping on a budget is a goal for a lot of us out here. Plus maximizing value per dollar always feels nice.  You can either wait for the price to drop, get a sweet vape deal or get a clearance tank. 
When getting vape gear for a the best price you do have to make some concessions.  Such as the instance when there is a tank that has some pretty nice features and an awesome price ($20 or less) if it isn't on clearance it probably has a few drawbacks.  
For instance, one of my favorite 25mm tanks is the Tobeco Super RTA.  It has a lot of nice features but the machining could be a little more accurate on the velocity deck and the tip is also the juice cap so it can't be switched out.  The price was awesome, it has a good design and it performs well.
The other way to get a tank on a budget is to just get the best tank for the money during a vape deal, sale or clearance.  Some of the bigger online vape shops will usually have a clearance section to clear out surplus inventory and sometimes will have a holiday sale.