Vaporesso Cascade (7ml Sub-Ohm Tank)
A Quick Look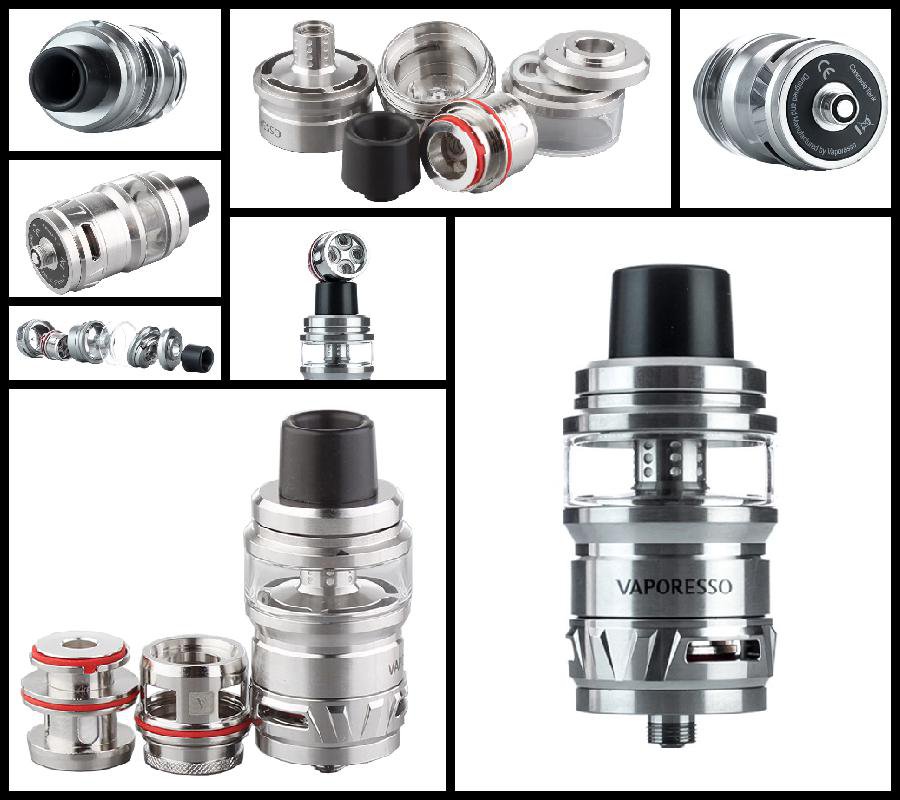 Vaporesso Cascade Specifications
25mm diameter

7ml capacity

triple airflow with 11mm x 3mm slots

11mm 510 drip tip

What comes with the Vaporesso Cascade
One Cascade tank

one 0.4 ohm GTM 2 single vertical coil (40 - 80W)

one 0.15 ohm GTM 8 quadruple vertical coil (80 - 200W)

one GT coil adapter

spare glass tank

spare o-rings

Quick Look at Vaporesso Cascade
The Vaporesso Cascade is a 25mm diameter sub-ohm tank that can hold 7ml of e-juice and can handle up to 200W (although the GTM 8 coil gives the best performace under 150W).
Filling the tank to capacity is easy with the slide top fill port. 
The liquid sits in the glass up top as usual and the juice cascades down to sit around the coils, instead of the coil just being parked in the juice.
It comes with two GTM coils, one 0.4 ohm (40-80W) and one GTM8 coil (0.15 ohm quadruple vertical coil) that can go from 80 to 200W. 
Vaporesso also included a GT coil adapter that lets you use GT family coils for the Vaporesso NRG tank as well as Smok TFV8 Baby Beast coils which is pretty cool. 
The coils themselves have double o-rings and are plug style just like the Uwell Crown 3, which is a convenient feature.

Around the base is triple adjustable airflow which provides more than enough airflow to give a pretty huge cloud. The adjustment ring is smooth and has some raised shapes around the ring which provides plenty of grip.
Using the GTM 8 with the quad coil and the airflow open, the flavor is pretty good and the clouds are gigantic! The Vaporesso Cascade provides plenty of vapor production that is sure to satisfy pretty much any cloud chaser.

kinda weird to have such a big tank and no 810 drip tip

has a bubble glass appearance that may not appeal to everyone but the design does accomodate more juice
Huge clouds! Particularly on the GTM 8 coil, but could get similar results with the coil adapter

Pretty good flavor

easy to use plug style coils
cool coil adapter for using Vaporesso NRG coils and Smok TFV8 Baby Beast coils

comes stainless, matte black, Rainbow metal as well as metallic blue and red
Free Shipping! Low Price Guarantee!