Vandy Vape Berserker (MTL RTA)
A Quick Look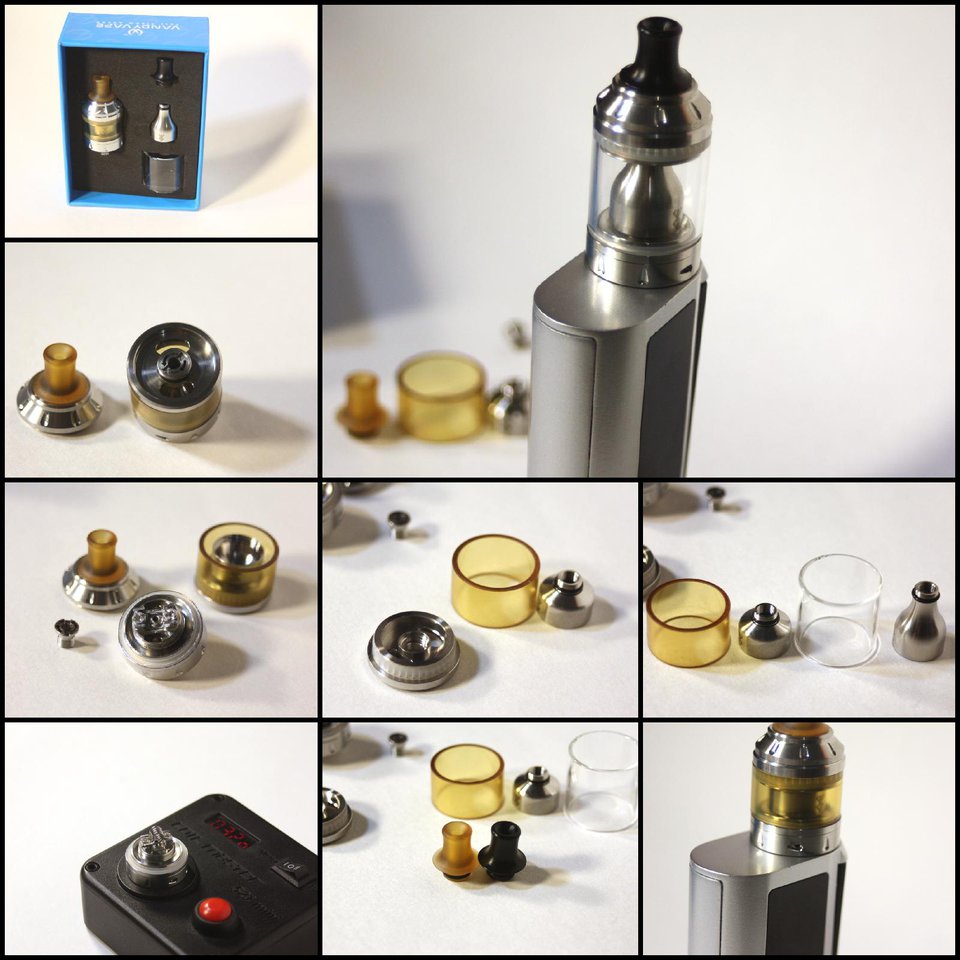 Vandy Vape Berserker (MTL RTA) Specifications
24mm

510 threaded

two 9mm x 4mm kidney shaped fill ports

dual bottom airslots with sized - .8mm, 1.0mm, 1.2mm, 1.4mm, 1.6mm

two 6.5 mm wicking ports
What comes with the Vandy Vape Berserker (MTL RTA)
comes with a short chimney to be used with the 2.5 ml capacity ULTEM glass 

1 taller chimney to be used with a 4.5ml capacity standard glass

(1) 5mm Delrin tip - black

(1) 5mm ULTEM drip tip - yellow to match the shorter glass

one locking mechanism to keep the tank together when unscrewing the top fill
Quick Look at Vandy Vape Berserker (MTL RTA)
The Vandy Vape Berserker is a real home run for mouth to lung vapers and flavor chasers out there who are looking for a good RTA.  
With a tight draw and a restricted chamber, the Berserker can really produce some outstanding flavor. Couple that with a deck that takes simple, higher ohm, single coil builds, low wattage all day flavor chasing is made easy with this tank.
The deck is a simple two screw, where the screws act like a hook and post, that reminds one of the Wotofo Serpent build deck. To build the deck: place a single coil right over the air hole, with the leads hooked under the screws. 
Instead of the over hand, clockwise or right handed wrap, just wrap the coils left or counter-clockwise.
Vandy Vape decided to make this RTA capable of two configurations, a smaller capacity (2ml) and a larger 4.5ml capacity, certainly thanks to EU regulations. The smaller version comes with a shorter chimney and an ULTEM glass section. 
The smaller chimney produces warmer vapor in my opinion and since it is a MTL RTA, the capacity isn't a problem. With the taller chimney, the vape is a little cooler and still has outstanding flavor, but doesn't have to be refilled for what seems like more than a day.
Filling this tank is a simple operation. Screw off the top and fill through one of the large kidney shaped ports. The knurling can be a little slick if you have some juice on your fingers.
While this tank has dual airflow, it isn't the normal wide slot style. It has a series of 5 holes on each side, which you can select from, ranging from small (0.8mm) to twice the size of the smallest (1.6mm). I wish there was one more hole just to get a little closer to restricted lung hit but that would defeat the purpose of the tank.
At the largest airflow setting, the Berserker provides a tight draw, that is very close to a cigarette. Paired with a good tobacco flavored juice, this tank would be a good choice for a vaper looking for a close simulation. 
Personally, I like this tank with dessert and fruit flavored juices. The flavors really pop in a way that direct lung vapes just can't provide.
screw top for filling can be slick to grip

one slightly larger airport above current max might make this tank able to prove some restricted lung hits 
True RTA MTL (rebuildable tank w/ mouth to lung draw)

excellent flavor production paired with enjoyable draw

draw is reminiscent of smoking

high build quality

easy small builds

higher ohm / low wattage builds for all day single battery flavor chasing

several airflow settings
DNA10 for 10% off! Free 2 day shipping over $59!