Smok TFV12 Prince Sub-Ohm Vape Tank
A Quick Look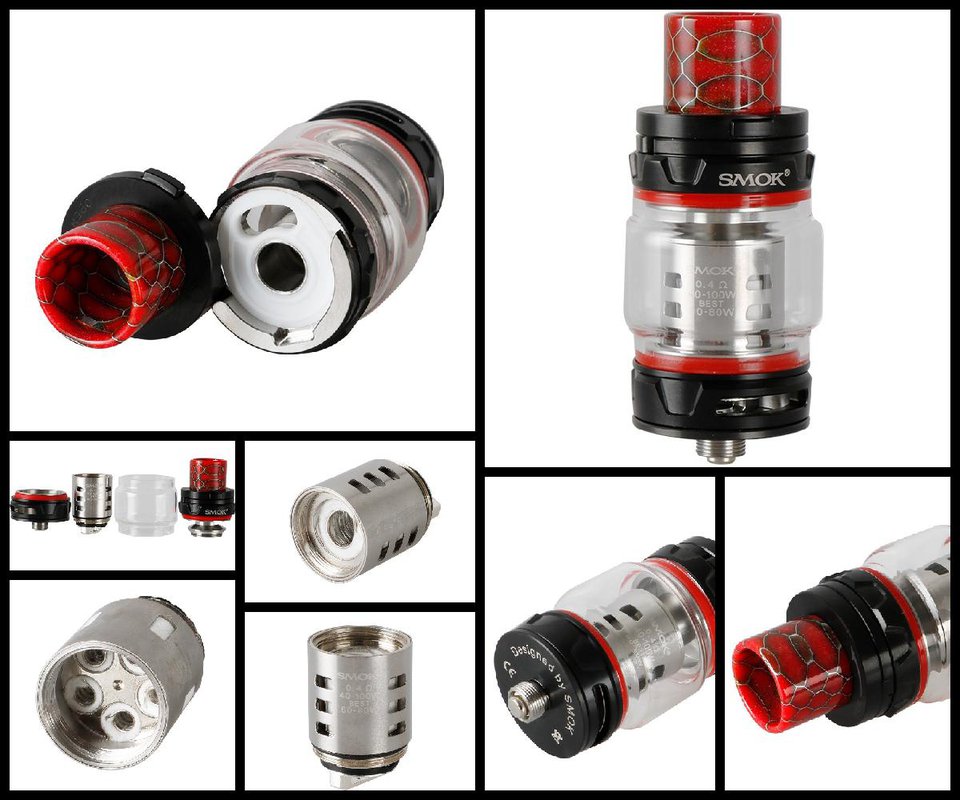 Smok TFV12 Prince Sub-ohm Tank Specifications
25mm diameter base - 28mm at widest point

5ml capacity with standard glass 

8ml capacity with preinstalled convex (bubble) glass

dual adjustable airflow

stainless steel and glass construction

locking swivel top fill

huge capacity 

saturated flavor with huge clouds

lots of high quality coil options
What comes with the Smok TFV12 Prince Sub-ohm Tank
one TFV12 Prince tank with convex glass

three coils - T10 (0.12 ohm), X6 (0.15 ohm), Q4 (0.4 ohm)

one spare glass tank

spare parts - gaskets and o-rings

Quick Look at Smok TFV12 Prince Sub-ohm Tank
The Smok TFV12 Prince is the new workhorse for the Smok family of starter kits. 
It has the strong flavor of the Big Baby and the clouds of the cloud beast with an incredible 8ml capacity!
It comes with three coils: 
one T10 - decuple coil with 5 sets of dual coils for max flavor

one X6 - a sextuple coil head with two triple coils for a mix of strong flavor with a restricted lung hit. Probably a good fit for most vapers.

one Q4 - a single quadruple coil head that has good flavor and the biggest clouds in the line up

The TFV12 Prince coil heads have a limited break in period and last for what seems like a long period of time compared to other traditional sub-ohm coils. 
Smok is releasing mesh and net coil heads with even better flavor and longer life. Mesh sub-ohm coils is the future it seems and Smok isn't letting it sail past.
The tank has a locking hinged top fill which works well and no more accidental openings like with the Big Baby.
With the convex glass installed, which doesn't have a terrible round shape, the Prince has a huge 8ml capacity and 5ml with the standard glass.
Smok includes a color matching, tight fitting 810 drip tip with a snake skin appearance that really makes this tank stand out looks wise.
The Smok TFV12 Prince is a good pick for most vapers. It looks good, has high capacity and performs well thanks to its large selection of widely available and versatile coil family, which now includes mesh coils! It produces strong, saturated flavor and chucks huge clouds. 
drip tip is proprietary and won't take regular 810s unfortunately

strong, saturated, on point flavor

dense, huge cloud production - depends on coil choice however

high capacity with convex glass

comes with three different coils - from huge clouds with Q4, a mix X6 and flavor with T10

Smok is releasing Mesh and Strip coils for this tank for huge flavor and long life!

coils are available everywhere!

looks good with cool scale color matching tip

easy disassembly 

Free Shipping! Low Price Guarantee!