Digiflavor Themis Dual Coil RTA (Leak Proof!)
A Quick Look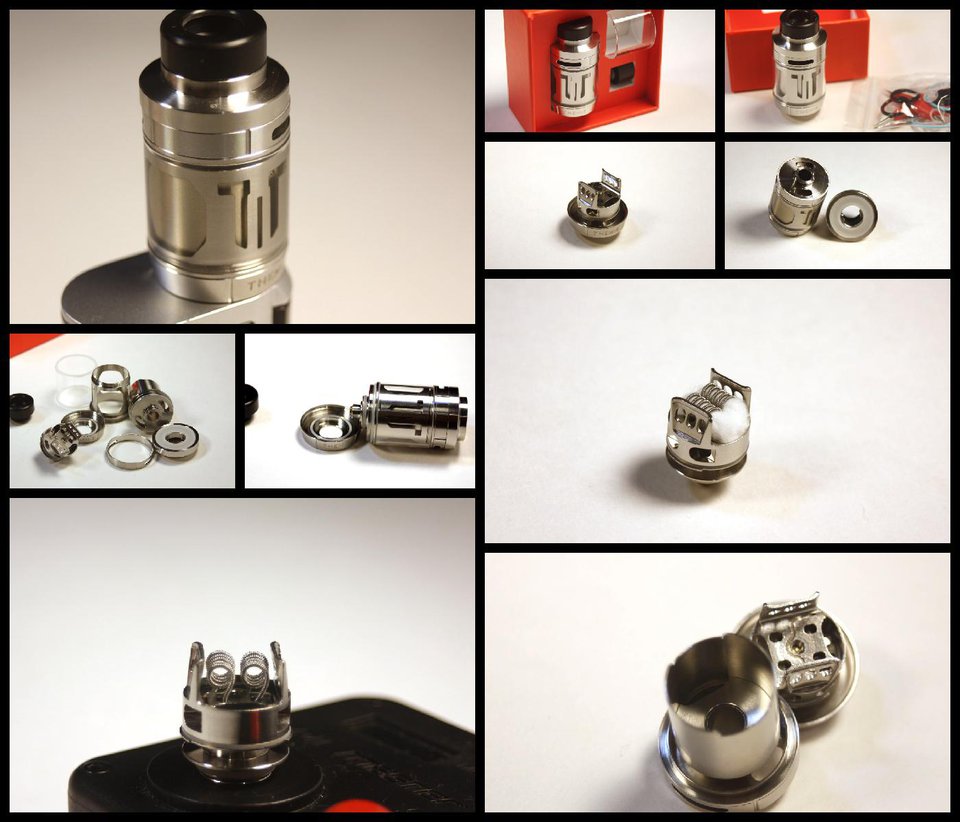 Digiflavor Themis Dual Coil RTA Specifications
25mm diameter at base and 27mm around the midsection

5ml capacity

four terminal post-less build deck

dual 13mm x 2mm adjustable top airflow 

side mounted flathead screws

9mm x 4mm half moon shaped wicking channels

Leak Proof Design!

Top down airflow

What comes with the Digiflavor Themis Dual Coil RTA
one Digiflavor Themis RTA

one 810 drip tip and one 510 drip tip and a 510 adapter

spare glass

spare parts including colored o-rings
one T-Tool
Quick Look at Digiflavor Themis Dual Coil RTA
The Digiflavor Themis a leak proof, top airflow, dual coil post-less build deck RTA. If you liked the OBS Engine, which is a great RTA, you will like the Themis RTA.
It is LEAK PROOF! There isn't any seepage collecting under or around the bottom, it doesn't flood (unless there isn't enough cotton) and it doesn't drain if it gets left on its side. If you have problems wicking other RTAs, this is one to try.
The build deck is a four terminal post-less design that can handle single or dual coil builds as usual. 
The build deck loads into the bottom of the RTA and locks into the chimney keeping the coils perfectly aligned with the airflow slots.
The deck features two half moon wicking channels that have small holes in the bottom to allow juice to come in from the bottom and get soaked up by your wicks.
Digiflavor utilizes a quarter turn locking top which makes for easy filling and remains securely fastened. On the underside of the top is a silicone grommet to keep the juice for seeping out the top.
Included is an 810 drip, but also included is a 510 and an adapter. This RTA takes other 810s as well and 810 seems like the perfect size.
The Themis RTA has smooth and abundant airflow at wide open for plenty of vapor production. At slightly closed it seems to have a sweet spot with a semi-restricted lung hit which is great. This RTA does get a bit noisy when shutdown half way or more.
The vape you get off this RTA is pretty good. It gives a big cloud with an enjoyable draw. The flavor is also pretty good but the RTA isn't designed around flavor like some other RTAs. The main feature is the top airflow and leak free design.
Overall, the Digiflavor Themis provides a great vape experience, good flavor with plentiful clouds and the best part is no leaks!
the midsection width is 27mm so it is big but the bottom won't overhang on slimmer mods

gets a bit of a whistle with airflow cutdown most of the way but wide open is the best on this RTA
No Leaks (even when on the side)! Goodbye seepage!

Good Flavor

top down airflow provides plenty of smooth airflow for cloudage

deck locks into place keeping coils perfectly aligned with airflow
great price

post-less build deck can handle single or dual coils and easy half moon wicking channels

easy to use quarter turn top fill

don't have to empty tank to take out the deck

810 drip tip, 510 drip tip and a 510 adapter

mesh version available
DNA10 for 10% off! Free 2 day shipping over $59!