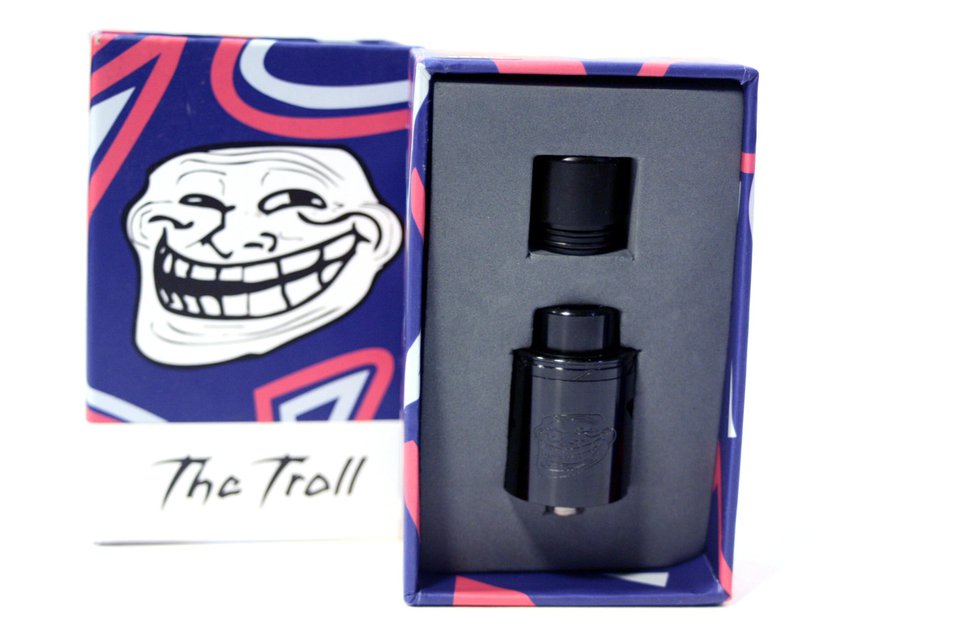 The Troll is an easy to use, enjoyable rebuildable dripping atomizer (RDA) from Wotofo.  This topper not only has some great features but it has a good design and performance at a great price, which is something we have come to expect from the folks at Wotofo.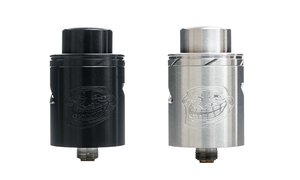 The Troll RDA comes in either Black or Stainless Steel and has the following features:
22mm diameter

two post (Velocity Style) build deck

dual terminal per post - 2.7mm per terminal for wider builds

side mounted hex screws

10mm deep juice well with triple o-rings to secure top

PEEK insulator
two triple slot adjustable side airflow options providing lots of control

13mm wide bore Delrin competition cap and 510 adapter included
stainless steel construction

gold plated 510 connection

Coming in right around thirty bucks you get a lot of performance for the dollar.  This RDA is very sturdy and offers some great features that we have come to expect.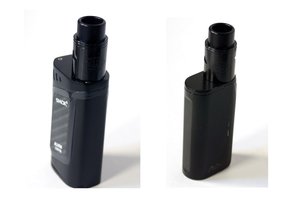 Aesthetically, the atomizer looks great.  I like the solid black look, which looks good with different mods.  The troll face is milled on the side and looks good when you are looking at it but seems to blend in when viewing at a distance. The troll doubles as some grip on the side of the top when pulling off the lid.  
I like to pair most 22 mm RDAs with a single battery and smaller two battery mods just because the scale looks odd if the mod is much bigger.  This one is no different and l
The deck is a milled two post deck with a peek insulator.  At 2.7mm the post holes can hold some larger builds but not some of the really exotic coils such as very wide flat claptons. The coils are secured by hex screws, which I prefer on velocity style decks such as this.
The well itself is very deep at 10mm.  For a 22mm RDA this is pretty large capacity, which will reduce the amount you of times you have to drip which is nice.  Any deeper and we would have to enter RDTA territory.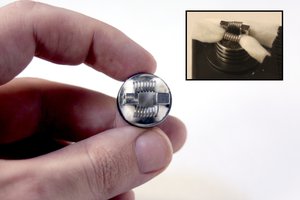 When building this RDA I like to leave the cotton a little longer, covering a lot of the open space at the bottom of the well.  The makes the wicks soak up more of the juice and will prevent some leakage when tipping the whole thing over sideways accidentally or when taking a really deep horizontal hit.
Overall, this RDA is very well machined, with the unit coming without any sharp edges even on the side airflow areas which is good.  
As you can see in the photo in the gallery above, the top is actually two pieces that work together to control the side airflow.  The wall of the tank has a diamond shaped window that works well with the slotted portion of the lid/cap portion of the top.  
There are three horizontal airflow slots and three vertical slots on the lid which is turned to adjust the airflow to your likes.  There is some comfortable gnarling machined into the top to provide grip even if you have juice slicked fingers. 
Having these airflow slots wide open provide plenty of airflow for huge, dense clouds if that is your thing or can be reduced enough to provide limited airflow and charge the flavor.  I found that the utilizing the vertical slots provided the most airflow control if you are looking to choke it a bit.  
One drawback is that depending on your build, you can occasionally get some juice spit out the side when wide open when that little pop happens.  
The O-rings that secures the top of the RDA to the deck seem like they may be a bit thick and it makes the top seem tight.  Rubbing some juice on the rings/inside of the top seem to alleviate the tightness the right amount for me.
As for the caps, I like the competition chuff style cap that it comes with for a couple of reasons.  I like dripping right down into the bottom which is perfect on this RDA.  A juice stem from a bottle fits perfectly between the posts and coils to you can put juice right into the well.  Dripping on to the coils is just as easy.  
If that is not your thing or you want to use your own tip, swapping out is easy with the included adapter.
As for the pin and connector,  it is gold plated and does provide a good connection on the mods I tried it on. The pin does not protrude enough for me to feel safe using this RDA on unregulated devices just for battery safety reasons.  While the pin does seem adjustable it is also holding in one of the deck posts and the peek insulator so it needs to be secure. Just stick with regulated devices with this RDA.
Overall Impressions
Overall, I really like this RDA for the mix of performance it offers with the adjustable side airflow.  It isn't designed to be a cloud chaser (but it is capable) and it isn't just a flavor RDA but it can produce good flavor.  
It is a good, all around RDA that is easy to build and control.  It is also very affordable at $30.
This topper would be perfect for someone that is looking:
for their first RDA

general performer (mix of clouds / flavor)

easy dual coil build

RDA with a deep juice well but not a bottom tank

RDA with good value for the money
Would I pick this top up again?
Yes, for sure.  The Troll RDA looks great, performs admirably, is easy to build, has good airflow for some dense clouds or good flavor and is only thirty bucks!
o-rings and fit can be tight (can counter by lubing with a bit of juice)

Huge Vapor Production for dense clouds
great airflow and air control options

easy to control airflow for good flavor
deep juice well

easy to build and use
Free Shipping! Low Price Guarantee!