Vandy Vape Bonza BF RDA (squonk ready)
A Quick Look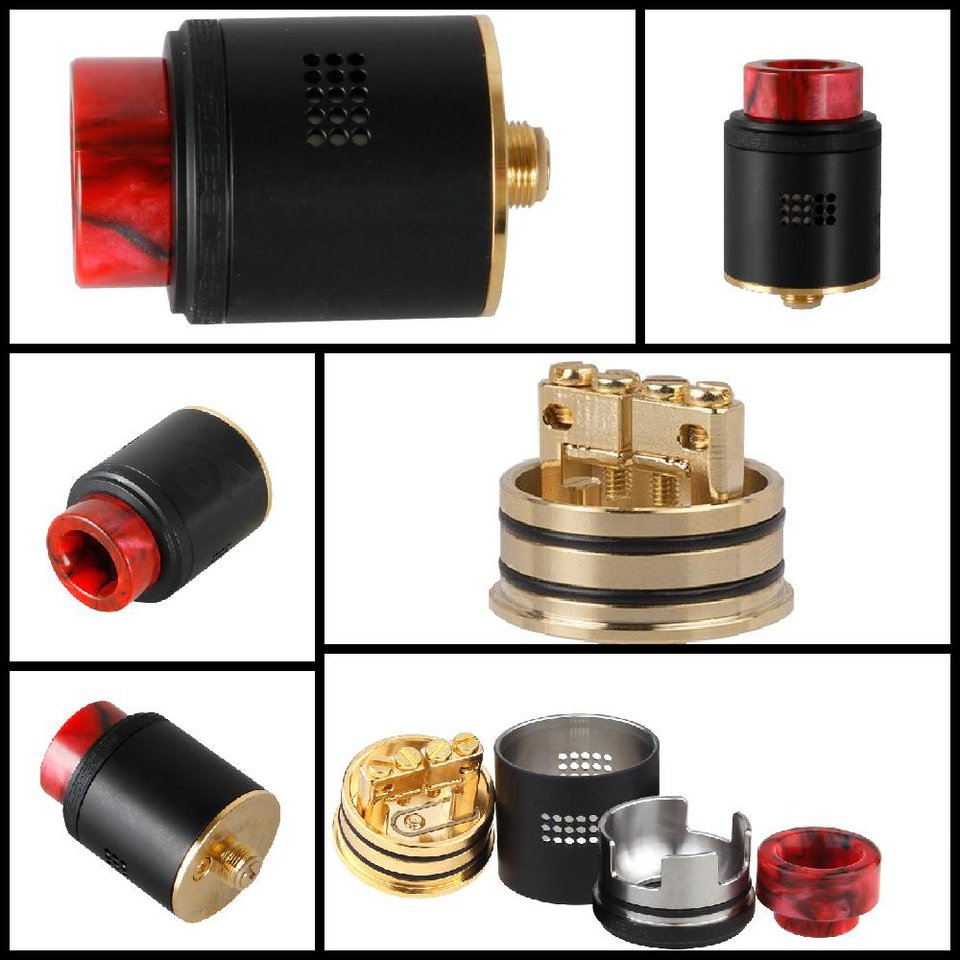 Vandy Vape Bonza BF RDA Specifications
24mm diameter

dual post quad terminal style build deck

7mm deep juice well

gold plated deck, screws and 510 pin

made from 304 stainless steel

15 air holes per side

comes in the standard colors (stainless steel, gold, black and rainbow metal)

protruding gold plated 510 pin with PEEK insulator

high build quality with pretty stylish gnurling on the top cap

grid style side air flow slots

What comes with the Vandy Vape Bonza BF RDA
squonking pin is included (bottom feed 510 pin)

spare parts (o-rings and screws)

510 drip tip adapter

one T-tool

Three 810 drip tips:
Quick Look at Vandy Vape Bonza BF RDA
While the Vandy Vape Bonza doesn't come up with any new innovations, what it does is combine a bunch of the best RDA features to form a super RDA, like the All-Star team or Voltron.
It has an easy to use yet versatile build deck capable of single coil but really shines with big dual coil builds. The Bonza has build deck that is very similar, but reverse positioning, to the OBS Cheetah II, which was also a pretty good RDA. 
The deck is a gold plated, dual post, quad terminal style build deck, which basically means it has one wide standard terminal and a clamp on each of the posts. This deck style makes it super easy and quick to build and it can accomodate fairly large exotic coils. The clamps have some texturing which will grip the coil and make sure they are secure.
While this RDA can handle single coil builds, the airflow can even be shut off on one side, it really shines with larger two coil builds.
This deck style makes this RDA a good fit for beginners all the way to advanced RDA enthusiasts.
Side airflow on this topper is very similar to the Digiflavor Drop. The airflow style really makes the Bonza perform amazingly well. 
The airflow consists of a grid pattern of 15 holes (3x5) on each side, which provides excellent control and smooth air flow from wide open all the way down to closed off. 
With the airflow wide open, the Bonza produces huge clouds while still giving good flavor, but for an extra flavor boost, try it at a little more than halfway open.
This RDA is optionally bottom fed (BF) thanks to the included 510 squonk pin. After installation the squonk pin will protrude about 1mm and since the juice well is pretty deep, you can really give the bottle a few good squeezes and not flood.

The build quality on this RDA is pretty high thanks to the 304 stainless steel, pleasing design, gold plating, quality engraving (particularly on the top) and matching resin 810 drip tip. If resin isn't for you,  Vandy Vape included an ULTEM and a traditional black Delrin 810 drip tip.
This RDA is a good fit for pretty much any vaper, including beginners and pros alike. The Vandy Vape Bonza brings the flavor, the clouds, looks good and is easy to use!
doesn't include a set of pre-built coils which is a bit weird these days, but isn't a big deal

very easy to use build deck with terminals and clamps (good for beginners all the way to pros)

Great flavor and huge clouds
single coil or dual coil capable but is great for large dual coil builds

air can be shut off on one side if using single coil

Amazing air flow and air flow control (15 air holes per side for maximum tuning)

deep juice well

comes with three 810 drip tips (Resin, Ultem and Delrin)

stylish knurling at the top to allow some grip
big flat head screws on the deck
DNA10 for 10% off! Free 2 day shipping over $59!