Vandy Vape Berserker MTL RDA
A Quick Look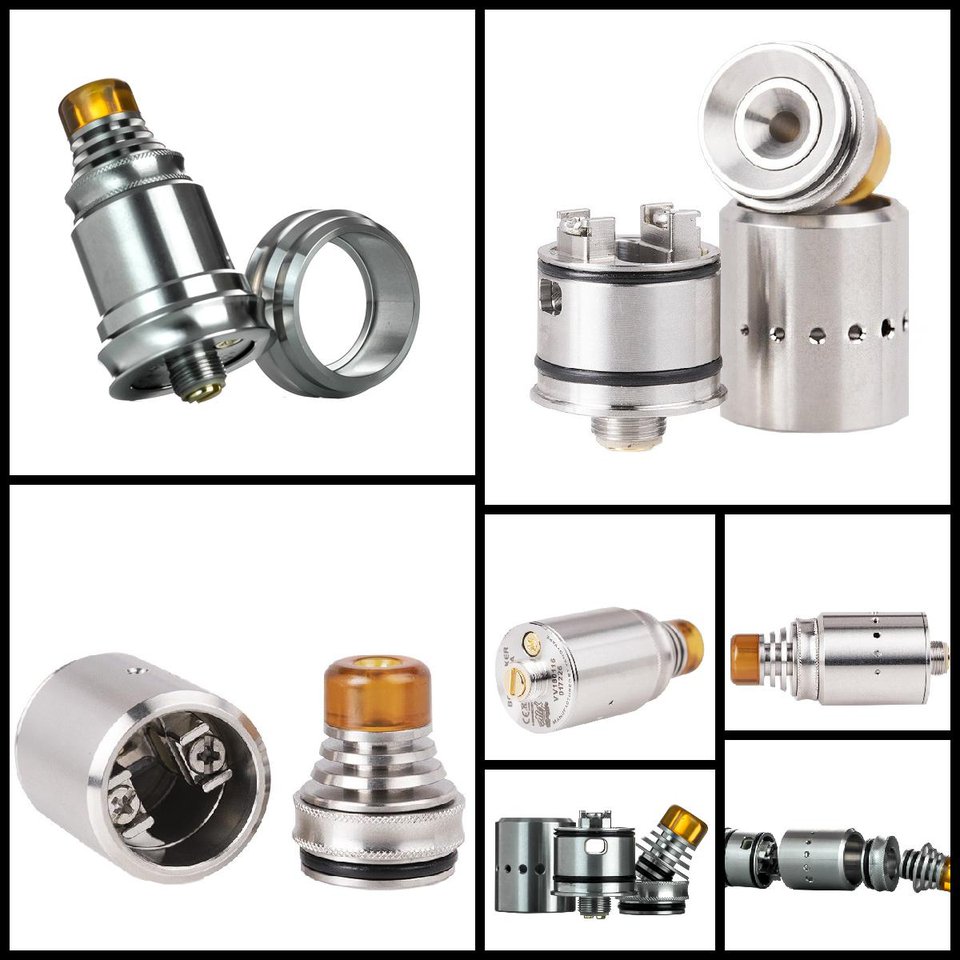 Vandy Vape Berserker MTL RDA Specifications
18.1 mm width

two post, single terminal build deck

PEEK insulated positive post

9mm juice well

Flavor chasing RDA with extreme airflow customization for Mouth-To-Lung vapers
What comes with the Vandy Vape Berserker MTL RDA
Two 3mm bore drips - One ULTEM, one Delrin

One squonk pin

One coil build tool

Spare parts kit

Two styling rings: 
one 22mm ring

one 24mm ring

Six air slot inserts: 
3.1mm by 0.5mm

Triple 1mm Air Slots

Single 1.6mm Air Slot

Single 1.4mm Air Slot

Single 1.2mm Air Slot

Single 2.0mm Air Slot

Quick Look at Vandy Vape Berserker MTL RDA
Vandy Vape releases the Berserker MTL (mouth to lung draw style) RDA, following the success of the Berserker RTA. 
The Berserker is an 18mm RDA as opposed to the regular 22mm or 24mm RDAs we are all accustomed to. Damn 18mm! This RDA is 18mm because it needs a small chamber and barrel section to boost the sweet vape flavor we all enjoy and restrict the air. 
But, if you think it looks too small, Vandy Vape included two styling rings, which each have a small lip, that the RDA secures when screwed into the mod. The styling rings, once installed, make the RDA look wider at the base but seems unnecessary. This RDA is a performance artist not a beauty contestant.
With any mouth to lung tank or RDA the airflow is one of the most important design features and this RDA has tons of airflow options to tune in the exact right draw.
There are several airflow options ranging from 0.5mm all the way up to 2mm on the outside of the barrel. This RDA also has internal interchangeable air slots, which are like little rods, that are inserted into the build deck to provide a nice bottom style air flow, coming in from the side and coming up under the coil. 
The inserts are varied, including options from 3.1mm by 0.5mm (slot), triple 1mm holes, and then single slots from 1.2mm up to 2mm. The easiest internal airflow to use is probably going to be the slot. These inserts can be changed with the build in place or left out completely.

The build deck is a fairly traditional two post design, similar to the Berserker RTA, single coil design with top mounted philips screws. Building is straight forward. Vandy Vape includes a pretty cool coiling tool, one side is 3mm and the opposite side is 2.5m. 

To build the deck, start with the coil leads pulled facing opposite directions leading away from the coil instead of pointing the same direction like with standard two coil deck builds. Slide one lead under one screw, adjust the coil placement to be perfectly centered with the coil facing up or down and then tighten the screw. Then secure the other lead in under the opposite screw, clip and wick. No surprises with this deck.
Another cool design feature is the 9mm deep juice well. It will end up holding a similar amount of juice as a larger RDA but since it is MTL it won't go through the juice as fast. 
Also if you are using a thicker juice, the air holes are so restricted that it won't really leak like other RDAs if you accidentally overfill.
Taking off the top cap is very easy when needing to drip and you can drip right down the center like normal or you can use the included squonk pin if you have a squonk mod. 
This is a pretty good squonking RDA. The positive post lead has a nice little notched design to help insure even distribution of your juice when squonking.

Since the barrel is so constricted, the tip area could get a bit hot so there is a heat sink that plugs into the 510 part of the top cap and 2 included drip tips that screw into the heat sink, one black, one ultem. If you don't like the heat sink top you can just plug in your own 510 drip tip.
Overall, if you are looking for a MTL RDA this is the one to get!
looks a little strange

adjusting the airflow rotating left unscrews the RDA due o-ring tension

Huge flavor!

Awesome MTL RDA
lots of customizable air flow options for the perfect mouth to lung draw

This RDA is easy to use! Easy build, easy to wick, easy airflow adjustment

high build quality with a simple, straight forward design in multiple colors

squonk capable and is hard to make it leak with a thicker juice, squonks away

Nice philips screws that are slotted for flat heads

DNA10 for 10% off! Free 2 day shipping over $59!