Smok GX2/4 BigBabyBeast Starter Kit
A Quick Look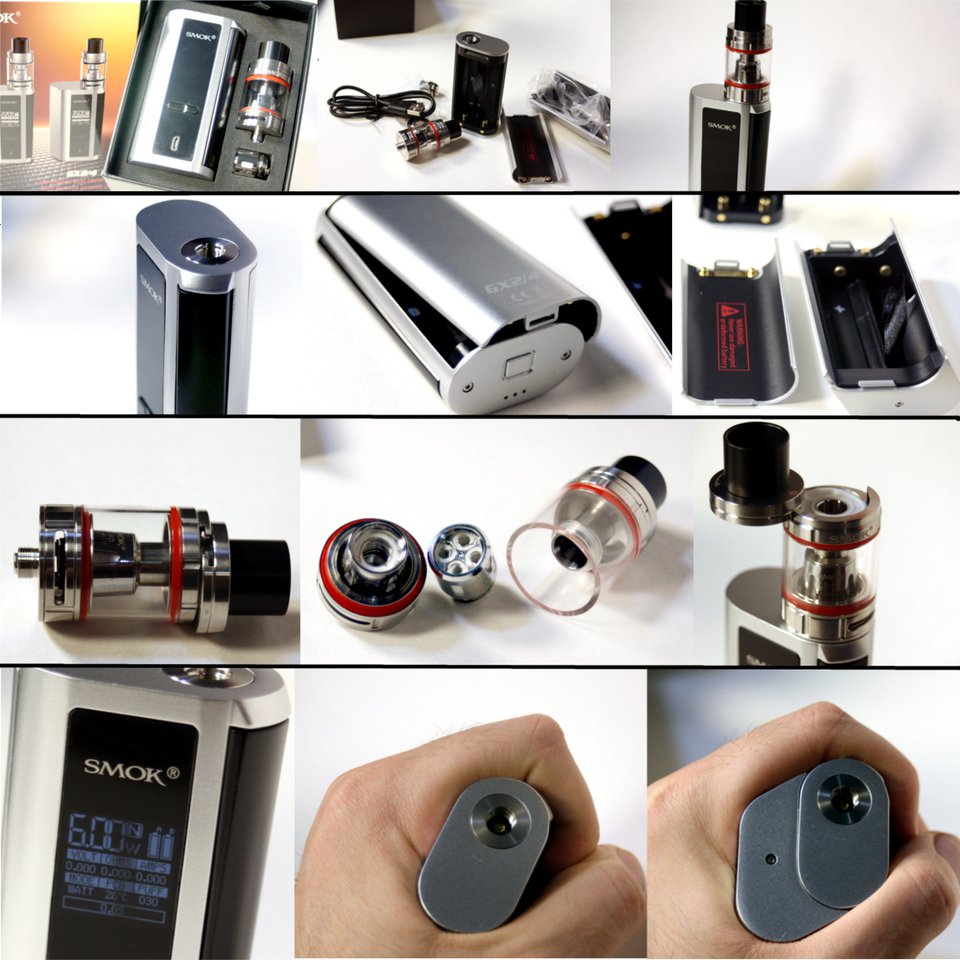 Quick Look at Smok GX2/4 BigBabyBeast Starter Kit
The Smok GX2/4 is a interesting starter kit that features the highly regarded TFV8 Big Baby Beast sub-ohm tank and is a convertible vape mod that takes 2 or 4 18650 batteries.
This kit is targeting vapers who want a powerful device that has a more slim profile but is able to have more capability and capacity when needed.  The GX2/4, mod in particular, will easily become a go to for a lot of vapers looking to replace their Alien.

This is a really sleek kit that comes in a whole range of rich colors.  The paint used on this kit seems to have come leaps and bounds from earlier Smok products.  The paint feels very smooth, similar to a waxed car. 
The kit includes two battery doors; one for two battery mode and a larger one that holds an extra two batteries, doubling battery life and maximum wattage increasing to 350W from 220W.  The mod also supports all the major temperature control materials (Ni, Ti, Sus) and supports custom TCRs.
The form factor goes from one of the smallest two battery mods on the market, thinner than the Alien 220W but roughly the same height, to diamond shaped when holding all four batteries.  
The mod is front firing using a squeeze bar just like the Alien, however the fire bar is a more slim design, only taking up half of the width of the device. Both shapes fit well in the hand and firing the mod is comfortable in both positions, however the fire bar seems to be more front facing in four button mode.
A bright OLED display on the face of the mod has a well designed, easy to read, data packed screen. Adjustments to the device are made with two up/down button just like normal.
The Smok TFV8 Big Baby Beast needs little introduction as it is a staple of sub-ohm vaping at this point, particularly with the Smok starter kits.  It it indeed a beast of a sub-ohm tank, featuring a easy to use top fill system, a wide variety of coil options and produces huge plumes of very saturated, flavorful vapor. 
fire bar is more aligned in four battery mode than two battery mode but still comfortable to fire
comes with highly regarded TFV8 Big Baby Beast subohm tank (has a very saturated, flavorful vape and big clouds)

small form factor in two battery mode (Smok bills as "smallest") and will take 25mm tanks

Powerful, squeeze fired mod (220W in two battery and 350W in four) and even feels good to fire with right thumb

accurate temperature control (TC) with TCR 
tuneable TCR for temperature control

High build and design quality

easy firmware upgrade

bright, easy to read OLED display with a lot of data

nice paint job on the mod with matching tank and is available in wide variety of colors

hinge free, easy transform battery door system (with two and four battery mode doors included)

no built in battery charging which may be a con for some but it is far safer to charge on a standalone battery charger

Free Domestic Shipping over $50!