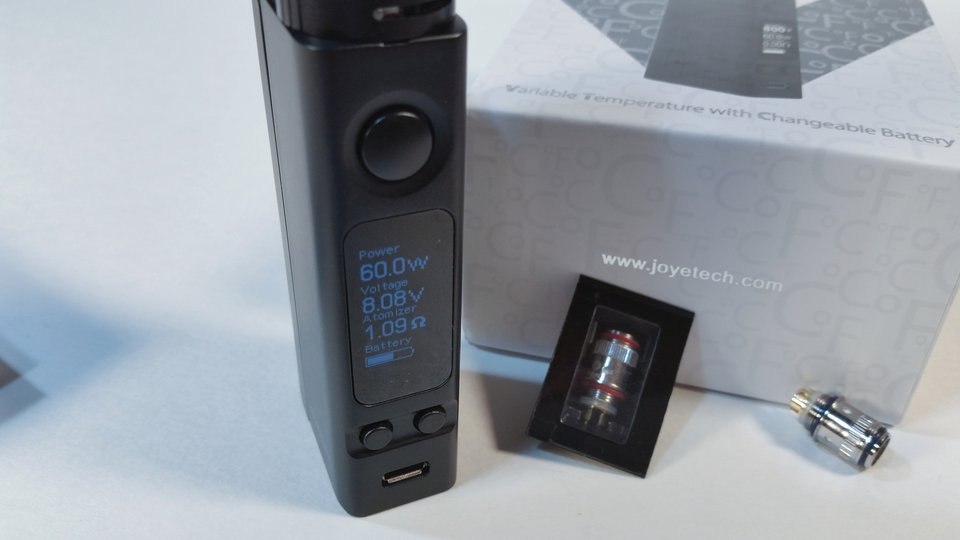 Joye eVic-VTC Mini 60W Specifications
Joye eVic-VTC Mini 60W

Wattage Output: 1W – 60W
Voltage Output: 0.5V – 8.0V
Temperature Range: 200-600˚F (100-315℃)
VT Mode Resistance Range: 0.05 Ohms – 1.0 Ohms
VW Mode Resistance Range: .15 Ohms – 3.5 Ohms

Temperature Control

5000mah battery capacity

Variable Wattage

Variable Voltage

Accommodates Kanthal Coils, Titanium Coils, and Nickel Coils

Stainless steel protective shell with pyrex glass

Large Oled screen

Joyetech eVic-VT 60W 5000mAh Temperature Control Mod Starter Kit
The full kit comes with the eGo One Mega clearomizer which accommodates kanthal, nickel, and titanium heads. This starter kit also comes with the eVic VT Box MOD.  This is a match made in heaven.
Joyetech EVic VT Box MOD
EVic VT Box MOD is temperature controlled mod and can fire up to 60 watts perfect for taste chasers allowing for the use of Nickel (Ni-200) atomizer coils as well as Titanium atomizer coils while the eVic VT is in Variable Temperature Mode (VT). Temperature control requires the use of nickel or titanium wire coils. You cannot use the kanthal wire with his one while in temp control mode. 
Joytech eVic-VT has very  large OLED screen so it is easily legible, supporting VT-Ti (Titanium)/ VT-Ni (Nickel)/ Variable wattage mode. Also has a impressive battery capacity of 5000mah easily lasting all day depending on the vaper.

 Its made out of solid metal making it extremely durable for the clumsy vapers.

Variable Wattage
The evic vt mod is a variable wattage, variable temperature, and variable voltage mod. Wattage from 1w - 60w and .5 volts to 8.0 volts. With a wide range of power like that it can handle resistances from .15 ohms to 3.5 ohms while in variable wattage mode. The variable wattage can be controlled easily just by a simple turning of the control knob.
The eGo One Mega VT clearomizer
The eGo One Mega is made of high grade stainless steel with 510 threading and three clear windows allowing you to see how much e-juice/e-liquid you have left. I will say the bottom of the tank is not easily seen through the windows.
 The tank is made of pyrex glass is which is much better than the plastic clearomizers. Plastic clearomizers can erode and crack. It has a average 4ml e liquid capacity.

It has a airflow control valve allowing you to customize your vaping experience by regulating how much air you want involved while you are vaping. Air control valves also reduce the common problem of gurgling. Another added benefit of the air control valve is if your switching to different nicotine levels or e-liquids varying in pg to vg composition.
Joyetech eGo One Mega can accommodate kanthol, nickel, or titanium coils. It is a sub-ohm clearomizer and temperature control clearomizer and when paired with EVic VT Box MOD it is still one of the top starter kits on the market. This starter kit comes with one nickel and one titanium coil. I want to reiterate you can't use temperature control with kanthol coils on this device. 

Included in the Joye eVic-VTC Mini 60W starter kit
Joyetech eGo One Mega Clearomizer
Joyetech eVic VT Box Mod
Joyetech eVic VT Box Mod Battery with 5000mah capacity

1 nickel atomizer cartridge 0.2 ohms
1 titanium atomizer cartridge 0.4 ohms
Usb charger
eVic skin
Wall Adaptor
The windows make the bottom of tank a little hard to see with protective shell around them. 
Threading on 510 connection seems to be made with a softer metal which was damaged on mine over a 6 month period with heavy use.
This kit is for people looking to quit smoking and can be used by new vapers or the starting hobbyist vaper.
This kit is also designed for people looking to just replace used coil inserts but a rebuildable (CLR) coil is available.
DNA10 for 10% off! Free 2 day shipping over $59!