Innokin Proton 235W TC and Scion 2 Sub-Ohm Starter Kit
A Quick Look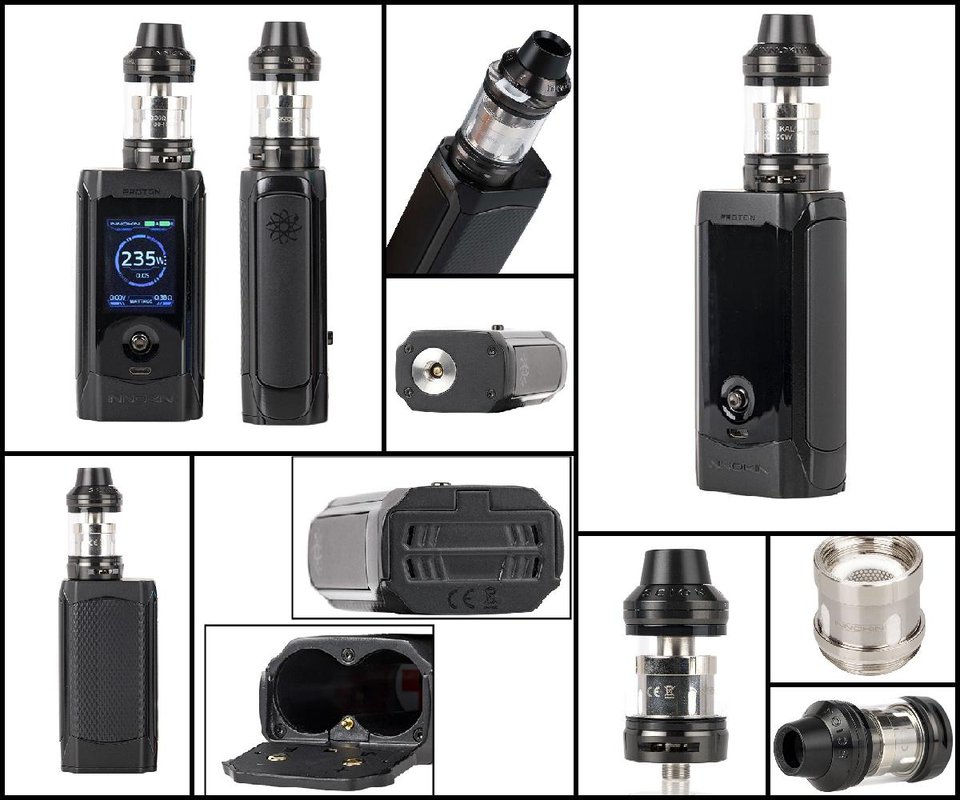 Innokin Proton / Scion 2 Starter Kit Specifications
Innokin Proton:
85mm x 44.6mm x 29.6mm

takes two 18650 batteries

0.05 - 3.5 ohm atomizer resistance range

temperature control supports Ni200, Titanium, Stainless Steel, curves, TCR, bypass

1.45" TFT Color Screen with interface color customization

slide to open bottom battery door

24k gold plated spring loaded 510 connection

Scion 2:
24mm diameter (25mm at widest point)

3.5ml capacity

dual adjustable airflow - 9mm x 2mm slots

stainless steel and glass contruction
235W 18650 two battery Temperature Control Box Mod

the proton can fire from 0.05 ohm to 3.5 ohm resistance

slip top fill

uses Plexus coils - now in mesh!

What comes with the Innokin Proton / Scion 2 Starter Kit
one Innokin Proton 235W TC mod

one Innokin Scion 2 sub-ohm tank

one Plexus (0.36ohm pre-installed)

one Plexus mesh coil

a bubble glass
one spare drip tip

extra o-rings

usb cable

glass band

Quick Look at Innokin Proton / Scion 2 Starter Kit
The Innokin Proton 235W TC box mod is very reminescent of the Alien, an all time classic mod, thanks to its overall size, shape and fire mechanism. 
It has a fire bar, meaning the device is squeezed to fire, that has a very satisfying click when engaged. Also located on the fire bar is a cool looking proton logo. 

This mod will fire fast! The chip that Innokin used in the Proton is pretty good. This mod has tons of options that can all be controlled. The mod is capable of all the latest temperature control options, including curves, TCR and even can do bypass. The TC even calibrates for optimal presets. 
Innokin selected a huge, bright, color screen (TFT display) with well designed menu system. 
The Proton uses a joystick control that actually works pretty well. The joystick can be held to the right or left to begin changing the wattage or pressed a few times to access the menu system.
The spring loaded 510 pin is offset on top of the mod in a way that will accommodate up to a 30mm tank.
The updated Scion tank, the Scion 2, uses a slide top fill system that works well and holds a 3.5ml of juice that can be expanded with the included, good looking, bubble glass.
This tank uses the new Innokin Plexus coils, which are pretty good. The kit includes the standard quad coil pre-installed but the spare mesh coil is where it is at however. 
The Plexus mesh coils have amazing flavor and are long lasting. 
The Proton starter kit comes in a few color choices, which are accent colors to the main matte black color, all of which look pretty good.
Overall the mod is very attractive, has a great form factor and works like a champ. The Scion 2 sub-ohm tank is pretty awesome with the new Plexus coils, particulary the mesh coils.
If you are looking for a great dual 18650 sub-ohm starter kit , this is a seriously good choice!
plastic screen cover will scratch

long lasting Mesh Coils with huge flavor! Dense, Warm Clouds!
fast firing! Great Chipset!

love the squeeze to fire - the fire bar is great

big, gorgeous color screen with good menu system - custom menu color

easy to navigate menu with joystick - lots of settings and controls - pretty much everything can be controlled

temperature control works well and the chip will calibrate for the wire type

compact size for dual 18650

the spare bubble glass looks pretty good

comes with two coils - one 0.15 ohm mesh coil, one 0.36 ohm quad coil

810 Delrin drip tip

comes in a few colors but mostly black

Free Shipping! Low Price Guarantee!