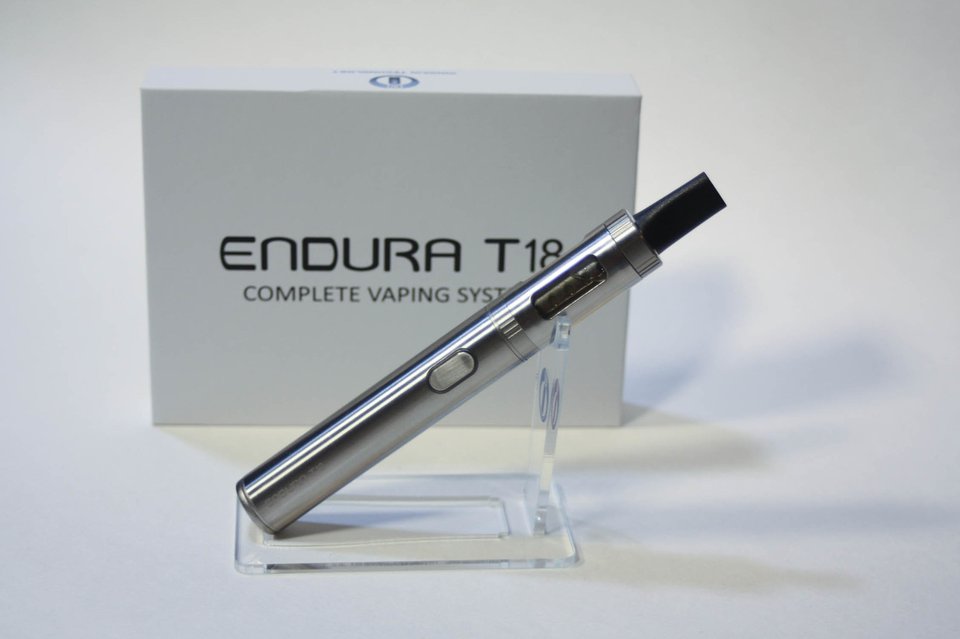 Fantastic mouth to lung draw for smokers (ex-smokers) and those wishing to quit or switch to vaping.
The T18 Endura from Innokin is a fantastic vape kit that targets the mouth-to-lung (MTL) vapers out there.  This kit is perfect for people looking to switch from smoking to vaping and it is also great for taking to work.
Innokin Endura T18 Tank
Just looking at the diagram, it is plain to see that there isn't anything very complicated going on with the design.  That is why this vape starter kit is perfect for converting smokers to vaping.
The tank that comes as part of the kit has a pretty intuitive design.  There aren't too many parts; the housing, top cap, tip, coil insert and bottom holding ring.  
Top fill which is pretty much as must have these days and this tank has that feature.  The opening at the top when filling doesn't have any kidney shaped cutouts or any of that.  It is pretty much a dump the juice in the open spot in between the coil.  
While the capacity is only 2.5ml, the tank is not thirsty.  That amount of juice would last most regular users the entire afternoon.
The default stainless steel tip is probably what most people will end up using but the flat cigarette holder shaped tip is probably the most enjoyable tip for me personally during use.  The flat design reminded me of Black & Mild cigars, which brought back some memories.
Since this is a mouth to lung tube style kit, there isn't a controllable airflow as you might see with a box mod style kit.  The airflow that it does have is pretty great and the draw is very close to the draw on a cigarette.  The cigarette-holder shaped tip also provided a really nice draw that was easily controllable. 
Innokin included a coil in box but I also picked up a 5 pack of the prism T18 coils for a song.  
The coils seem to last for a extended period of time; far longer than coil inserts from some other kits that I have used in the past. Perhaps this is due to the very long vertical shape of the coil versus the shorter horizontal designs seen elsewhere.  Using the device would probably be cheaper over the long run due to the extra use provided by a single coil.
I didn't need to replace the coils during testing due to burn out, however I did remove the coil for testing purposes.  
On the bottom of the tank there is a ring that holds the coil in place.  This ring can get pretty tight; I think it may tighten itself a little extra when you screw the tank in place on top on the mod.  The fit between the coil and the tank was pretty tight, but this will help prevent leaks, so it isn't really a problem but something to be aware of.
Mod
This kit comes with a pretty easy use tube style mod.   Once the kit is assembled and charged, three button presses for on and off; hold to fire.  Doesn't get much easier which is perfect for a new vaper and there are no setting to get thrown off when the device is stored.
The mod has a built in 1000mah battery that is charged through a micro USB slot on the bottom.  The swiveling charge cover can be slightly annoying as it is prone to shift out of place.  The mod charges quickly when using a standard cell phone charger.
The battery doesn't seem that powerful; a single standard 18650 battery is far more powerful that the one built in. Keep in mind however that the coil is 1.5 ohms so not a very high voltage is required to heat the coil.  
Impressions of the Whole Kit
This kit did exceed expectations as far as performance goes.  Using this device was a very enjoyable, easy going vape experience.
The aesthetics of the overall design is nice.  We are looking that the stainless steel version but the device is also available in a variety of colors such as black, white, blue, and more.  
From just a matching standpoint, I would have liked to have seen the extra tips match the devices color but that would probably have been cost prohibitive.  
While the device is longer than the width of the hand, it has the right diameter to feel comfortable between hits.  It also is not heavy, so it doesn't feel cumbersome when holding on to it for a extended period of time.
The device is round making it very prone to rolling.  It has rolled off the desk a few times but has survived unscathed. 
The tank is design to have viewing ports that are guarded by metal strips which was obviously a conscious effort on the part of the design team. There is a pretty nice vape holder included in the kit but that isn't always convenient.  
Conclusion
We really enjoyed this device and Recommend it
Overall, the Innokin Endura T18 is a really fantastic mouth-to-lung tube style vape kit.  The T18:
has a great price and great value

sturdy
the coils are durable

easy to use 

performs like a champ

It has a great draw that simulates smoking pretty accurately

This kit is definitely recommended for vapers looking for a portable MTL vape, (ex)smokers looking to start vaping and it is also inexpensive enough to give as a gift.
cartridge can seem to get a bit stuck when replacing it

Perfect for a new vaper or ex-smoker. It makes a great gift!

Fantastic assortment of tip styles included. Something for everybody!
easy filling and charging

sturdy design

Free Shipping! Low Price Guarantee!