IJoy Avenger 270 234W Starter Kit (Voice Control)
A Quick Look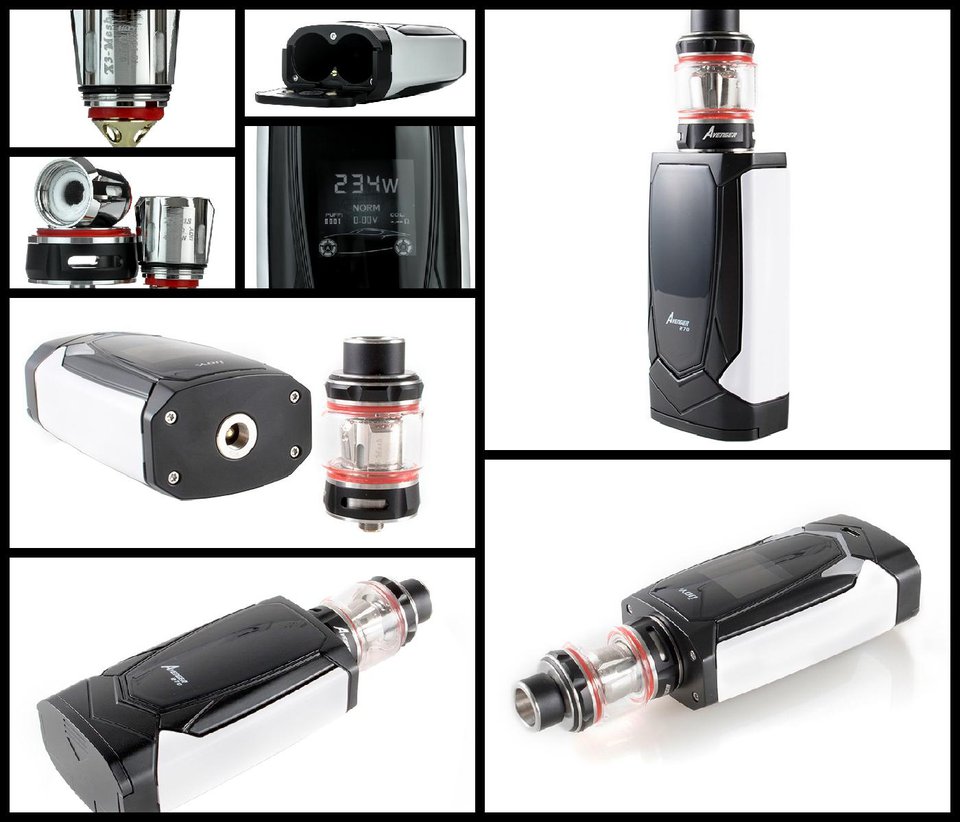 IJoy Avenger 270 Starter Kit Specifications
Avenger Mod:
5-234W output

0.05ohm - 3.0 ohm atomizer resistance range

1.3 inch Color OLED display screen

dual 20700 batteries (or 18650s with battery adapter)

temperature control - Ti, Ni200, SS316, TCR mod

voice control commands:
auto power

auto watt

power high

power low

lock device

unlock device

turn on light

change color

music light

romantic light

light off

shut down
Avenger Tank:
25mm diameter

threaded top fill

4.7ml capacity with bubble glass

3.2ml capacity with standard glass

dual adjustable bottom airflow 13mm x 2mm slots
stainless steel and glass construction

takes dual 20700 batteries (or 18650s with adapter)

voice control capability on mod

color adjustable RGB LED lights on device
full temperature control suite

What comes with the IJoy Avenger 270 Starter Kit
one IJoy Avenger 270 Voice Control Box Mod

one IJoy Avenger Sub-Ohm Tank

one X3 Mesh (0.15 ohm coil head)

one X3-C15 (0.35 ohm coil head)

spare glass

spare parts

one usb cable

Quick Look at IJoy Avenger 270 Starter Kit
IJoy hails the new Avenger 270 (234W) box mod as their first ever "A.I" vape mod. The design cues, lights and voice commands scream Iron Man.
It has a wide range of available voice commands including on/off, power/watt, locking, light related commands and more. 
The commands are initiated by saying "Hello, iJoy" similar to A.I. digital assistants, but the mod only responds to the pre-programmed commands.

It is powered by dual 20700 batteries or dual 18650s with the included adapter, loaded through the bottom hinge battery door.
On the front of the of the mod is a large color OLED screen and two color controllable LED ambient lights which pull double duty as the up and down buttons. 
The lights have have several modes, including a music mode that responds to sound.
The mod is squeeze fired using a very easy to trigger fire bar.
Paired with the Avenger mod is the Avenger tank, a 25mm diameter sub-ohm tank. The design reminds me of a cross between the Smok Prince and the Horizontech Falcon sub-ohm tanks. It looks kind of like a Prince and uses coils that are similar to the Falcon.
Like the Falcon, the Avenger sub-ohm tank uses a mix of wood pulp and organic cotton as its wicking material, which works quite well, better than just plain cotton. It has fairly fast wicking and the flavor stays sharp.
There are two included sub-ohm coils, one mesh and one traditional. The traditional coil performs pretty well and the mesh coils have top-notch performance as far as flavor production and life span goes.
This device is very convenient particularly once the commands are memorized but may be awkward in public.
Overall, this starter kit is pretty cool. It looks good, is easy to use, has plenty of features and provides a excellent vape experience with on point flavor and plenty of clouds.
some of the commands aren't natural, such as power high and power low, and should be reworded to power up and power down

mic is not very sensitive and may have trouble with heavy accents
voice commands are convenient particulary when it is unsafe to adjust the device such as driving

the lights and voice commands can be turned off and it is still a good kit

great sub-ohm vaping experience with plenty of flavor and clouds

awesome coils with the wood pulp and organic cotton wicking 

mesh coil is a favorite

spring loaded 510 placement can accomodate up to 30mm atomizers

plenty of color combinations available

DNA10 for 10% off! Free 2 day shipping over $59!